T-34-88
T-34-88 (Stock)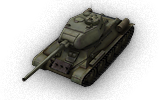 Totals
3750
Price
720
Hit Points
33.75 / 35.6 kg
Weight
Crew
Armor
45/45/40
Hull Armor

(front/sides/rear, mm)
90/75/52
Turret Armor

(front/sides/rear, mm)
Maneuver
600 h.p.
Engine Power
54 km/h
Speed Limit
38 deg/sec
Traverse Speed
Firepower
220
Standard Shell Damage
132 mm
Standard Shell Penetration
6.3
Time for Complete Loading
46 deg/sec
Turret Traverse Speed
Communication
360 m
View Range
525 m
Signal Range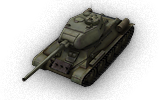 For the armies of World War II pressing captured vehicles into service was fairly commonplace. There were unconfirmed reports of a German unit refitting a captured T-34-85 with an 88mm gun. Allegedly this tank saw fighting with the 7th Panzer Division in East Prussia. Hence, the concept for the T-34-88 was born.
| | Level | Turret | Weight (t) | Turret Armor (front/sides/rear, mm) | Gun Traverse Speed (deg/s) | View Range (m) |
| --- | --- | --- | --- | --- | --- | --- |
| | VII | T-34-85 extended | 7800 | 90/75/52 | 46 | 360 |
| | Level | Gun | Weight (t) | Average Penetration (mm) | | Rate of Fire | Dispersion at 100 m | Aiming Time |
| --- | --- | --- | --- | --- | --- | --- | --- | --- |
| | VII | 8,8 cm KwK 36 L/56 | 2050 | 132/171/44 | 220/220/270 | 9.52 | 0.38 | 2.3 |
| | Level | Engine | Weight (t) | Engine Power (h.p.) | Chance of Fire on Impact |
| --- | --- | --- | --- | --- | --- |
| | VIII | V-54K | 750 | 600 | 12 |
| | Level | Suspension | Weight (t) | Load Limit | Traverse Speed (deg/s) |
| --- | --- | --- | --- | --- | --- |
| | VI | T-34-85-60 | 7800 | 35.6 | 38 |
| | Level | Radio | Weight (t) | Signal Range (m) |
| --- | --- | --- | --- | --- |
| | VIII | 9RM | 0 | 525 |
Compatible Equipment
























Compatible Consumables


















History for this tank not found