T37
T37 (Stock)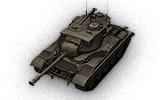 Totals
910000
Price
630
Hit Points
21.24 / 22 kg
Weight
Crew
Armor
25.4/25.4/19.1
Hull Armor

(front/sides/rear, mm)
31.8/25.4/25.4
Turret Armor

(front/sides/rear, mm)
Maneuver
450 h.p.
Engine Power
66 km/h
Speed Limit
44 deg/sec
Traverse Speed
Firepower
110
Standard Shell Damage
96 mm
Standard Shell Penetration
3.2
Time for Complete Loading
44 deg/sec
Turret Traverse Speed
Communication
370 m
View Range
395 m
Signal Range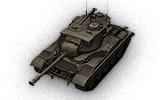 The light tank T37 was developed by Detroit Arsenal in the late 1940s to replace the М24 Chaffee. An order was placed for three prototypes. Later, some technical innovations were applied in the development of the T41 and M41 tanks.
| | Level | Turret | Weight (t) | Turret Armor (front/sides/rear, mm) | Gun Traverse Speed (deg/s) | View Range (m) |
| --- | --- | --- | --- | --- | --- | --- |
| | V | T37 | 3200 | 31.8/25.4/25.4 | 44 | 370 |
| | Level | Gun | Weight (t) | Average Penetration (mm) | | Rate of Fire | Dispersion at 100 m | Aiming Time |
| --- | --- | --- | --- | --- | --- | --- | --- | --- |
| | V | 75 mm Gun M6 | 186 | 96/143/38 | 110/110/175 | 18.75 | 0.39 | 2 |
| | Level | Engine | Weight (t) | Engine Power (h.p.) | Chance of Fire on Impact |
| --- | --- | --- | --- | --- | --- |
| | VI | Continental AOS-895-1 | 756 | 450 | 20 |
| | Level | Suspension | Weight (t) | Load Limit | Traverse Speed (deg/s) |
| --- | --- | --- | --- | --- | --- |
| | V | T37 | 6000 | 22 | 44 |
| | Level | Radio | Weight (t) | Signal Range (m) |
| --- | --- | --- | --- | --- |
| | VI | SCR 508 | 0 | 395 |
| | Level | Turret | Weight (t) | Turret Armor (front/sides/rear, mm) | Gun Traverse Speed (deg/s) | View Range (m) |
| --- | --- | --- | --- | --- | --- | --- |
| | V | T37 | 3200 | 31.8/25.4/25.4 | 44 | 370 |
| | Level | Gun | Weight (t) | Average Penetration (mm) | | Rate of Fire | Dispersion at 100 m | Aiming Time |
| --- | --- | --- | --- | --- | --- | --- | --- | --- |
| | VI | 76 mm Gun T94 | 726 | 137/185/38 | 115/115/185 | 17.65 | 0.4 | 1.8 |
| | Level | Engine | Weight (t) | Engine Power (h.p.) | Chance of Fire on Impact |
| --- | --- | --- | --- | --- | --- |
| | VI | Continental AOS-895-1 | 756 | 450 | 20 |
| | Level | Suspension | Weight (t) | Load Limit | Traverse Speed (deg/s) |
| --- | --- | --- | --- | --- | --- |
| | VI | T41 pilot number 1 | 6000 | 26 | 48 |
| | Level | Radio | Weight (t) | Signal Range (m) |
| --- | --- | --- | --- | --- |
| | VI | AN/GRC-3 | 0 | 410 |
| | Level | Turret | Weight (t) | Turret Armor (front/sides/rear, mm) | Gun Traverse Speed (deg/s) | View Range (m) |
| --- | --- | --- | --- | --- | --- | --- |
| | VI | T41 pilot number 1 | 4657 | 31.8/25.4/25.4 | 44 | 390 |
| | Level | Gun | Weight (t) | Average Penetration (mm) | | Rate of Fire | Dispersion at 100 m | Aiming Time |
| --- | --- | --- | --- | --- | --- | --- | --- | --- |
| | VI | 76 mm Gun T94 | 726 | 137/185/38 | 115/115/185 | 18.75 | 0.4 | 1.7 |
| | Level | Engine | Weight (t) | Engine Power (h.p.) | Chance of Fire on Impact |
| --- | --- | --- | --- | --- | --- |
| | VII | Continental AOS-895-3 | 771 | 500 | 20 |
| | Level | Suspension | Weight (t) | Load Limit | Traverse Speed (deg/s) |
| --- | --- | --- | --- | --- | --- |
| | VI | T41 pilot number 1 | 6000 | 26 | 48 |
| | Level | Radio | Weight (t) | Signal Range (m) |
| --- | --- | --- | --- | --- |
| | X | SCR 528 | 0 | 745 |
| | Level | Turret | Weight (t) | Turret Armor (front/sides/rear, mm) | Gun Traverse Speed (deg/s) | View Range (m) |
| --- | --- | --- | --- | --- | --- | --- |
| | VI | T41 pilot number 1 | 4657 | 31.8/25.4/25.4 | 44 | 390 |
| | Level | Gun | Weight (t) | Average Penetration (mm) | | Rate of Fire | Dispersion at 100 m | Aiming Time |
| --- | --- | --- | --- | --- | --- | --- | --- | --- |
| | VI | 76 mm Gun T91 | 775 | 150/199/38 | 115/115/185 | 18.18 | 0.36 | 1.9 |
| | Level | Engine | Weight (t) | Engine Power (h.p.) | Chance of Fire on Impact |
| --- | --- | --- | --- | --- | --- |
| | VII | Continental AOS-895-3 | 771 | 500 | 20 |
| | Level | Suspension | Weight (t) | Load Limit | Traverse Speed (deg/s) |
| --- | --- | --- | --- | --- | --- |
| | VI | T41 pilot number 1 | 6000 | 26 | 48 |
| | Level | Radio | Weight (t) | Signal Range (m) |
| --- | --- | --- | --- | --- |
| | X | SCR 528 | 0 | 745 |
| | Level | Turret | Weight (t) | Turret Armor (front/sides/rear, mm) | Gun Traverse Speed (deg/s) | View Range (m) |
| --- | --- | --- | --- | --- | --- | --- |
| | VI | T41 pilot number 1 | 4657 | 31.8/25.4/25.4 | 44 | 390 |
| | Level | Gun | Weight (t) | Average Penetration (mm) | | Rate of Fire | Dispersion at 100 m | Aiming Time |
| --- | --- | --- | --- | --- | --- | --- | --- | --- |
| | VI | 76 mm Gun T102 | 1395 | 137/185/38 | 115/115/185 | 10.71 | 0.38 | 2.1 |
| | Level | Engine | Weight (t) | Engine Power (h.p.) | Chance of Fire on Impact |
| --- | --- | --- | --- | --- | --- |
| | VII | Continental AOS-895-3 | 771 | 500 | 20 |
| | Level | Suspension | Weight (t) | Load Limit | Traverse Speed (deg/s) |
| --- | --- | --- | --- | --- | --- |
| | VI | T41 pilot number 1 | 6000 | 26 | 48 |
| | Level | Radio | Weight (t) | Signal Range (m) |
| --- | --- | --- | --- | --- |
| | X | SCR 528 | 0 | 745 |
Compatible Equipment






















Compatible Consumables


















History for this tank not found