T95E2
T95_E2 (Stock)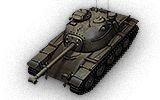 Totals
7500
Price
1500
Hit Points
36.82 / 39.75 kg
Weight
Crew
Armor
95.3/71.1/25.4
Hull Armor

(front/sides/rear, mm)
177.8/101.6/50.8
Turret Armor

(front/sides/rear, mm)
Maneuver
560 h.p.
Engine Power
56 km/h
Speed Limit
36 deg/sec
Traverse Speed
Firepower
240
Standard Shell Damage
173 mm
Standard Shell Penetration
7.5
Time for Complete Loading
32 deg/sec
Turret Traverse Speed
Communication
390 m
View Range
745 m
Signal Range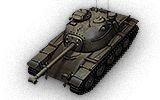 Development began in September 1954, with many components in common with another experimental prototype, the T96. A total of nine prototypes were manufactured, five of which had the 90-mm gun. Four of the vehicles were planned to have the turret of the T96 tank as well as its 105-mm gun. However, because the turrets of the T96 were not ready at that point, two of the new vehicles received turrets from the mass-produced M48A2 tank, equipped with the M41 rifled gun. These prototypes, designated T95E2, were manufactured from May through July 1957.
| | Level | Turret | Weight (t) | Turret Armor (front/sides/rear, mm) | Gun Traverse Speed (deg/s) | View Range (m) |
| --- | --- | --- | --- | --- | --- | --- |
| | VIII | T95E2 | 8200 | 177.8/101.6/50.8 | 32 | 390 |
| | Level | Gun | Weight (t) | Average Penetration (mm) | | Rate of Fire | Dispersion at 100 m | Aiming Time |
| --- | --- | --- | --- | --- | --- | --- | --- | --- |
| | VIII | 90 mm Gun M41E1 | 1075 | 173/250/45 | 240/240/320 | 8 | 0.36 | 2.3 |
| | Level | Engine | Weight (t) | Engine Power (h.p.) | Chance of Fire on Impact |
| --- | --- | --- | --- | --- | --- |
| | X | Continental AOI-1195-5 | 998 | 560 | 15 |
| | Level | Suspension | Weight (t) | Load Limit | Traverse Speed (deg/s) |
| --- | --- | --- | --- | --- | --- |
| | VIII | T95E2 | 11500 | 39.75 | 36 |
| | Level | Radio | Weight (t) | Signal Range (m) |
| --- | --- | --- | --- | --- |
| | X | AN/GRC-8 | 0 | 745 |
Compatible Equipment






















Compatible Consumables


















History for this tank not found