Pz.Kpfw. 38H 735 (f)
Revision as of 12:22, 1 July 2015

Created page with "{{BlitzTankData|Tank= | |Gallery= |InTheGame_pros= |InTheGame_cons= |InTheGame_performance= |InTheGame_research= |InTheGame_equipment= |History= |HistoricalGallery= |..."

 
Revision as of 12:54, 3 August 2015
Line 1:
Line 1:
?
{{BlitzTankData|Tank=
+
{{BlitzTankData|Tank=
?
|
+
|
 
 
 
|Gallery=
 
|Gallery=
Revision as of 12:54, 3 August 2015
--AOT_Jaeger2:na (talk) 12:54, 3 August 2015 (UTC)
H39_captured (Stock)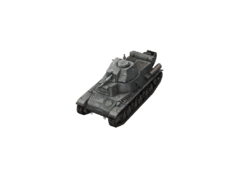 Totals
750
Cost
210 HP
Durability
10.57 / 14.5
Weight
Crew
Commander
Gunner
Radio Operator
Loader
Driver
Armor
40/40/40
Hull Armor

(front/sides/rear, mm)
40/40/40
Turret Armor

(front/sides/rear, mm)
Maneuver
75 h.p.
Engine Power
37 km/h
Top Speed / Reverse Speed
32 deg/s
Traverse Speed
Firepower
40
damage
41 mm
Average Penetration
3.7
Time for Complete Loading
26 deg/s
Gun Traverse Speed
Communication
230 m
View Range
500 m
Signal Range
In May 1940 the French Army had more than 800 vehicles of this type, most of which were captured by the German forces. They were widely used by the Wehrmacht to supplement existing armor.
Fearfully referred to as the "MicroMaus", this tank has ridiculously thick frontal hull armor for a tier II tank. While it is rare in Blitz, all players should beware of its strength.


Turret
| Level | Turret | Turret Armor (front/sides/rear, mm) | Gun Traverse Speed (deg/s) | View Range (m) | Experience | Weight (t) |
| --- | --- | --- | --- | --- | --- | --- |
| II | Pz.Kpfw. 38H 735 (f) | 40/40/40 | 26 | 230 | 0 | 1000 |
| Level | Gun | Average Penetration (mm) | | Rate of Fire | Dispersion at 100 m | Aiming Time | Experience | Weight (t) |
| --- | --- | --- | --- | --- | --- | --- | --- | --- |
| I | 3,7 cm SA 38 L/34 | 41/64/10 | 40/40/50 | 16.22 | 0.38 | 2.1 | 0 | 70 |

Engine
| Level | Engine | Engine Power (h.p.) | Chance of Fire on Impact | Experience | Weight (t) |
| --- | --- | --- | --- | --- | --- |
| I | Hotchkiss | 75 | 20 | 0 | 200 |

| Level | Suspension | Load Limit | Traverse Speed (deg/s) | Experience | Weight (t) |
| --- | --- | --- | --- | --- | --- |
| II | Pz.Kpfw. 38H 735 (f) | 14.5 | 32 | 0 | 3050 |

Radio
| Level | Radio | Signal Range (m) | Experience | Weight (t) |
| --- | --- | --- | --- | --- |
| VIII | FuG8f_GER | 500 | 0 | 50 |
Compatible Equipment














Compatible Consumables
History for this tank not found
ja:Blitz:H39 captured