Indien-Panzer
Indien_Panzer (Stock)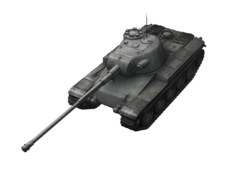 Totals
2420000
Cost
1300 HP
Durability
39.87 / 43
Weight
Crew
Commander
Radio Operator
Gunner
Driver
Loader
Armor
90/90/45
Hull Armor

(front/sides/rear, mm)
90/90/45
Turret Armor

(front/sides/rear, mm)
Maneuver
500 h.p.
Engine Power
50 km/h
Top Speed / Reverse Speed
34 deg/s
Traverse Speed
Firepower
220
damage
145 mm
Average Penetration
6.2
Time for Complete Loading
36 deg/s
Gun Traverse Speed
Communication
260 m
View Range
500 m
Signal Range
The project was developed as a medium tank for the Indian Army. The work on the project was carried out by Porsche, Daimler-Benz, and Zahnradfabrik AG of Friedrichshafen. However, the vehicle was deemed to be too complicated for production in India, and the project was canceled.


Turret
| Level | Turret | Turret Armor (front/sides/rear, mm) | Gun Traverse Speed (deg/s) | View Range (m) | Experience | Weight (t) |
| --- | --- | --- | --- | --- | --- | --- |
| VIII | Indien-Panzer | 90/90/45 | 36 | 260 | 0 | 9200 |
| Level | Gun | Average Penetration (mm) | | Rate of Fire | Dispersion at 100 m | Aiming Time | Experience | Weight (t) |
| --- | --- | --- | --- | --- | --- | --- | --- | --- |
| VII | 8,8 cm Kw.K. 36 L/56 | 145/195/44 | 220/220/270 | 9.68 | 0.38 | 2.3 | 0 | 2050 |
| VIII | 8,8 cm Kw.K. 43 L/71 | 203/237/44 | 220/220/270 | 8.59 | 0.34 | 2.9 | 16500 | 2562 |
| VIII | 9 cm Bordkanone | 212/259/45 | 225/225/270 | 8.96 | 0.34 | 2.9 | 18300 | 1650 |

Engine
| Level | Engine | Engine Power (h.p.) | Chance of Fire on Impact | Experience | Weight (t) |
| --- | --- | --- | --- | --- | --- |
| VIII | MTU MB 837 | 500 | 15 | 0 | 1500 |
| IX | MTU MB 837 A | 630 | 12 | 21000 | 1500 |

| Level | Suspension | Load Limit | Traverse Speed (deg/s) | Experience | Weight (t) |
| --- | --- | --- | --- | --- | --- |
| VII | B-PS 102 | 43 | 34 | 0 | 10000 |
| VIII | Indien-Panzer | 43 | 38 | 14000 | 10000 |

Radio
| Level | Radio | Signal Range (m) | Experience | Weight (t) |
| --- | --- | --- | --- | --- |
| III | FuG5_GER | 500 | 0 | 50 |
Compatible Equipment
























Compatible Consumables
History for this tank not found
ja:Blitz:Indien Panzer