KV-3
KV-3 (Stock)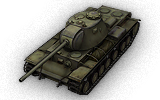 Totals
1390000
Cost
1220 HP
Durability
64.88 / 71.8
Weight
Crew
Commander
Gunner
Radio Operator
Driver
Loader
Loader
Armor
120/90/90
Hull Armor

(front/sides/rear, mm)
100/100/100
Turret Armor

(front/sides/rear, mm)
Maneuver
600 h.p.
Engine Power
32 km/h
Top Speed / Reverse Speed
18 deg/s
Traverse Speed
Firepower
200
damage
120 mm
Average Penetration
6.51
Time for Complete Loading
20 deg/s
Gun Traverse Speed
Communication
230 m
View Range
500 m
Signal Range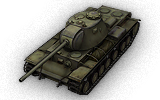 Developed on the basis of the KV heavy tank, the vehicle initially had very few differences from the mass-produced model. It underwent field trials in January–February 1941. Eventually, several crucial changes were made to the design, greatly boosting the combat characteristics of the vehicle. By July 22, 1941, chassis and engine development was completed. According to some sources, in the fall of 1941, the vehicle was equipped with a serial KV turret and sent to the front.
The KV-3 is a Soviet tier 7 heavy tank.
Initially designed as a replacement for the KV-1. The hull and suspension had been developed at the outbreak of World War II, but the KV-3 was never mass-produced.
The KV-3 is defined by its lengthened and more heavily armored KV chassis, and a much rounder turret design. It can use a large variety of guns, but it's best known for the 122mm D-25T cannon, a weapon it shares with the IS. It sports an impressive 120mm of frontal hull armor, its turret is relatively well armored too, and the conical design makes bouncing frequent. When upgraded, it can mount the V-2SN engine, which gives a huge boost of horsepower. It is however much slower than the IS, and like the IS it lacks penetration compared to the German and US heavy tanks of its tier.

The KV-3 leads to the KV-4.


Turret
| Level | Turret | Turret Armor (front/sides/rear, mm) | Gun Traverse Speed (deg/s) | View Range (m) | Experience | Weight (t) |
| --- | --- | --- | --- | --- | --- | --- |
| VI | T-220 | 100/100/100 | 20 | 230 | 0 | 10000 |
| Level | Gun | Average Penetration (mm) | | Rate of Fire | Dispersion at 100 m | Aiming Time | Experience | Weight (t) |
| --- | --- | --- | --- | --- | --- | --- | --- | --- |
| VI | 85 mm F-30 | 120/161/43 | 200/200/300 | 9.22 | 0.42 | 3.4 | 0 | 1550 |
| VI | 85 mm S-31 | 119/159/43 | 200/200/300 | 9.22 | 0.42 | 3.4 | 5130 | 1500 |
| VII | 107 mm ZiS-6 | 167/219/54 | 320/320/400 | 5.74 | 0.45 | 3.4 | 16990 | 2400 |
| Level | Turret | Turret Armor (front/sides/rear, mm) | Gun Traverse Speed (deg/s) | View Range (m) | Experience | Weight (t) |
| --- | --- | --- | --- | --- | --- | --- |
| VII | KV-3 | 130/115/115 | 20 | 230 | 7120 | 12300 |
| Level | Gun | Average Penetration (mm) | | Rate of Fire | Dispersion at 100 m | Aiming Time | Experience | Weight (t) |
| --- | --- | --- | --- | --- | --- | --- | --- | --- |
| VI | 85 mm F-30 | 120/161/43 | 200/200/300 | 9.22 | 0.42 | 3.4 | 0 | 1550 |
| VI | 85 mm S-31 | 119/159/43 | 200/200/300 | 9.22 | 0.42 | 3.4 | 5130 | 1500 |
| VII | 107 mm ZiS-6 | 167/219/54 | 320/320/400 | 5.74 | 0.45 | 3.4 | 16990 | 2400 |
| VII | 100 mm D10T | 175/235/50 | 280/280/350 | 6.67 | 0.42 | 2.9 | 16500 | 2257 |
| VII | 122 mm D-2-5T | 175/217/61 | 400/400/500 | 3.53 | 0.46 | 3.4 | 20060 | 2600 |
| VIII | 122 mm D-25T | 175/217/61 | 400/400/500 | 4 | 0.46 | 3.4 | 19000 | 2590 |

Engine
| Level | Engine | Engine Power (h.p.) | Chance of Fire on Impact | Experience | Weight (t) |
| --- | --- | --- | --- | --- | --- |
| VI | V-5 | 600 | 15 | 0 | 750 |
| VII | V-2IS | 600 | 15 | 12980 | 750 |
| VIII | V-2SN | 750 | 15 | 12000 | 750 |

| Level | Suspension | Load Limit | Traverse Speed (deg/s) | Experience | Weight (t) |
| --- | --- | --- | --- | --- | --- |
| VI | KV-3 | 71.8 | 18 | 0 | 14200 |
| VII | KV-3 Bis | 71.8 | 20 | 6320 | 14200 |

Radio
| Level | Radio | Signal Range (m) | Experience | Weight (t) |
| --- | --- | --- | --- | --- |
| V | _10R | 500 | 0 | 100 |
Compatible Equipment
























Compatible Consumables
Pros and Cons
Pros:
Almost impenetrable for lower tiers if properly angled
High HP (1300)
High alpha damage with the 122 mm cannon
Tough frontal armor
Great at side-scraping
Cons:
Slow without the best engine
Long silhouette
Low accuracy and atrocious aim time (3.4 seconds)
Not as mobile as the IS, especially in terms of turning speed
Pretty poor gun mantlet, can be penetrated by 135mm+ penetration guns easily
History for this tank not found
ja:Blitz:KV-3