KV-2
KV2 (Stock)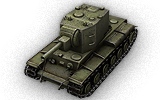 Totals
920000
Cost
810 HP
Durability
51.16 / 60.8
Weight
Crew
Commander
Gunner
Radio Operator
Driver
Loader
Loader
Armor
75/75/70
Hull Armor

(front/sides/rear, mm)
75/75/70
Turret Armor

(front/sides/rear, mm)
Maneuver
500 h.p.
Engine Power
35 km/h
Top Speed / Reverse Speed
16 deg/s
Traverse Speed
Firepower
450
damage
30 mm
Average Penetration
11
Time for Complete Loading
14 deg/s
Gun Traverse Speed
Communication
230 m
View Range
500 m
Signal Range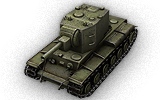 Heavy assault tank. Developed on the basis of the KV-1 in January 1940, with a total of 334 vehicles manufactured from 1940 through 1941. The KV-2 tanks were used in action in 1941, with most of the vehicles lost the same year.


Turret
| Level | Turret | Turret Armor (front/sides/rear, mm) | Gun Traverse Speed (deg/s) | View Range (m) | Experience | Weight (t) |
| --- | --- | --- | --- | --- | --- | --- |
| V | MT-1 | 75/75/70 | 14 | 230 | 0 | 11050 |
| Level | Gun | Average Penetration (mm) | | Rate of Fire | Dispersion at 100 m | Aiming Time | Experience | Weight (t) |
| --- | --- | --- | --- | --- | --- | --- | --- | --- |
| V | 122 mm U-11 | 30/140 | 450/270 | 5.45 | 0.57 | 2.9 | 0 | 1600 |
| VI | 152 mm M-10 | 110/136/86 | 640/640/960 | 2.5 | 0.6 | 4 | 6840 | 2300 |
| VII | 107 mm ZiS-6 | 167/219/54 | 320/320/400 | 6.19 | 0.45 | 3.4 | 16990 | 2400 |
| Level | Turret | Turret Armor (front/sides/rear, mm) | Gun Traverse Speed (deg/s) | View Range (m) | Experience | Weight (t) |
| --- | --- | --- | --- | --- | --- | --- |
| VI | MT-2 | 75/75/70 | 16 | 230 | 6250 | 12050 |
| Level | Gun | Average Penetration (mm) | | Rate of Fire | Dispersion at 100 m | Aiming Time | Experience | Weight (t) |
| --- | --- | --- | --- | --- | --- | --- | --- | --- |
| V | 122 mm U-11 | 30/140 | 450/270 | 5.45 | 0.57 | 2.9 | 0 | 1600 |
| VI | 152 mm M-10 | 110/136/86 | 640/640/960 | 2.5 | 0.6 | 4 | 6840 | 2300 |
| VII | 107 mm ZiS-6 | 167/219/54 | 320/320/400 | 6.19 | 0.45 | 3.4 | 16990 | 2400 |

Engine
| Level | Engine | Engine Power (h.p.) | Chance of Fire on Impact | Experience | Weight (t) |
| --- | --- | --- | --- | --- | --- |
| IV | M-17T | 500 | 20 | 0 | 610 |
| VI | V-2K | 500 | 15 | 6020 | 750 |
| VI | V-5 | 600 | 15 | 6490 | 750 |

| Level | Suspension | Load Limit | Traverse Speed (deg/s) | Experience | Weight (t) |
| --- | --- | --- | --- | --- | --- |
| IV | KV-2 mod. 1940 | 60.8 | 16 | 0 | 10600 |
| VI | KV-2 mod. 1941 | 60.8 | 18 | 5660 | 10600 |

Radio
| Level | Radio | Signal Range (m) | Experience | Weight (t) |
| --- | --- | --- | --- | --- |
| V | _10R | 500 | 0 | 100 |
Compatible Equipment
























Compatible Consumables
History for this tank not found
ja:Blitz:KV2