Leopard 1
Leopard1 (Stock)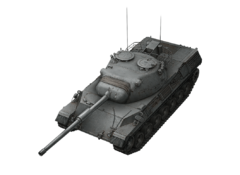 Totals
6100000
Cost
1850 HP
Durability
40 / 42
Weight
Crew
Commander
Radio Operator
Gunner
Driver
Loader
Armor
70/35/25
Hull Armor

(front/sides/rear, mm)
52/60/60
Turret Armor

(front/sides/rear, mm)
Maneuver
830 h.p.
Engine Power
65 km/h
Top Speed / Reverse Speed
54 deg/s
Traverse Speed
Firepower
350
damage
268 mm
Average Penetration
7
Time for Complete Loading
36 deg/s
Gun Traverse Speed
Communication
265 m
View Range
500 m
Signal Range
Main battle tank of the Federal Republic of Germany. Development was started in 1956. The first prototypes were built in 1965 at the Krauss-Maffei factory. The Leopard 1 saw service in the armies of more than 10 countries.


Turret
| Level | Turret | Turret Armor (front/sides/rear, mm) | Gun Traverse Speed (deg/s) | View Range (m) | Experience | Weight (t) |
| --- | --- | --- | --- | --- | --- | --- |
| X | Leopard 1 | 52/60/60 | 36 | 265 | 0 | 7718 |
| Level | Gun | Average Penetration (mm) | | Rate of Fire | Dispersion at 100 m | Aiming Time | Experience | Weight (t) |
| --- | --- | --- | --- | --- | --- | --- | --- | --- |
| X | 10,5 cm Bordkanone L7A3 | 268/330/53 | 350/350/400 | 8.57 | 0.3 | 2 | 0 | 1282 |

Engine
| Level | Engine | Engine Power (h.p.) | Chance of Fire on Impact | Experience | Weight (t) |
| --- | --- | --- | --- | --- | --- |
| X | MTU MB 838 CaM 500A | 830 | 10 | 0 | 1700 |

| Level | Suspension | Load Limit | Traverse Speed (deg/s) | Experience | Weight (t) |
| --- | --- | --- | --- | --- | --- |
| X | Leopard 1 | 42 | 54 | 0 | 10000 |

Radio
| Level | Radio | Signal Range (m) | Experience | Weight (t) |
| --- | --- | --- | --- | --- |
| X | SEM25_1 | 500 | 0 | 50 |
Compatible Equipment
























Compatible Consumables
History for this tank not found
ja:Blitz:Leopard1