Ram II
Ram-II (Stock)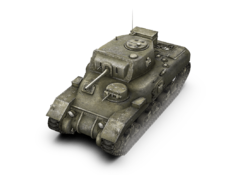 Totals
1750
Cost
750 HP
Durability
27.08 / 31
Weight
Crew
Commander
Gunner
Driver
Radio Operator
Loader
Armor
76.2/63/38
Hull Armor

(front/sides/rear, mm)
76.2/76.2/51
Turret Armor

(front/sides/rear, mm)
Maneuver
440 h.p.
Engine Power
38 km/h
Top Speed / Reverse Speed
37 deg/s
Traverse Speed
Firepower
90
damage
105 mm
Average Penetration
3.4
Time for Complete Loading
38 deg/s
Gun Traverse Speed
Communication
230 m
View Range
500 m
Signal Range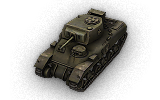 Developed on the basis of the M3 and produced in Canada from 1942 through the summer of 1943. None of the 1,849 vehicles were ever used in action, although some were used for training purposes.


Turret
| Level | Turret | Turret Armor (front/sides/rear, mm) | Gun Traverse Speed (deg/s) | View Range (m) | Experience | Weight (t) |
| --- | --- | --- | --- | --- | --- | --- |
| V | Ram II D1 | 76.2/76.2/51 | 38 | 230 | 0 | 4800 |
| Level | Gun | Average Penetration (mm) | | Rate of Fire | Dispersion at 100 m | Aiming Time | Experience | Weight (t) |
| --- | --- | --- | --- | --- | --- | --- | --- | --- |
| IV | QF 6-pdr Mk. IIIA | 105/170 | 90/90 | 17.65 | 0.36 | 2.29 | 0 | 450 |

Engine
| Level | Engine | Engine Power (h.p.) | Chance of Fire on Impact | Experience | Weight (t) |
| --- | --- | --- | --- | --- | --- |
| V | Wright Continental R-975C3 | 440 | 20 | 0 | 569 |

| Level | Suspension | Load Limit | Traverse Speed (deg/s) | Experience | Weight (t) |
| --- | --- | --- | --- | --- | --- |
| V | VVSS WE210 | 31 | 37 | 0 | 8300 |

Radio
| Level | Radio | Signal Range (m) | Experience | Weight (t) |
| --- | --- | --- | --- | --- |
| IX | British_Wireless_set_N19_US | 500 | 0 | 110 |
Compatible Equipment




















Compatible Consumables
History for this tank not found
ja:Blitz:Ram-II