SU-85I
Revision as of 08:03, 20 January 2015

Created page with "{{BlitzTankData|Tank= | |Gallery= |InTheGame_pros= |InTheGame_cons= |InTheGame_performance= |InTheGame_research= |InTheGame_equipment= |History= |HistoricalGallery= |..."

 
Revision as of 21:40, 3 October 2015
Line 5:
Line 5:
 
 
 
|InTheGame_pros=
 
|InTheGame_pros=
?
 
+
 
+
 
|InTheGame_cons=
 
|InTheGame_cons=
?
 
+
 
|InTheGame_performance=
 
|InTheGame_performance=
 
 
Revision as of 21:40, 3 October 2015
SU_85I (Stock)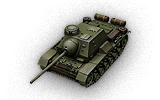 Totals
2300
Cost
670 HP
Durability
22.38 / 24.38
Weight
Crew
Commander
Radio Operator
Gunner
Driver
Loader
Armor
60/30/50
Hull Armor

(front/sides/rear, mm)
0/0/0
Turret Armor

(front/sides/rear, mm)
Maneuver
300 h.p.
Engine Power
50 km/h
Top Speed / Reverse Speed
48 deg/s
Traverse Speed
Firepower
200
damage
119 mm
Average Penetration
6.8
Time for Complete Loading
44 deg/s
Gun Traverse Speed
Communication
230 m
View Range
500 m
Signal Range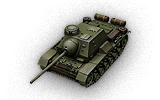 A proposed modification of captured German Pz.Kpfw. III tanks, which were to be mounted with the 85 mm gun. Never entered mass production nor saw service.

Gun
| Level | Gun | Average Penetration (mm) | | Rate of Fire | Dispersion at 100 m | Aiming Time | Experience | Weight (t) |
| --- | --- | --- | --- | --- | --- | --- | --- | --- |
| VI | 85 mm D-5S-85A | 119/161/43 | 200/200/300 | 8.82 | 0.42 | 2.3 | 0 | 960 |

Engine
| Level | Engine | Engine Power (h.p.) | Chance of Fire on Impact | Experience | Weight (t) |
| --- | --- | --- | --- | --- | --- |
| IV | Maybach HL 120 TRM | 300 | 20 | 0 | 920 |

| Level | Suspension | Load Limit | Traverse Speed (deg/s) | Experience | Weight (t) |
| --- | --- | --- | --- | --- | --- |
| VI | SU-85I | 24.38 | 48 | 0 | 7000 |

Radio
| Level | Radio | Signal Range (m) | Experience | Weight (t) |
| --- | --- | --- | --- | --- |
| VIII | _9RM_USSR | 500 | 0 | 30 |
Compatible Equipment
























Compatible Consumables
Pros and Cons
Pros:
Gun is powerful, with an amazing rate of fire.
Very fast and stealthy
Cons:
Terrible armor, made worse by huge commander's hatch
History for this tank not found
ja:Blitz:SU 85I