T-34-85
T-34-85 (Stock)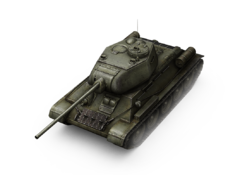 Totals
915000
Cost
870 HP
Durability
32.37 / 35.3
Weight
Crew
Commander
Gunner
Radio Operator
Driver
Loader
Armor
45/45/40
Hull Armor

(front/sides/rear, mm)
90/75/52
Turret Armor

(front/sides/rear, mm)
Maneuver
500 h.p.
Engine Power
54 km/h
Top Speed / Reverse Speed
41 deg/s
Traverse Speed
Firepower
160
damage
125 mm
Average Penetration
7.17342769922391
Time for Complete Loading
46 deg/s
Gun Traverse Speed
Communication
240 m
View Range
500 m
Signal Range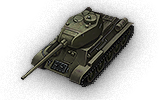 Final modification of the T-34 tank of 1943. A new three-man gun turret allowed a more powerful 85-mm gun to be mounted. This greatly increased the combat effectiveness of the tank compared to its predecessor, the T-34-76. A total of more than 35,000, in several variants, were produced. Today the tank is still in service in several countries.


Turret
| Level | Turret | Turret Armor (front/sides/rear, mm) | Gun Traverse Speed (deg/s) | View Range (m) | Experience | Weight (t) |
| --- | --- | --- | --- | --- | --- | --- |
| VI | T-34-85 | 90/75/52 | 46 | 240 | 0 | 7000 |
| Level | Gun | Average Penetration (mm) | | Rate of Fire | Dispersion at 100 m | Aiming Time | Experience | Weight (t) |
| --- | --- | --- | --- | --- | --- | --- | --- | --- |
| V | 76 mm S-54 | 125/156/20 | 160/160/200 | 8.36 | 0.41 | 2.9 | 0 | 1390 |
| V | 122 mm U-11 | 30/140/20 | 450/270/200 | 4.36 | 0.57 | 2.9 | 4430 | 1600 |
| VI | 85 mm ZiS S-53 | 126/167/43 | 200/200/300 | 7.36 | 0.42 | 2.9 | 5660 | 1550 |
| Level | Turret | Turret Armor (front/sides/rear, mm) | Gun Traverse Speed (deg/s) | View Range (m) | Experience | Weight (t) |
| --- | --- | --- | --- | --- | --- | --- |
| VII | T-34-85 extended | 90/75/52 | 46 | 240 | 8520 | 7800 |
| Level | Gun | Average Penetration (mm) | | Rate of Fire | Dispersion at 100 m | Aiming Time | Experience | Weight (t) |
| --- | --- | --- | --- | --- | --- | --- | --- | --- |
| V | 76 mm S-54 | 125/156/20 | 160/160/200 | 8.58 | 0.41 | 2.3 | 0 | 1390 |
| V | 122 mm U-11 | 30/140/20 | 450/270/200 | 4.52 | 0.57 | 2.9 | 4430 | 1600 |
| VI | 85 mm ZiS S-53 | 126/167/43 | 200/200/300 | 7.67 | 0.42 | 2.3 | 5660 | 1550 |
| VII | 85 mm D5T-85BM | 144/194/44 | 200/200/300 | 7.25 | 0.37 | 2.3 | 18290 | 1850 |

Engine
| Level | Engine | Engine Power (h.p.) | Chance of Fire on Impact | Experience | Weight (t) |
| --- | --- | --- | --- | --- | --- |
| VI | V-2-34M | 520 | 15 | 7320 | 750 |
| VI | V-2-34 | 500 | 15 | 0 | 750 |
| VIII | V-54K | 600 | 12 | 22420 | 750 |

| Level | Suspension | Load Limit | Traverse Speed (deg/s) | Experience | Weight (t) |
| --- | --- | --- | --- | --- | --- |
| V | T-34-85 | 35.3 | 41 | 0 | 7800 |
| VI | T-34-85-60 | 35.3 | 44 | 4710 | 7800 |

Radio
| Level | Radio | Signal Range (m) | Experience | Weight (t) |
| --- | --- | --- | --- | --- |
| IV | _9R_USSR | 500 | 0 | 80 |
Compatible Equipment
























Compatible Consumables
History for this tank not found
ja:Blitz:T-34-85