T-43
T-43 (Stock)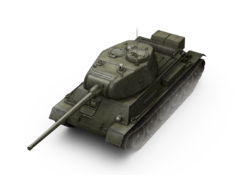 Totals
1355000
Cost
1050 HP
Durability
33.13 / 37.3
Weight
Crew
Commander
Gunner
Driver
Loader (Radio Operator)
Armor
75/75/75
Hull Armor

(front/sides/rear, mm)
80/80/60
Turret Armor

(front/sides/rear, mm)
Maneuver
520 h.p.
Engine Power
51 km/h
Top Speed / Reverse Speed
45 deg/s
Traverse Speed
Firepower
200
damage
126 mm
Average Penetration
5.5
Time for Complete Loading
48 deg/s
Gun Traverse Speed
Communication
250 m
View Range
500 m
Signal Range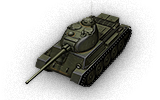 Designed as a replacement for the T-34 in the spring of 1942. The T-43 was recommended for service, but all work on the project was discontinued in favor of improving the T-34. The vehicle never entered mass production.


Turret
| Level | Turret | Turret Armor (front/sides/rear, mm) | Gun Traverse Speed (deg/s) | View Range (m) | Experience | Weight (t) |
| --- | --- | --- | --- | --- | --- | --- |
| VI | T-43 mod. 1942 | 80/80/60 | 48 | 250 | 0 | 7000 |
| Level | Gun | Average Penetration (mm) | | Rate of Fire | Dispersion at 100 m | Aiming Time | Experience | Weight (t) |
| --- | --- | --- | --- | --- | --- | --- | --- | --- |
| V | 122 mm U-11 | 30/140/43 | 450/270/300 | 5.62 | 0.57 | 2.9 | 4430 | 1600 |
| VI | 85 mm ZiS S-53 | 126/167/43 | 200/200/300 | 10.91 | 0.42 | 2.9 | 0 | 1550 |
| Level | Turret | Turret Armor (front/sides/rear, mm) | Gun Traverse Speed (deg/s) | View Range (m) | Experience | Weight (t) |
| --- | --- | --- | --- | --- | --- | --- |
| VII | T-43 mod. 1943 | 90/90/90 | 46 | 250 | 7105 | 8400 |
| Level | Gun | Average Penetration (mm) | | Rate of Fire | Dispersion at 100 m | Aiming Time | Experience | Weight (t) |
| --- | --- | --- | --- | --- | --- | --- | --- | --- |
| V | 122 mm U-11 | 30/140/43 | 450/270/300 | 5.72 | 0.57 | 2.9 | 4430 | 1600 |
| VI | 85 mm ZiS S-53 | 126/167/43 | 200/200/300 | 11.32 | 0.42 | 2.3 | 0 | 1550 |
| VII | 85 mm D5T-85BM | 144/194/44 | 200/200/300 | 10.91 | 0.37 | 2.3 | 18290 | 1850 |

Engine
| Level | Engine | Engine Power (h.p.) | Chance of Fire on Impact | Experience | Weight (t) |
| --- | --- | --- | --- | --- | --- |
| VI | V-2-34M | 520 | 15 | 0 | 750 |
| VIII | V-2-44 | 560 | 12 | 17000 | 750 |
| VIII | V-54K | 600 | 12 | 22420 | 750 |

| Level | Suspension | Load Limit | Traverse Speed (deg/s) | Experience | Weight (t) |
| --- | --- | --- | --- | --- | --- |
| VI | T-43 | 37.3 | 45 | 0 | 6400 |
| VII | T-43 mod. 1943 | 37.3 | 48 | 7960 | 6400 |

Radio
| Level | Radio | Signal Range (m) | Experience | Weight (t) |
| --- | --- | --- | --- | --- |
| IV | _9R_USSR | 500 | 0 | 80 |
Compatible Equipment
























Compatible Consumables
History for this tank not found
ja:Blitz:T-43