T110E3
T110E3 (Stock)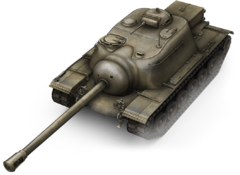 Totals
6100000
Cost
1900 HP
Durability
74.73 / 78
Weight
Crew
Commander
Radio Operator
Gunner
Driver
Loader
Loader
Armor
305/76/38
Hull Armor

(front/sides/rear, mm)
0/0/0
Turret Armor

(front/sides/rear, mm)
Maneuver
875 h.p.
Engine Power
24 km/h
Top Speed / Reverse Speed
21 deg/s
Traverse Speed
Firepower
640
damage
295 mm
Average Penetration
14.9473549869185
Time for Complete Loading
26 deg/s
Gun Traverse Speed
Communication
250 m
View Range
500 m
Signal Range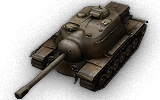 In 1954, a conference on future heavy tanks was held in Detroit. Alongside other advanced projects, the Chrysler Corporation suggested a new tank on the basis of the TS-31 project. The main goal was to make the tank fit the Bern national tunnel. Several variants were considered, but the project was canceled.

Gun
| Level | Gun | Average Penetration (mm) | | Rate of Fire | Dispersion at 100 m | Aiming Time | Experience | Weight (t) |
| --- | --- | --- | --- | --- | --- | --- | --- | --- |
| X | 155 mm AT Gun T7E2 | 295/375/90 | 640/640/960 | 4.01 | 0.36 | 2.5 | 0 | 3371 |

Engine
| Level | Engine | Engine Power (h.p.) | Chance of Fire on Impact | Experience | Weight (t) |
| --- | --- | --- | --- | --- | --- |
| X | Continental AOI-1490 | 875 | 20 | 0 | 1200 |

| Level | Suspension | Load Limit | Traverse Speed (deg/s) | Experience | Weight (t) |
| --- | --- | --- | --- | --- | --- |
| X | T110E3 | 78 | 21 | 0 | 8000 |

Radio
| Level | Radio | Signal Range (m) | Experience | Weight (t) |
| --- | --- | --- | --- | --- |
| X | AN_VRC-3 | 500 | 0 | 160 |
Compatible Equipment






















Compatible Consumables
History for this tank not found
de:Blitz:T110E3
ko:Blitz:T110E3
ja:Blitz:T110E3