T26E4 SuperPershing
T26_E4_SuperPershing (Stock)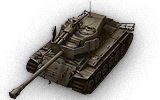 Totals
7200
Cost
1400 HP
Durability
50.97 / 53
Weight
Crew
Commander
Gunner
Driver
Radio Operator
Loader
Armor
177.6/76.2/50.8
Hull Armor

(front/sides/rear, mm)
101.6/76.2/76.2
Turret Armor

(front/sides/rear, mm)
Maneuver
500 h.p.
Engine Power
40.2 km/h
Top Speed / Reverse Speed
36 deg/s
Traverse Speed
Firepower
225
damage
170 mm
Average Penetration
7.2
Time for Complete Loading
20 deg/s
Gun Traverse Speed
Communication
250 m
View Range
500 m
Signal Range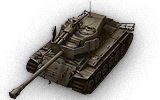 To increase firepower, a new long-barrelled 90-mm gun was mounted on the T26E1 in January 1945. The prototype was designated the T26E4. Development was discontinued in January 1947 due to problems with the gun and the loading mechanism. A total of 25 vehicles had been built by that time, but never entered service.


Turret
| Level | Turret | Turret Armor (front/sides/rear, mm) | Gun Traverse Speed (deg/s) | View Range (m) | Experience | Weight (t) |
| --- | --- | --- | --- | --- | --- | --- |
| VIII | T26E4 | 101.6/76.2/76.2 | 20 | 250 | 0 | 11000 |
| Level | Gun | Average Penetration (mm) | | Rate of Fire | Dispersion at 100 m | Aiming Time | Experience | Weight (t) |
| --- | --- | --- | --- | --- | --- | --- | --- | --- |
| VIII | 90 mm Gun T15E1 | 170/258/45 | 225/225/270 | 8.33 | 0.38 | 2.3 | 0 | 2050 |

Engine
| Level | Engine | Engine Power (h.p.) | Chance of Fire on Impact | Experience | Weight (t) |
| --- | --- | --- | --- | --- | --- |
| VI | Ford GAF V8 | 500 | 20 | 0 | 569 |

| Level | Suspension | Load Limit | Traverse Speed (deg/s) | Experience | Weight (t) |
| --- | --- | --- | --- | --- | --- |
| VIII | M26T80E1 | 53 | 36 | 0 | 10000 |

Radio
| Level | Radio | Signal Range (m) | Experience | Weight (t) |
| --- | --- | --- | --- | --- |
| X | SCR_528A1 | 500 | 0 | 91 |
Compatible Equipment
























Compatible Consumables
History for this tank not found
ja:Blitz:T26 E4 SuperPershing