Crater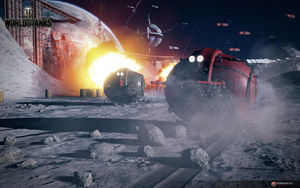 As the april fools of 2016, an exclusive gamemode was released, called Moon Mayhem. The mode allowed players to roll out with a special vehicle, the IS 8-Ball. The map itself is located on the face of the Moon. It has many craters, explosive barrels an six lava pits on it. During the match, random events occur such as a "Meteor shower" that can kill a tank instantly, "Bounce" which shoots players high up in the sky, and "Impulse" that shoots players in a random horizontal direction. This map was an exclusive for the IS-8 Ball, which was given to all players during the 2016 April fools event.
Fun Fact: The Map was used for a Tier 3 online Tournament on the North America Server and it had the lower Gravity in the tournament.
This article is a stub.
You can help the Wargaming wiki by expanding it.