Crew

No vehicle in World of Tanks can operate without a complete crew. Acting as a proxy operator between the player and his vehicle, they affect some of the more important properties of vehicles in game. Through battles, a crew will gain experience the same way vehicles will. Over time, crewmen will improve their major qualification. Once this reaches 100%, the crew may acquire new skills. Even with the same hardware on the same tank, a difference in crew skills can have a dramatic effect on the battlefield. Crews can be bought and sold, trained and retrained for different vehicles, and be moved from one vehicle to another. Every crew member is trained for a certain vehicle and role, each with their own levels of proficiencies. The career of an individual crew member can be checked though their personnel file while in the garage. The personnel file includes their service record (the crew member's statistics and medals awarded), training, skills, and personal data. If a crew member is killed in battle, the vehicle's performance will suffer. If all the crew members are knocked out, the vehicle will become inoperable.
Each vehicle can vary in the number of crew members inside it and the roles that they are assigned. For example, a
PzKpfw 38H735 (f)
has two crew members; a Commander and a Driver, while an
SU-14
has six; a Commander, two Gunners, a Driver, and two Loaders. The role chosen for a crew member will remain with him for his entire history and will earn experience and become more proficient over time. There are five unique roles and they can be duplicated or excluded, depending on the tank.
| | | | | |
| --- | --- | --- | --- | --- |
| | | | | |
| Commander | Driver | Gunner | Loader | Radioman |
The Primary Specialization of a crew member is his job in the vehicle. The crew member's skill level effects the vehicle performance. As a crew member gains experience, their skills improve and they become more effective at their job. A
vehicle's statistics
list the maximum possible value. Note that this value includes additional items that can add to crew skill, like
Chocolate
. Still, getting to 100% crew skill is the easiest method to increase overall vehicle performance.
There are five Primary Specializations, or jobs:

Commander
These crewmen are responsible for spotting enemy vehicles. They affect the view range of the vehicle, with more competent commanders able to spot enemies at a greater distance. Commanders also give a bonus to the primary specializations of the rest of the crew.
Driver
These crewmen are responsible for operating the driving controls of the vehicle. They affect the movement dynamics of a vehicle, with more competent drivers able to turn more sharply, lose less speed on turns, and accelerate more quickly.

Loader
These crewmen are responsible for loading the next shell to fire. They affect how fast the next shell is loaded, with more competent loaders able to load the next shell faster, resulting in a lower reload time.

Gunner
These tankers are responsible for aiming and firing the vehicle's gun. They affect the speed at which a gun will zero-in on its target, with more competent gunners able to zero-in at a faster speed, resulting in a lower aim time. Subsequently, they're better able to keep the gun at least partially zeroed-in while the turret is turning and to a lesser extent, while the whole tank is moving. Gunners also affect Turret Traverse (rotation) speed.

Radio Operator
These crewmen are responsible for maintaining contact with allies, so that they appear on the player's minimap. They affect the radio range of the vehicle, with more competent radio operators able to maintain contact with allies at greater ranges. At the base skill of 50%, a Radio Operator will operate a radio at 75% of its range.
Difference between role and specialization
A tank crew member has a specific specialization that he is trained for and becomes proficient in, a role is his job in the vehicle. Each crew member can have one specialization but can perform multiple roles. In addition, multiple crew members may be assigned to one role.
For example the PzKpfw 38H735 (f) has two crew members, a Commander who is responsible for spotting enemies, operating the radio, and loading and aiming the gun, and a Driver who operates the driving controls.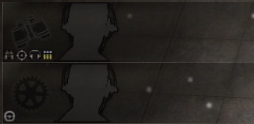 Bonuses and Penalties
There are two bonuses that can be applied to primary specializations: the Commander Bonus and Equipment Bonus from equipment and consumables.
Commander Bonus

The commander of the tank gives an experience bonus to every crew member under his command, in the form of 10% of the commander's own experience, rounded to the nearest percent. This bonus will allow the crew to operate beyond 100%, and as a result, will perform better than the tank's specifications. A commander at 100% will give every crew member a 10% bonus allowing them to be 110% proficient at their job. The bonus a commander gives can be found by hovering over a crew member with you mouse in the garage.

Equipment Bonus

The Improved Ventilation equipment adds 5% to each crew member's primary specializations.
The premium consumables Chocolate, Coca-Cola Box, and Extra Combat Rations will give a 10% bonus for a specific battle.
A penalty to Primary Specializations can be applied as well, should a crewman operate a vehicle from his own country that he is not trained for (his tank will be in red).
If a crew member is in a vehicle of the same class (but not in their own vehicle), they will take a 25% penalty to their current skill level. So for example, an 80% crew will perform at 60%, while a 100% crew will perform at 75%.
If a crew member is in a vehicle of a different class, they will take a 50% penalty to their current skill level. Similarly to the above example, an 80% crew will perform at 40%, while a 100% crew will perform at 50%.
Experience gain for each crew member is also reduced, with the exception of crews placed into premium tanks of the same class.
Bonuses and the final primary specialization level of a crew member stack and can be seen by mousing over the tanker's icon in the garage or barracks.
Crew Injuries
During the course of battle, crewmen can be injured and be taken out of the battle, making their skill 0% for the rest of the battle, and their experience gains lowered by 50% for that battle.

Commander death removes the bonus given to all crew members and reduces view range.

Driver death reduces the top speed, traverse speed, and acceleration of the vehicle.

Loader death decreases reloading speed. If a shell was being loaded at the moment of loader's death, the process might start over.

Gunner death reduces aiming speed and increases dispersion. Turret traverse speed will also decrease. If the gun was in the process of zeroing in on target at the moment of gunner's death, the process might start over.

Radioman death reduces radio range to 50%.
Should a crew member have multiple proficiencies, then all the proficiencies associated with the crewman take a penalty. For example, a crew member who was responsible for loading and firing the gun, then both the gunner and loader injury will take effect.
A crew member from any given crew may perform multiple roles, or multiple crewmen may fulfill the same role. In the case of multiple crewmen for the same role, the effective skill between them is the average of the skills across all the tankers. For example the two loaders on a SU-14, one performing at 50% and the other at 100% will average of 75% loader crew skill. Dead crew members will perform at 0% for the purpose of finding the average calculations. Having multiple members perform the same job is beneficial, because if one becomes dead during the course of battle the job will no be as effected as if one member was performing it.
The Small First Aid Kit and Large First Aid Kit consumables will allow an dead tanker to return to battle.
Battles
The main method of raising the experience of the crew is through participation in battles, where they will gain experience points, which is used automatically to improve their skills. The crew will gain as much experience as the tank did in the battle. This is the only way to raise the experience level of secondary skills. A crew member that was injured during battle will only receive 50% of the experience he would have otherwise. Since the rate of crew injuries may not be the same across all the crew members, it is possible that one tanker will improve his skills faster than another tanker in the same crew should he be knocked out less than his colleague.
Rapid Training is an option available only for Elite Tanks, tanks that have researched all upgrades. Selecting this option will means that each crew members receive a 100% xp bonus divided by the number of crew members, so 4 crew members receiving rapid training will get a 25% bonus every battle. This bonus is applied to both primary and secondary skill gain.
Rapid Training can be toggled on and off at any time by a check box above the crew icons in the garage on the upper-left side of the garage interface, or by a check box in the upper-right corner of the vehicle's research tree menu. When a player turns on Rapid Training, a dialog box will appear to notify the player that it has now been enabled.
Experience needed for the next level can be calculated by by multiplying the next level by 50, 100, 200, or 400 for primary, secondary 1, secondary 2, or secondary 3 skills respectively. For example to get from 68% to 69% in a primary skill you will need 50x69 = 3450xp.
Secondary Specializations
Secondary Specializations
are additional skills that a crew member can learn in order to improve aspects of a vehicle outside of the crew member's primary specialization. Training for these skills is available when a crewman reaches 100% in his primary specialization. A small plus icon will appear on the crewman's icon to indicate that he is now ready to start training a secondary specialization. Secondary skills can be stacked with equipment and consumables like Camouflage Net, Tool box, and Fire Extinguisher.
There are three secondary specializations available:

Repair
This skill improves the crew member's ability to repair a module that has been knocked out, a higher skill level allows faster repairs. The skill bonus starts to take effect as soon as a module is damaged. Repair skills are essential for the vehicles where returning to operational condition as quickly as possible is paramount, such as scouting tanks which rely on their tracks being in good shape.

Camouflage
This skill improves the crewman's ability to hide the vehicle from enemies. A higher level lowers the chances that the vehicle will be spotted by the enemy, requiring enemies to be closer to the player in order to detect him. The camouflage skill is always active and stacks with the camouflage bonus given for not moving the turret or chassis. Tank Destroyers already start with an inherent camouflage bonus and don't break the camouflage bonus when moving their gun. This skill is quite useful for Tank Destroyers or any other player that finds that remaining still and in one place is advantageous for them.

Firefighting
This skill improves the crew member's ability to put out a fire, should a vehicle ever be unlucky enough to be in such a situation, with a higher skill level resulting in shorter times to extinguish the fire and thus prevent it from spreading to other modules. This does not affect the chances of a vehicle catching on fire in the first place. The skill bonus takes effect as soon as the vehicle catches on fire. Firefighting skills are useful for large vehicles that can stand to take some damage without being utterly destroyed.
*note - vehicles with gasoline engines have a higher chance of catching on fire (as shown in the engine's statistics)
After selecting one of those qualifications there will appear a corresponding icon with the percentage level of that specialty. Maximum level a crew member can reach on the secondary qualification is 100%. After that, the crew member can start training another specialty, and continue the process until all specializations are acquired.
Secondary Specializations work immediately and are averaged across all crew members. Crew members that do not have any training in a certain secondary specialization will add 0% to the averaging calculations. Thus, to reach 100% of a secondary specialization for a tank with a crew of 4, all 4 crew members must reach 100% on that specific specialization. However, a crew member who is currently training one specialization cannot cancel his current training in order to learn a different specialization.
If a crew member reaches 100%, unlocking the option to select a secondary specialization, and you do not choose one, that crew member will continue to gather experience for that (unselected) skill and will receive the proper percentage when a secondary skill is chosen. This is beneficial when purchasing a new tank with 100% crew but not yet knowing what secondary skills would benefit it, you can play some battles with that crew before selecting the secondary skill.
If a crew member's primary qualification percentage drops due to retraining for a different vehicle, all new experience earned will go toward the primary qualification until it reaches 100% again. However, any secondary specialization will not drop and will remain in affect.
Tank crew members can be trained outside of battle, and retrained for a different vehicles.
Training
When acquiring a new crew you will be faced with the option to select different levels of training.

Tank Academy
At the cost of 200 gold, this option trains a crew member to 100% in primary specialization, and thus automatically unlocking a secondary skill.

Regimental School
At the cost of 20,000 credits, this option trains a crew member to 75% in primary specialization.

Rapid Courses
This option is free, and trains a crew member to 50% in primary specialization, which is the absolute minimum that a crew member can be at.

When acquiring a crew member at the Barracks you will also have to specify a Nation, Vehicle Type(vehicle class), Vehicle Model and Qualification(role).
Retraining
You can retrain your crew for a different vehicle or simply boost their current level. Once a crew member has been recruited, his nationality and role will be locked in and will not be changeable when retraining. A crew member can also increase his skill in the vehicle he is currently in, as long as the vehicle selected for training is his own. Note, you can not retrain a crew member to a tank of a different nation.
When retraining, as with new crew training, you will have three levels to choose from. Retraining a crew member can be done by opening the crew member's profile and selecting the "Training" tab.

Tank Academy
At the cost of 200 gold, this option retrains a crew member to the same level as he was before, but for the new vehicle.

Regimental School
At the cost of 20,000 credits, this option retrains a crew member to 75%. If a crew member's primary specialization is below 75%, then his primary specialization after retraining is automatically 75%. If the crew member is above 75% in primary specialization, then after retraining it will be as follows:

If the crew member is retraining to a vehicle of the same class, then the final experience is 90% of the crew member's current experience level.
If the crew member is retraining to a vehicle of a different class, then the final experience is 80% of the crew member's current experience level.

Rapid Courses
This option is free, and retrains a crew member to 50% in primary specialization, which is the absolute minimum that a crew member can be. The final primary specialization level after retraining through rapid courses is as follows:

If the crew member is retraining to a vehicle of the same class, then the final experience is 80% of the crew member's current experience level.
If the crew member is retraining to a vehicle of a different class, then the final experience is 60% of the crew member's current experience level.
When to Retrain
There are two main reasons why retraining an old crew is preferred over recruiting a fresh one:
Retention of Secondary Specializations

Fresh crews, regardless of what primary specialization that they started with, will not have any Secondary Specializations. Since secondary specializations are not lost, it is better to retrain the old crew so that the bonuses that they provide are kept, even if it means the tankers in the crew will have a drop in primary specialization.
Continuation of the Crew Member's Career

Crew member will keep their statistics and awards regardless of what vehicle they are put in. Even though a retrained veteran might preform as well as a fresh tanker, the veteran's personal records are kept, including medals.
As your crew gains experience they will be awarded with higher ranks, with every 50% experience is a new rank. If, when retraining, a crew member loses some competence he will not be demoted in rank. There are separate ranks for each nation. A crewman's rank also depends on his role.
| | | | | | | | | | | |
| --- | --- | --- | --- | --- | --- | --- | --- | --- | --- | --- |
| Panzeroberschütze | Gefreiter | Unteroffizer | Unterfeldwebel | Feldwebel | Oberfeldwebel | Stabsfeldwebel | Leutnant | Oberleutnant | Hauptmann | Major |
| Ryadovoy | Efreitor | Mladshiy Serzhant | Serzhant | Starshiy Serzhant | Starshina | Mladshiy Leytenant | Leytenant | Starshiy Leytenant | Captain | Mayor |
| Private First Class | Corporal | Sergeant | Staff Sergeant | Technical Sergeant | Master Sergeant | First Sergeant | Second Lieutenant | First Lieutenant | Captain | Major |
Crew Member Personal Files
Players can look at the Personal File for each of their crew member by right clicking on the crew member's icon in either the Barracks or the Garage.
On the left side of the window is a list of the crew member's basic information, including:
Full name, rank, and vehicle
Competence, or primary specialization
Modifiers
Secondary skills, either completed or in-progress.
In addition, there are buttons in the bottom-left corner to send the crew member from his vehicle to the barracks, and to dismiss the crew member from service. Dismissing a crew member from service cannot be undone.
On the right side of the menu are four tabs:
Service Record

This tab includes various battle statistics, such as the number of battles fought and enemies destroyed, and awards given to the crew member over the course of his career. Battle awards given to a crew member will stay with him, even if the crew member is retrained and placed in another vehicle.

Training

See also: Increasing Competence:Currency
This tab is where players can raise their crew member's competence or retrain them so that the crew member can operate a different vehicle.

Skills

See also: Secondary Specializations
This tab is where players can view all the secondary specializations that are currently available for the crew member to learn. When a crewman is ready to start his training on a secondary specialization, a button will appear which will allow the player to commence the crew member's training.

Personal Data

Players can change the name and avatar of their crew member, where they can select from a list of pre-defined names, and a selection of face icons. Changing a crew member's personal details costs 50 gold.
Moving Crew Member
Barracks

Here is where players can find all their crew members, whether they are in a tank or in the barracks itself. Players start with sixteen bunks in their barracks, and can increase the number of bunks for 300 gold by scrolling down and selecting the Enlarge Barracks button. Only crew members who are not in a tank use a bunk in the barracks. Those who are in tanks are listed in the Barracks window, but they don't take up a bunk. By using the toggles and drop-down menu on the left side, a player can sort his crew members by their nationality, vehicle training, primary specialization, and location (whether assigned to a tank or not). Crewmen that are not currently in a tank can be dismissed from service to free up a bunk in the barracks. Dismissing a crew member is permanent, meaning the crewman is lost forever with any awards and skills he may have acquired.
Garage

In the Garage, players will see icons on the left side that represent the crewmen who are operating the currently active vehicle, with the rank, last name, skills and their levels. Hovering over a crew member will provide additional information, revealing the crew member's full name, total primary skills, bonuses, and vehicle training. Players can left-click on a crew member to bring up a small pop-up menu, which will allow players to view the selected crew member's personal file, recruit a crew member who can fill the selected slot, select a crew member from the barracks who is capable of filling that slot, or send the selected crew member to the barracks. If there is no crew member in a crew slot, then clicking on the crew slot will bring up the crew recruitment menu, with the proper fields filled in for that vehicle.
Tanker Recruitment
You can recruit additional crew members by pulling up the "Recruit Crew" menu through one of two ways:
Through the Barracks Menu

Players can recruit a new crew member from the barracks by selecting the Recruit a Tanker button. A menu will appear, where players can specify via drop-down menus the desired Nationality, Qualification, Vehicle Class, and Vehicle that the new crew member will have.

Through the Garage Menu

Players can recruit a new crew member to fill a specific role by selecting a crew member's icon in the garage and then selecting the option to recruit a crew member or by selecting an empty crew slot. A menu will appear, with the Nationality, Qualification, Vehicle Class, and Vehicle drop-down menus already set for the specified role.
World of Tanks Tutorial & Guides