Alaska
Revision as of 17:34, 28 February 2019

Updated consumables with aircraft

Revision as of 05:06, 4 March 2019

Added info

Line 31:
Line 31:
 
* Large size and more sluggish maneuverability makes her an easier target for both enemy shells and torpedoes.
 
* Large size and more sluggish maneuverability makes her an easier target for both enemy shells and torpedoes.
 
* Her large size also makes her an easy target to hit, even when actively maneuvering.
 
* Her large size also makes her an easy target to hit, even when actively maneuvering.
?
* Armor is not thick enough to let her tank battleship fire and HE spam in open combat.
+
* Armor is not thick enough to let her tank battleship fire and HE spam in open combat
 
+
.
 
 
 
|Research=<!-- write text about priority sequence of research below -->
 
|Research=<!-- write text about priority sequence of research below -->
Line 54:
Line 55:
 
'''Upgrade Slot 4''' provides several viable options. For increased survivability, {{Damage Control System Modification 2}} is a good choice. Many players utilize {{Steering Gears Modification 2}} to increase the maneuverability of the ship, while others will opt for {{Propulsion Modification 2}} in order to get ''{{#var:ship_name}}'' moving quickly when stationary. Choosing between these upgrades will be determined by the intended play style.
 
'''Upgrade Slot 4''' provides several viable options. For increased survivability, {{Damage Control System Modification 2}} is a good choice. Many players utilize {{Steering Gears Modification 2}} to increase the maneuverability of the ship, while others will opt for {{Propulsion Modification 2}} in order to get ''{{#var:ship_name}}'' moving quickly when stationary. Choosing between these upgrades will be determined by the intended play style.
 
 
?
The default pick for many players in '''Upgrade Slot 5''' will be {{Concealment System Modification 1}}, but as a cruiser, ''{{#var:ship_name}}'' also has access to {{Steering Gears Modification 3}}. When stacked with {{Steering Gears Modification 2}} in '''Upgrade Slot 4''', ''{{#var:ship_name}}'' becomes highly maneuverable and can sometimes juke and dodge incoming fire at longer ranges. This is a valuable ability to have in the early stages of a match, and captains who feel comfortable eschewing a maximum stealth build are encouraged to try it out.
+
The default pick for many players in '''Upgrade Slot 5''' will be {{Concealment System Modification 1}}, but as a cruiser, ''{{#var:ship_name}}'' also has access to {{Steering Gears Modification 3}}. When stacked with {{Steering Gears Modification 2}} in '''Upgrade Slot 4''', ''{{#var:ship_name}}'' becomes highly maneuverable and can sometimes juke and dodge incoming fire at longer ranges. This is a valuable ability to have in the early stages of a match, and captains who feel comfortable eschewing a maximum stealth buildare encouraged to try it out.
 
 
 
 
 
|CommanderSkills=<!-- write text about best set of Commander Skills below -->
 
|CommanderSkills=<!-- write text about best set of Commander Skills below -->
?
Key skills for ''{{#var:ship_name}}'' commanders include Priority Target, Expert Marksman, Superintendent, and Concealment Expert.
+
Key skills for ''{{#var:ship_name}}'' commanders include Priority Target, Expert Marksman, Superintendent, and Concealment Expert.
 
 
 
{{Commander Skills
 
{{Commander Skills
 
| Priority Target = 3
 
| Priority Target = 3
 
| Preventative Maintenance = 1
 
| Preventative Maintenance = 1
?
| Expert Loader = 2
+
| Expert Loader =
 
| Air Supremacy =
 
| Air Supremacy =
 
| Direction Center for Fighters = 1
 
| Direction Center for Fighters = 1
Line 89:
Line 90:
 
 
 
| Manual Fire Control for Secondary Armament =
 
| Manual Fire Control for Secondary Armament =
?
| Fire Prevention = 2
+
| Fire Prevention =
 
| Inertia Fuse for HE Shells =
 
| Inertia Fuse for HE Shells =
 
| Sight Stabilization =
 
| Sight Stabilization =
Revision as of 05:06, 4 March 2019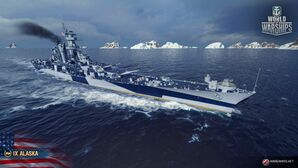 Tech Tree Position
305 mm/50 Mk.8 in a turret
3 х 3 

pcs.
Rate of Fire
3 

shots/min.
Reload Time
20 

sec.
Rotation Speed
6 

deg./sec.
180 Degree Turn Time
30 

sec.
Firing Range
18.97 

km.
Maximum Dispersion
207 

m.
HE Shell
305 mm HE Mk17 mod. 1 
Maximum HE Shell Damage
4,300 
Chance of Fire on Target Caused by HE Shell
27 

%
Initial HE Shell Velocity
808 

m./s.
HE Shell Weight
462.3 

kg.
AP Shell
305 mm AP Mk18 mod. 1 
Maximum AP Shell Damage
8,900 
Initial AP Shell Velocity
762 

m./s.
AP Shell Weight
517 

kg.
127 mm/38 Mk32
6 х 2 

pcs.
Firing Range
5 

km.
Rate of Fire
10 

shots/min.
Reload Time
6 

sec.
HE Shell
127 mm HE Mk32 
Maximum HE Shell Damage
1,800 
Initial HE Shell Velocity
792 

m./s.
Chance of Fire on Target Caused by HE Shel
5 

%
40 mm Bofors Mk2
14 х 4 

pcs.
. . . Average Damage per Second
222.6 
. . . Firing Range
3.51 

km.
20 mm Oerlikon Mk4
34 х 1 

pcs.
. . . Average Damage per Second
122.4 
. . . Firing Range
2.01 

km.
127 mm/38 Mk32
6 х 2 

pcs.
. . . Average Damage per Second
90.6 
. . . Firing Range
5.01 

km.
Maximum Speed
33 

knot
Turning Circle Radius
850 

m.
Rudder Shift Time
13 

sec.
Surface Detectability Range
15.5 

km.
Air Detectability Range
9.72 

km.
Battle Levels
Alaska — American promo premium Tier IX cruiser.
An instance of a special type of ship, somewhere between a cruiser and a battleship. Officially classified as a "large cruiser", she was armed with 305 mm guns, had a high speed, and powerful AA defenses. On the other hand, she had relatively weak protection for her size.
Modules
Compatible Upgrades
 Slot 1 
 Slot 2 
 Slot 3 
 Slot 4 
 Slot 5 
 Slot 6 
Player Opinion
Performance
USS Alaska is the second Tier IX ship available for Free Experience ( 

) in the American tech tree, and is the first Free XP ship to be priced at 1,000,000 

.
On paper, many aspects of Alaska will resemble those of her counterparts, Kronshtadt and Azuma. In game, however, captains will find that Alaska has a play style more similar to that of German heavy cruisers (such as Roon). Armed with nine 305mm guns, she lacks the ability to go "AP only" in battle; something that her Russian counterpart can do quite easily. Captains are highly encouraged to invest in the Expert Loader skill in order to make the most of her main battery. In this respect, Alaska is quite similar to normal cruisers in that she will regularly change shell types depending on the chosen target.
As far as her armor goes, she keeps the trend of high-tier American cruisers having 27mm plating at their extremities, as well as possessing an overmatch-proof middle deck. Despite having 10,000 fewer hit points than Kronshtadt, Alaska has similar — if not superior — survivability to due to her armor layout and better stealth. Alaska also has a below-the-waterline citadel, allowing her to frequently avoid citadel hits at close range. Still her armor is quite weak, and when taking battleship-caliber fire at range, her citadel remains very vulnerable. Captains should keep an eye on enemy battleship positions, and either angle or make use of concealment accordingly.
Much of Alaska's playstyle is based on choosing fights wisely. Although she has great armor — for a cruiser — and solid guns, she will still be out damaged by equal and higher tier cruisers due to her slower rate-of-fire. Her armor loses much of its strength when facing off against high-tier battleships; captains should avoid thinking that her large guns and good armor can allow her to carry an engagement. Early game for Alaska is much the same as it is for any other cruiser, while in the late game a healthy Alaska can make the difference between a loss and a win. Learning when Alaska can safely engage targets in one-on-one duels and win is an important skill for captains looking to maximize her game play.
Pros:
Large 305mm main battery armament.
Alaska's large health pool, good concealment, and sturdy armor allow her freedom in positioning and the ability to withstand fire from equivalent tier cruisers.
Strong AA suite can protect her from most enemy aircraft.
Excellent accuracy on her main battery armament aids in her role of a cruiser killer.
Has access to Surveillance Radar ().
Cons:
Increased fire duration (60 seconds) and vulnerability to multiple fires when under HE spam compared to other cruisers.
Large size and more sluggish maneuverability makes her an easier target for both enemy shells and torpedoes.
Her large size also makes her an easy target to hit, even when actively maneuvering.
Armor is not thick enough to let her tank battleship fire and HE spam in open combat. While she can tank fire from most battleships if angled and at range, Republique and Yamato can still easily overmatch all her plating.
While she has Surveillance Radar (), her extremely long gun reload time of 20 seconds means that players will need to fire accurately and try and get help from teammates when fighting destroyers as most players will only get 2 salvos off at most during the entire duration of the radar.
Research
As a premium ship, Alaska doesn't have any upgrades to research.
Optimal Configuration
Upgrades
The recommended upgrades for Alaska are as follows:
Upgrade Slot 1 provides players with two viable choices. Main Armaments Modification 1 (

) is generally recommended; however, for anti-aircraft duties, players should take Auxiliary Armaments Modification 1 (

).
Upgrade Slot 2 allows players to extend the duration of the Surveillance Radar (

) consumable if they have the appropriate upgrade available in the Armory. Otherwise, Damage Control System Modification 1 (

) is recommended.
Upgrade Slot 4 provides several viable options. For increased survivability, Damage Control System Modification 2 (
) is a good choice. Many players utilize Steering Gears Modification 1 (

) to increase the maneuverability of the ship, while others will opt for Propulsion Modification 1 (

) in order to get Alaska moving quickly when stationary. Choosing between these upgrades will be determined by the intended play style.
The default pick for many players in Upgrade Slot 5 will be Concealment System Modification 1 (

), but as a cruiser, Alaska also has access to Steering Gears Modification 2 (
). When stacked with Steering Gears Modification 1 (

) in Upgrade Slot 4, Alaska becomes highly maneuverable and can sometimes juke and dodge incoming fire at longer ranges. This is a valuable ability to have in the early stages of a match, and captains who feel comfortable eschewing a maximum stealth build, especially because with the CV rework the permanent scouting by planes neutralizes all stealth builds are encouraged to try it out.
Commander Skills
Key skills for Alaska commanders include Priority Target, Expert Marksman, Superintendent, and Concealment Expert. Due to the long reload time, captains are encouraged to add Expert Loader and possibly give Alaska the Unique commanders because of their buffed Expert Loader Commander Skill.
Recommended Commander Skills
Cost
(points)

Endurance

Attack

Support

Versatility



1

★★★

★

★★★

 

★

 

★

 



2

★

★★

★★★

 

 

 

★★★

 



3

★★★

 

 

 

★★

★★★

 

 



4

 

★★★

 

 

★★

 

 

★★★

Key: ★★★ - Extremely Useful       ★★ - Frequently Useful       ★ - Occasionally Useful      No stars - Meh    

Χ

- Not recommended
Consumables
Alaska can equip the following consumables:
Camouflage
As a premium ship, Alaska comes included with Type 10 camouflage that lowers her detection radius, reduces the accuracy of incoming shells, reduces her repair costs, and increases the amount of experience she earns.
Signals
Alaska captains should mount standard signal flags to improve the ship's performance in battle. Sierra Mike (

) flags are highly recommended to increase the ship's top speed. India Delta (

) and India Yankee (

) flags should be mounted to improve the ship's survivability. November Foxtrot (

) flags can also be mounted to decrease consumable cooldown time. Lastly, economic and special signal flags can be mounted to increase the ship's economic gains per battle.
Recommended Signal Flags
Combat

★★

★★

★

 

★

★

★★

★★★

★★★

★

★★★

★

Economic

★★★

★★

★★

★★

★

Special

★★★

★★★

★★

★★

★★

 

 

 

Key: ★★★ - Extremely Useful       ★★ - Frequently Useful       ★ - Occasionally Useful      No stars - Not Useful
Gallery