Asashio
Revision as of 15:57, 18 April 2018

Added historical pictures

Revision as of 03:04, 19 April 2018

Performance added.

Line 16:
Line 16:
 
3. Write a brief summary paragraph of 1-3 sentences highlighting the key takeaways from the paragraphs above.
 
3. Write a brief summary paragraph of 1-3 sentences highlighting the key takeaways from the paragraphs above.
 
-->
 
-->
 
+
 
+
 
+
 
+
 
+
 
+
 
 
 
|Pros=<!-- write list of positive points below. use * as in ordinary wiki-list. -->
 
|Pros=<!-- write list of positive points below. use * as in ordinary wiki-list. -->
Revision as of 03:04, 19 April 2018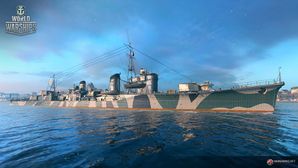 Tech Tree Position
127 mm/50 3rd Year Type
3 х 2 

pcs.
Rate of Fire
8.51 

shots/min.
Reload Time
7.05 

sec.
Rotation Speed
6.9 

deg./sec.
180 Degree Turn Time
26.09 

sec.
Firing Range
10.95 

km.
Maximum Dispersion
97 

m.
HE Shell
127 mm HE Type1 
Maximum HE Shell Damage
2,150 
Chance of Fire on Target Caused by HE Shell
9 

%
Initial HE Shell Velocity
915 

m./s.
HE Shell Weight
23 

kg.
AP Shell
127 mm AP Type0 
Maximum AP Shell Damage
2,200 
Initial AP Shell Velocity
915 

m./s.
AP Shell Weight
23 

kg.
610 mm Quad
2 х 4 

pcs.
Rate of Fire
0.54 

shots/min.
Reload Time
112 

sec.
Rotation Speed
25 

deg./sec.
180 Degree Turn Time
7.2 

sec.
Torpedo
Type93 mod. 2 dw 
Maximum Damage
20,967 
Torpedo Speed
67 

knot
Torpedo Range
20.01 

km.
25 mm/60 Type96 Twin mod. 1
2 х 2 

pcs.
. . . Average Damage per Second
5.4 
. . . Firing Range
2.49 

km.
Maximum Speed
35 

knot
Turning Circle Radius
640 

m.
Rudder Shift Time
3.6 

sec.
Surface Detectability Range
6.84 

km.
Air Detectability Range
3.02 

km.
Battle Levels
Asashio — Japanese premium Tier VIII destroyer.
Japanese destroyer Asashio was the ultimate ship of this type in Japan, built after the launch of the Fubuki-class ships. The absence of constraints on displacement allowed naval architects to find a good balance between speed, armament, and hull size. Due to a good overall layout, Asashio served as a prototype for the majority of subsequent Japanese destroyers.


Modules
Compatible Upgrades
 Slot 1 
 Slot 2 
 Slot 3 
 Slot 4 
 Slot 5 
Player Opinion
Performance
Asashio is externally very comparable to her tier eight compatriot Kagero. They share nigh identical or very close concealment ratings, maneuverability statistics, guns, and health. The two ships are extremely similar, but Asashio is saved from being a strict clone but her unique torpedo armaments, and by having the Torpedo Reload Booster (

) occupying a separate consumable slot—as in Akizuki's case.
Technically speaking, Asashio is the stealthiest destroyer in her matchmaking spread, having a slightly smaller air detection radius than Kagero and HSF Harekaze. This allows her to do vision control exceedingly well, utilising her stealth as another layer of armor against enemy vessels. Armor she needs, as Asashio's main weapons are her torpedoes, though her guns can be used in certain situations. And it is her torpedoes which make this ship unique, owing to a few unique properties they posses. Namely, Asashio is equipped with deepwater torpedoes somewhat similar to those found on the Pan-Asian destroyer line. They have increased flooding chance, are stealthier, can only hit battleships and aircraft carriers, and have a whooping 20 kilometer range while still retaining 67 knots of speed.
As a result of
Asashio
only being able to damage battleships and the rare aircraft carrier with her torpedoes, she is highly specialised towards these things. She only has her guns to deal with cruisers and fellow destroyers, leaving her quite vulnerable to both ship types. However, do not be afraid to use
Asashio's
guns, as strategically engaging certain targets for a capture point can lead to the difference between a win and a loss. Using her concealment to avoid unwinnable fights is also a valid strategy, and can keep her in the game for longer.
Optimal Configuration
Commander Skills
Asashio, like most other Japanese destroyers, makes use of the "standard" destroyer skills; Priority Target, Last Stand, Torpedo Armament Expertise and Concealment Expert. After those four skills, captains can start customizing her to their preferences. The two 3-point skills, Survivability Expert and Superintendent are useful for increasing Asashio's survival and offensive capabilities, while the 1-point skill, Preventative Maintenance, proves to be another common destroyer skill.
Asashio is somewhat unique in that she is one of only a few destroyers that can make good use of the 2-point skill, Torpedo Acceleration, as the -20% range debuff that the skill gives brings her 20 km torpedoes down to 16 km; more than enough range for almost any engagement. The 5 knot boost they give her torpedoes in exchange give them one of the lowest reaction times in-game.
If Torpedo Acceleration isn't to your fancy, all the other 2-point skills, with the exception of Expert Rear Gunner could be used instead.
Recommended Commander Skills
Cost
(points)

Endurance

Attack

Support

Versatility



1

★★★

★★

★

 

 

 

★★

 



2

★

★★

★★

★★★

★

 

★★

★★★



3

★

★★★

★★★

 

★

★★

★★

★



4

 

 

 

 

★

 

★

★★★

Key: ★★★ - Extremely Useful       ★★ - Frequently Useful       ★ - Occasionally Useful      No stars - Meh    

Χ

- Not recommended
Camouflage
Being a Premium ship, Asashio comes with her own Permanent Camoflage. Her Type 10 camoflage will give you the standard benefits, meaning a 3% reduction in Detection Range, 4% additional dispersion for incoming shells, -10% on your ship's service costs and +50% on your earned ship XP.
Other camoflage can be used as well, if you desire to earn more Credits or XP. The best choices here are the
Promotional Camoflages
for their higher than normal benefits. Worth a special mention here are the gamescom camo for additional Credit gain, and the camoflages that were given out during the Lunar New Year's 2018 missions for a specialized gain of normal XP, Captain XP or Free XP.
Gallery