Atlanta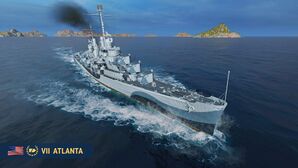 Tech Tree Position
127 mm/38 Mk.12 on a Mk.29 mount
8 х 2 

pcs.
Rate of Fire
12.5 

shots/min.
Reload Time
4.8 

sec.
Rotation Speed
25 

deg./sec.
180 Degree Turn Time
7.2 

sec.
Firing Range
13.34 

km.
Maximum Dispersion
115 

m.
HE Shell
127 mm HE Mk32 
Maximum HE Shell Damage
1,800 
Chance of Fire on Target Caused by HE Shell
5 

%
Initial HE Shell Velocity
792 

m./s.
HE Shell Weight
24.5 

kg.
AP Shell
127 mm AP/SC Mk38 
Maximum AP Shell Damage
2,100 
Initial AP Shell Velocity
792 

m./s.
AP Shell Weight
25 

kg.
533 mm Quad
2 х 4 

pcs.
Rate of Fire
0.61 

shots/min.
Reload Time
98 

sec.
Rotation Speed
25 

deg./sec.
180 Degree Turn Time
7.2 

sec.
Torpedo
Mk15 mod. 3 
Maximum Damage
16,633 
Torpedo Speed
65 

knot
Torpedo Range
4.5 

km.
127 mm/38 Mk.12 on a Mk.29 mount
8 х 2 

pcs.
. . . Average Damage per Second
132.8 
. . . Firing Range
5.01 

km.
20 mm Oerlikon on a Mk.4 mount
8 х 1 

pcs.
. . . Average Damage per Second
28.8 
. . . Firing Range
2.01 

km.
28 mm Mk.1 on a Mk.2 mount
4 х 4 

pcs.
. . . Average Damage per Second
9.2 
. . . Firing Range
2.4 

km.
Maximum Speed
32.5 

knot
Turning Circle Radius
610 

m.
Rudder Shift Time
8.4 

sec.
Surface Detectability Range
10.98 

km.
Air Detectability Range
6.44 

km.
Battle Levels
Atlanta — American promo premium Tier VII cruiser.
A relatively small ship for her type featuring powerful AA armament and designed for use in joint operations with destroyers. The ship carried torpedo tubes and numerous dual-purpose rapid-fire artillery.
Modules
Compatible Upgrades
 Slot 1 
 Slot 2 
 Slot 3 
 Slot 4 
Player Opinion
Performance
Atlanta is a Tier VII American cruiser that plays like a "tweener"; she can be used as a slightly under-gunned light cruiser, or she can be played as "heavy" destroyer.
Success in game depends on finding the sweet spot between the two. At 27,500 HP and a good chance that one of the heavyweights on the enemy team will hit critical areas if given a clean shot, it's best to weave through friendly traffic, get in close (the 5-inch main guns have a range of a touch over 11km) and spray whatever target is a priority with HE rounds. She'll do far more damage with fire than she will with actual shell impacts. AP rounds are highly situational with this ship as they will only penetrate broadside targets at point-blank range (less than 5km); however, they can be utterly devastating if her captain knows when to use them.
Atlanta
- and her sister ship,
Flint
- are unique in the game in that they have
unlimited
charges of the
Defensive AA Fire consumable
. When coupled with her excellent anti-aircraft armament, she utterly shreds enemy planes, though her over-reliance on flak means this can sometimes be inconsistent if the enemy planes dodge, and she's not nearly as threatening to them once they get close. As of patch 0.5.9.0,
Atlanta
has also been given access to the
Surveillance Radar consumable
, making her an even bigger threat to enemy destroyers.
Pros:
Fast main battery traverse speed
Extremely high DPM and shell volume for a Tier 7 cruiser
Very high shell arcs allow to safely shoot over islands
Tight turn radius
Good long range (flak) AA suite
Equipped with torpedoes with good damage and speed
Access to the Surveillance Radar () consumable
The Defensive AA Fire () consumable has unlimited charges
Cons:
Small hitpoint pool and no usable armor, poor survivability
Torpedoes are very short ranged
Abysmal main battery base range, barely better than Atlanta's base surface detection
Poor shell velocity makes hitting targets at range difficult
Low AA DPS with no mid-range aura; Atlanta's over-reliance on long-range flak can make her inconsistent against planes
Slow rudder shift for such a small ship
Requires several 4-point captain skills to perform optimally; IFHE is a must in order to be capable of hurting battleships



Research
As a premium ship, Atlanta doesn't have any upgrades to research.
Tactical Advice: Stick with HE most of the time, she'll do more damage in the long run that way. Don't go toe to toe with anyone unless forced into it. Even some destroyers out-range and outgun her. Keep her speed up at all times and move, move, move. Twist, turn, vary her speed; anything to throw the enemy's aim off. This ship is a knife fighter and she is best used like a shotgun. Fast, messy, quick hit and run close quarters combat. If she finds herself at the front of the pack staring down a couple of ships, she's probably going to get hammered. Practice predicting the "arc" of the shells. This ship has a ridiculously high rate of fire but at anything beyond 4-5km the shells come in at such an extreme angle that she's literally "raining" or "walking" shells across her target. If she ends up going one-on-one with someone and they can concentrate on what her arc of fire is doing even a large slow ship has a decent chance to evade most of the impacts. Focus on ships already under attack by allies, add her firepower to the carnage. The most rewarding tactic using the Atlanta, is staying behind cover and using your outstandingly high shell arcs to harass the enemy with HE Rounds.
Optimal Configuration
Upgrades
Commander Skills
  Recommended Commander Skills  
Cost
(points)

Attack

Defense



1

 

 

 

 

★★

★★



2

 

 

★★

 

 

 



3

★★

 

★★

 

★★

 



4

 

 

 

★★

 

★★

Key: ★★★ - Extremely Useful      ★★ - Frequently Useful      ★ - Occasionally Useful     No stars - Not Useful
Consumables
Atlanta can equip the following consumables:
The Defensive AA Fire consumable has unlimited charges.
Camouflage
As a premium ship, Atlanta comes included with Type 10 camouflage that lowers her detection radius, reduces the accuracy of incoming shells, and increases the amount of experience she earns.
Signals
Recommended Signal Flags
Combat

 

 

★★

 

★★

 

★★★

★★

 

 

★★

★★★

 

 

Economic

★★★

★★

★★

★★

★★

Special

★★

★★

★★

★★

★★

★★

★★

★★

Key: ★★★ - Extremely Useful       ★★ - Frequently Useful       ★ - Occasionally Useful      No stars - Not Useful
Note: Use of the Juliet Charlie signal makes detonation impossible.
Gallery
References

Cite error: <ref> tags exist, but no <references/> tag was found