Belfast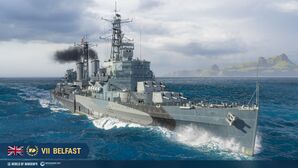 Tech Tree Position
152 mm/50 Mk XXIII
4 х 3 

pcs.
Rate of Fire
8 

shots/min.
Reload Time
7.5 

sec.
Rotation Speed
7 

deg./sec.
180 Degree Turn Time
25.71 

sec.
Firing Range
15.42 

km.
Maximum Dispersion
139 

m.
HE Shell
152 mm HE 6crh Mk IV 
Maximum HE Shell Damage
2,100 
Chance of Fire on Target Caused by HE Shell
9 

%
Initial HE Shell Velocity
841 

m./s.
HE Shell Weight
50.8 

kg.
AP Shell
152 mm AP 6crh Mk IV 
Maximum AP Shell Damage
3,100 
Initial AP Shell Velocity
841 

m./s.
AP Shell Weight
50.8 

kg.
102 mm/45 QF RP51 Mk XVIV*
4 х 2 

pcs.
Firing Range
5.6 

km.
Rate of Fire
20 

shots/min.
Reload Time
3 

sec.
HE Shell
102 mm HE 35 lb 
Maximum HE Shell Damage
1,500 
Initial HE Shell Velocity
811 

m./s.
Chance of Fire on Target Caused by HE Shel
6 

%
102 mm/45 QF RP51 Mk XVIV*
4 х 2 

pcs.
. . . Average Damage per Second
71.6 
. . . Firing Range
5.01 

km.
40 mm Bofors Mk V RP50
6 х 2 

pcs.
. . . Average Damage per Second
140.4 
. . . Firing Range
3.51 

km.
Maximum Speed
32.5 

knot
Turning Circle Radius
730 

m.
Rudder Shift Time
9.6 

sec.
Surface Detectability Range
11.34 

km.
Air Detectability Range
7.16 

km.
Battle Levels
Belfast — British promo premium Tier VII cruiser.
An Edinburgh-class light cruiser, one of the most powerful among same-type ships in the Royal Navy during World War II. Underwent several major upgrades. Instead of AA and torpedo armament, the ship received improved anti-torpedo protection and an enhanced surveillance radar.

HMS Belfast is now preserved as a military museum ship in London, England.
Modules
Compatible Upgrades
 Slot 1 
 Slot 2 
 Slot 3 
 Slot 4 
 Slot 5 
Player Opinion
Performance
Belfast is a Tier VII premium British cruiser of the same class as the tech tree Tier VIII Edinburgh, but does not carry any torpedoes. However, she has the ability to mount the Smoke Generator, Hydroacoustic Search, and Surveillance Radar consumables simultaneously, as well as having high explosive rounds available.
This trifecta of consumables makes her a fearsome destroyer hunter, which is even further enhanced by her ability to mount upgrades in Slot 6 — a slot normally reserved for Tier VIII+ ships — allowing her to boost her concealment (for getting close to destroyers) or her rudder shift (for dodging incoming shells and torpedoes). Her shell arcs are fairly high, making hitting fast moving targets at range difficult, but she can also hide behind low islands in a similar play style to American destroyers and fellow Tier VII premium cruiser Atlanta.
Belfast is just like her tech tree cousins in that she is relatively weakly armored, and will greatly prefer finding island cover where possible while making judicious use of her smoke screen. Used well, she can serve as a measure of area control over capture zones and critical areas, pushing enemy destroyers away; those that choose to wander too close won't live long enough to regret their mistake. Given enough time, the volume of fire from her main battery can lay low even the largest battleships. Unfortunately, as soon as she comes under heavy enemy fire, Belfast is in trouble. Her best defenses are to stay moving and be visible as little as possible.
LittleWhiteMouse's Premium Ship Review: Belfast from the NA forums
Cons:
Mediocre armor, as befitting a light cruiser. She can weather incoming 203mm rounds, but anything larger than that is going to cause havoc.
Lacks the torpedoes that her tech tree counterparts have.
Poor shell velocity at longer ranges.
Somewhat lackluster as a commander trainer. Commanders specialized for use in Belfast are likely to have skills that don't translate well to other British cruisers (such as Demolition Expert).
Research
As a premium ship, Belfast doesn't have any upgrades to research.
Optimal Configuration
Upgrades
Upgrade Slot 1 is best filled with Main Armaments Modification 1 to reduce the chances of her turrets getting incapacitated. Upgrade Slot 2 is a toss-up between Aiming Systems Modification 1 — which improves her shell dispersion and provides a minor buff to her secondary battery — and AA Guns Modification 2 to improve the size of her anti-aircraft bubble. Most of Belfast's AA punch is from her 40mm Bofors mounts which start with a maximum range of 3.5km. Damage Control Systems Modification 1 or Propulsion Modification 1 are probably the top choices for Upgrade Slot 4, while Steering Gears Modification 2 is likely the best choice for Upgrade Slot 5.
Unique amongst her Tier VII counterparts, Belfast has access to Upgrade Slot 6, giving her additional flexibility. Most captains will opt for Concealment System Modification 1, but Steering Gears Modification 3 is also available and should not be overlooked. With her small turning radius, stacking both Steering Gears Mods 2 and 3 gives Belfast a lightning-quick rudder shift that will make even Pensacola captains envious.
Commander Skills
Given Belfast's unique access to three different consumables — Hydroacoustic Search, Surveillance Radar, and Smoke Screen — Superintendent is highly recommended as a Tier 3 skill. Jack of All Trades should not be overlooked at Tier 5 for similar reasons.
Recommended Commander Skills
Cost
(points)

Endurance

Attack

Support

Versatility



1

★★★

★

 

 

 

 

★

 



2

★

★★

★★

 

★★★

 

★★★

★



3

★

★★

 

 

 

★

★★

★★★



4

 

 

★★★

 

 

 

★★

★★★

Key: ★★★ - Extremely Useful       ★★ - Frequently Useful       ★ - Occasionally Useful      No stars - Meh    

Χ

- Not recommended
Consumables
Belfast differs from her Tier VIII sister Edinburgh in that she has an additional consumable slot dedicated to Surveillance Radar; thus, she is not forced to choose between Smoke Generator and Surveillance Radar and can equip both. However, she does not have access to Repair Party as Edinburgh does. Captains are recommended to equip premium versions of all four consumables available to Belfast (Damage Control Party, Hydroacoustic Search, Smoke Generator, Surveillance Radar) for maximum efficiency in hunting down destroyers and survivability. Remember, Belfast is a premium ship and will make extra credits that can go towards paying for the premium consumables.
Camouflage
As a premium ship, Belfast comes included with Type 10 camouflage that lowers her detection radius, reduces the accuracy of incoming shells, and increases the amount of experience she earns.
Signals
As a premium ship with three highly useful consumables, it is best to mount November Foxtrot for faster cooldowns. Additionally, captains can mount Zulu Hotel for faster captain (re)training and Zulu for more credit earning.
Recommended Signal Flags
Combat

★

 

★★

 

★★★

 

★★★

★★★

 

 

★

★★

 

 

Economic

★★

★

★★★

★★

★

Special

★★★

★★

★★★

★

★★★

 

 

 

Key: ★★★ - Extremely Useful       ★★ - Frequently Useful       ★ - Occasionally Useful      No stars - Not Useful
Note: Use of the Juliet Charlie signal makes detonation impossible.
Gallery

Cite error: <ref> tags exist, but no <references/> tag was found