Black
Revision as of 18:43, 17 November 2019

Armory for steel. Use the Promo argument. Comment out 3D.

Revision as of 10:02, 20 January 2020
Line 196:
Line 196:
 
====Service====
 
====Service====
 
Following her completion and commissioning in 1943, USS ''Black'' headed for Pearl Harbor in preparation for her deployment into the Pacific Theatre. In late 1943, she sailed for Tarawa, where she remained until January 1944. USS ''Black'' did not see combat until February 1944, when she participated in the invasion of the Marshall Islands. Throughout 1944, USS ''Black'' participated in the battles of Saipan, Guam, and Leyte gulf, providing anti-air cover and assisting in shore bombardments. In late November, she returned to San Francisco for repairs. In February 1945, with her repairs complete, USS ''Black'' sailed to the Caroline Islands where she joined Task Force 58. The ship later participated in several coastal operations during the Battle of Okinawa. USS ''Black'' remained off the coast of Japan through early 1946 before again returning to the United States. The ship was decommissioned and placed in reserve in August 1946.
 
Following her completion and commissioning in 1943, USS ''Black'' headed for Pearl Harbor in preparation for her deployment into the Pacific Theatre. In late 1943, she sailed for Tarawa, where she remained until January 1944. USS ''Black'' did not see combat until February 1944, when she participated in the invasion of the Marshall Islands. Throughout 1944, USS ''Black'' participated in the battles of Saipan, Guam, and Leyte gulf, providing anti-air cover and assisting in shore bombardments. In late November, she returned to San Francisco for repairs. In February 1945, with her repairs complete, USS ''Black'' sailed to the Caroline Islands where she joined Task Force 58. The ship later participated in several coastal operations during the Battle of Okinawa. USS ''Black'' remained off the coast of Japan through early 1946 before again returning to the United States. The ship was decommissioned and placed in reserve in August 1946.
 
+
 
+
 
+
 
+
 
+
 
 
 
|HistoricalGallery=<!-- write below list of files with description (if necessary) separated with | --><gallery>
 
|HistoricalGallery=<!-- write below list of files with description (if necessary) separated with | --><gallery>
Revision as of 10:02, 20 January 2020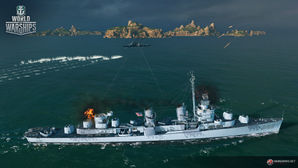 Tech Tree Position
127 mm/38 Mk30 mod. 0
5 х 1 

pcs.
Rate of Fire
17.96 

shots/min.
Reload Time
3.34 

sec.
Rotation Speed
34 

deg./sec.
180 Degree Turn Time
5.29 

sec.
Firing Range
12.85 

km.
Maximum Dispersion
111 

m.
HE Shell
127 mm HE Mk32 
Maximum HE Shell Damage
1,800 
Chance of Fire on Target Caused by HE Shell
5 

%
Initial HE Shell Velocity
792 

m./s.
HE Shell Weight
24.5 

kg.
AP Shell
127 mm AP/SC Mk38 
Maximum AP Shell Damage
2,100 
Initial AP Shell Velocity
792 

m./s.
AP Shell Weight
25 

kg.
533 mm Mk15
2 х 5 

pcs.
Rate of Fire
0.63 

shots/min.
Reload Time
96 

sec.
Rotation Speed
25 

deg./sec.
180 Degree Turn Time
7.2 

sec.
Torpedo
Mk29 
Maximum Damage
21,600 
Torpedo Speed
43 

knot
Torpedo Range
13.71 

km.
127 mm/38 Mk30 mod. 0
5 х 1 

pcs.
. . . Average Damage per Second
53.5 
. . . Firing Range
5.01 

km.
20 mm Oerlikon Mk4
7 х 1 

pcs.
. . . Average Damage per Second
25.2 
. . . Firing Range
2.01 

km.
40 mm Bofors Mk1
3 х 2 

pcs.
. . . Average Damage per Second
33.9 
. . . Firing Range
3.51 

km.
20 mm Oerlikon Mk20
2 х 2 

pcs.
. . . Average Damage per Second
12.2 
. . . Firing Range
2.01 

km.
Maximum Speed
35 

knot
Turning Circle Radius
560 

m.
Rudder Shift Time
3 

sec.
Surface Detectability Range
7.38 

km.
Air Detectability Range
3.24 

km.
Battle Levels
Black — American promo premium Tier IX destroyer.
One of the numerous and very successful Fletcher-class destroyers which boasted a sufficiently high speed, powerful dual-purpose artillery, efficient AA defenses, and decent torpedo armament.
Originally the reward for reaching Rank 1 in five (5) separate seasons of Ranked Battles. She is now available in the Armory for Steel 

.
Modules
Compatible Upgrades
 Slot 1 
 Slot 2 
 Slot 3 
 Slot 4 
 Slot 5 
 Slot 6 
Player Opinion
Performance
Tier IX reward ship Black is very similar to her American tech tree counterpart Fletcher, with the main differences being her torpedoes and the availability of the Surveillance Radar (

) consumable. Black is unique among American destroyers in that she can equip Surveillance Radar, though her radar is weaker than those available to most other Tier IX ships, featuring only 7.5 km range and 20 seconds of uptime. Despite the reduction in range and short duration, this radar — combined with five fast-firing American destroyer guns — still makes Black a fearsome ship when contesting control points, able to see through smoke to spot for her team and continue damaging enemy destroyers.
The other major difference between Black and Fletcher is their torpedo armament. Black's torpedoes feature a 13.7 km range and are rated for 21,600 damage, but travel at a painfully slow 43 knots. These torpedoes are almost more for area denial, as leading targets with them is almost impossible; they take longer to reach their max range than they do to reload. Note, however, that these torpedoes are harder to detect than most others found on Tier IX destroyers (0.9km detection radius), and adding the Torpedo Acceleration commander's skill to Black's commander will likely result in more torpedo hits.
There are some other minor differences between the sister ships —
Black
is slower with a smidgen less anti-aircraft firepower — but most important characteristics remain the same.
Black
brings a slightly different play style to the American destroyer family, and fans of
Fletcher
will find
Black
a great addition to their port.
Pros:
Same excellent concealment as the Fletcher.
Very fast turret rotation speed.
Very rapid rate of fire.
Torpedoes hit very hard; they reload faster than Fletcher's torpedoes, have more range than Fletcher's torpedoes, and are difficult to detect.
Has access to either Defensive AA Fire () consumable or a unique Surveillance Radar () consumable.
Unlike Fletcher, Black is a premium ship so captain retraining is unnecessary.
Cons:
Same fragility as the Fletcher.
Torpedoes are incredibly slow, slower than even Sims' infamous "sea mines".
Slower than Fletcher.
Slow shell speed makes it difficult to hit targets from range.
Research
As a premium ship, Black doesn't have any upgrades to research.
Optimal Configuration
Upgrades
The recommended upgrades for Black are as follows:
Captains with access to Surveillance Radar Modification 1 (

) are strongly encouraged to equip it in Slot 2. The extra four seconds of active time may not sound like much, but access to Surveillance Radar (

) is Black's big strength, and she should maximize her use and effectiveness of it.
The recommended option for Slot 6 is Main Battery Modification 3; Black is less flexible than Fletcher because her torpedo loadout is more challenging to use. Captains who grow comfortable with the slow speed of Black's torpedoes may wish to experiment with Torpedo Tubes Modification 2 (

)
in conjunction with the Torpedo Armament Expertise and Torpedo Acceleration commander skills.  Attempting such a build until captains are familiar with the quirks of her torpedo armament is not recommended.

Commander Skills
Recommended Commander Skills
Cost
(points)

Endurance

Attack

Support

Versatility



1

★★★

★★

 

Χ

Χ

Χ

 

Χ



2

★

★★★

 

★★★

★

Χ

★★

★★★



3

 

★★★

★★★

Χ

★★

★★

★

★★



4

 

 

★

Χ

★

 

★

★★★

Key: ★★★ - Extremely Useful      ★★ - Frequently Useful      ★ - Occasionally Useful     No stars - Meh     

Χ

- Not recommended
Consumables
Black can equip the following consumables:
Though she has three options for Slot 3, the reason to take Black into a game (and not Fletcher) lies in equipping Surveillance Radar (

). Captains are encouraged to equip premium versions of all consumables.
Camouflage
As a Tier IX premium ship, Black comes included with Type 10 camouflage that lowers her detection radius, reduces the accuracy of incoming shells, reduces her repair costs, and increases the amount of experience she earns. This Type 10 camouflage provides a 100% bonus to experience earned in battle, not the usual 50%.
Signals
Recommended Signal Flags
Combat

★★

 

★★

★★★

★★

★

★★★

★★★

 

 

 

 

 

 

Economic

★★

★★★

 

★

★

Special

 

★★

★

 

 

 

 

 

Key: ★★★ - Extremely Useful       ★★ - Frequently Useful       ★ - Occasionally Useful      No stars - Not Useful
Gallery
Black launches a salvo of torpedoes while a friendly New Orleans opens fire.

Black detonates a full-health Montana with one lucky torpedo hit.