Black Swan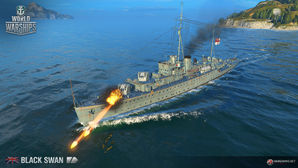 Tech Tree Position
102 mm/45 QF Mk.XVI* on a Mk.XIX mount
3 х 2 

pcs.
Rate of Fire
10 

shots/min.
Reload Time
6 

sec.
Rotation Speed
10 

deg./sec.
180 Degree Turn Time
18 

sec.
Firing Range
8.75 

km.
Maximum Dispersion
80 

m.
HE Shell
102 mm HE 35 lb Practice 
Maximum HE Shell Damage
750 
Chance of Fire on Target Caused by HE Shell
6 

%
Initial HE Shell Velocity
811 

m./s.
HE Shell Weight
15.88 

kg.
40 mm/39 Vickers QF Mk.VIII on a Mk.VII mount
1 х 4 

pcs.
. . . Average Damage per Second
4 
. . . Firing Range
1.2 

km.
Maximum Speed
19 

knot
Turning Circle Radius
350 

m.
Rudder Shift Time
2.9 

sec.
Surface Detectability Range
6.81 

km.
Air Detectability Range
4.36 

km.
Battle Levels
Black Swan — British Tier I cruiser.
The Black Swan-class sloops — the most numerous ships of this type in the Royal Navy during World War II — were intended for escorting and guarding convoys. They had a rather moderate speed, but outgunned their foreign counterparts in terms of firepower and rate of fire.
Modules
Compatible Upgrades
Player Opinion
Performance
Warning. The data presented in the AA Defense sidebar section may be incorrect.
For a graphic summary of ships Tiers VIII thru XI see LittleWhiteMouse's "Actual AA DPS".
All British ship branches originate with the svelte, nimble
Black Swan
.
Pros:
Most guns of all Tier I ships.
Highest damage per salvo of all Tier I ships.
Many hit points.
Low detectability range.
Decent shell speed and arcs.
Very good maneuverability.
Good acceleration and deceleration.
Cons:
Relatively no armor like other Tier I ships.
Slowest Tier I ship (together with Bougainville and Chengan).
Second-longest reload time of all Tier I ships.
Low shell damage.
Low chance of causing a fire with one shell.
Short firing range.




See also: Comparison of Tier I Cruisers.
Research
Like all Tier I ships, Black Swan has no researchable upgrades.
Optimal Configuration
Upgrades
The recommended upgrade for Black Swan is:
Commander Skills
  Recommended Commander Skills  
Cost
(points)

Attack

Defense



1

★

 

 

 

★

★★



2

★★

 

 

 

★

 



3

★★

 

★★

 

 

 



4

★★

★★

 

 

★★

 

Key: ★★★ - Extremely Useful      ★★ - Frequently Useful      ★ - Occasionally Useful     No stars - Not Useful
Consumables
As a Tier I ship, she has access only to the Damage Control Party 

consumable.
Signals
Note: Use of the Juliet Charlie signal makes detonation impossible.
Gallery
Black Swan is joined by a friendly Hermelin
References
See here for links to Update notes.

Available to supertesters in the game starting from Update 0.5.11.
Introduced into the game as a researchable ship in Update 0.5.13.
Update 0.6.3:

Experience earnings increased by +10%.

Update 0.6.7:

Experience earnings decreased by -5%.

Update 0.6.9:

Improved appearance with the use of a special technology for improved rendering of thin elements (rigging).

Update 0.6.11:

Accuracy when shooting at close range was increased, similar to other Tier I ships.

Update 0.6.12:

Detectability when firing main guns in smoke changed to 2.21 km.

Update 0.6.13:

Fire extinguishing time now 30 s instead of 60 s.

Update 0.7.8:

Main battery reload time increased from 3 to 4 s.
AP shell was replaced with an HE shell:

Initial speed: 811 m / s.
Maximum damage: 750.
Fire chance: 6%.

Update 0.8.2:

Researchable modules were removed, and their bonuses were included in the stock ship parameters. For each researched module, 600 ship xp was added; for each purchased module, players were compensated 6,000 credits.

Update 0.8.4:

The citadel was removed and replaced with a vital part of the ship, like a destroyer.

Update 0.8.5:

Credit earnings increased by +10%.
Experience earnings increased by +5%.

Update 0.9.6:

The value of the in-game turning circle radius was changed to 350 m to correct prior discrepancy.

Update 0.10.5:

Fixed geometry and textures of the ship.