Bourrasque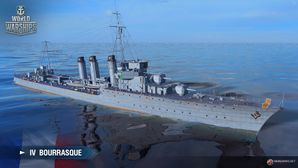 Tech Tree Position
130 mm/40 Mle 1919 on an Mle 1919 mount
4 х 1 

pcs.
Rate of Fire
9.09 

shots/min.
Reload Time
6.6 

sec.
Rotation Speed
10 

deg./sec.
180 Degree Turn Time
18 

sec.
Firing Range
10.74 

km.
Maximum Dispersion
103 

m.
HE Shell
130 mm HE OEA Mle 1923 
Maximum HE Shell Damage
1,900 
Chance of Fire on Target Caused by HE Shell
9 

%
Initial HE Shell Velocity
725 

m./s.
HE Shell Weight
34.85 

kg.
AP Shell
130 mm AP OPFA Mle 1923 
Maximum AP Shell Damage
2,300 
Initial AP Shell Velocity
725 

m./s.
AP Shell Weight
32.05 

kg.
550 mm tube lance-torpilles
2 х 3 

pcs.
Rate of Fire
0.8 

shots/min.
Reload Time
75 

sec.
Rotation Speed
25 

deg./sec.
180 Degree Turn Time
7.2 

sec.
Torpedo
550 mm 19D Mle 0 
Maximum Damage
11,267 
Torpedo Speed
57 

knot
Torpedo Range
7.5 

km.
12.7 mm Browning on a single mount
4 х 1 

pcs.
. . . Average Damage per Second
10 
. . . Firing Range
1.2 

km.
Maximum Speed
33 

knot
Turning Circle Radius
560 

m.
Rudder Shift Time
3.1 

sec.
Surface Detectability Range
6.63 

km.
Air Detectability Range
2.7 

km.
Battle Levels
Bourrasque — French Tier IV destroyer.
The first French destroyer of the new generation. In order to gain firepower superiority over her foreign counterparts, this ship was armed with powerful 130 mm main guns.

This ship first appeared in the tech tree on 24 Aug 2019.
Modules
Compatible Upgrades
Player Opinion
Performance
Like her predecessors, Bourrasque also lacks a Smoke Generator. She additionally differentiates herself from other destroyers with a high health pool, a trend that continues with her successors. Unlike her predecessors, Bourrasque has an increased main battery caliber, possessing four 130-mm guns with a long reach and high damage per shell. She additionally receives much upgraded torpedoes in two triple launchers that are very powerful - among the deadliest at her tier - with a maximum damage mere hundreds less than the upgraded Clemson and Shenyang's. Her speed, however, is dead last at 33 knots when discounting Engine Boost but an impressive 41.2 knots with an active Engine Boost and the Sierra Mike signal flag.
Her extensive and powerful armament allows her to dominate the seas. That is not to say it is effortless to play her. Bourrasque must show nearly a full broadside to use all 4 guns. Even then, some destroyers are built with a greater focus on guns than Bourrasque (e.g. Izyaslav, which has 5 barrels and a higher DPM) and, as with any other ship, captains must always take care to choose engagements wisely and use both main battery guns and torpedoes. In addition, Bourrasque's torpedo arcs are similar to her predecessor's. The firing arc does not extend very far forward, making her torpedoes harder and less comfortable to use than the torpedoes on some other destroyers like V-170. Regardless, the high damage and Bourrasque's ability to stealth torp (even without Concealment Expert) makes using torpedoes well worth it. Captains should note Bourrasque's torpedoes take a significant amount of time to reload: a long 75 seconds.
Overall,
Bourrasque
has the capabilities to destroy enemy ships even while parting with the much coveted Smoke Generator. Everything about her suggests a long reach able to threaten enemies anywhere - a maximum speed of over 41 knots with Sierra Mike, the largest main battery firing range of all destroyers her tier, and the largest torpedo range among all Tier IV destroyers. These properties make
Bourrasque
a formidable and feared adversary.
Pros:
Highest health pool when upgraded and 2nd highest health pool when stock (behind Izyaslav and Shenyang).
Powerful artillery with the highest damage per shell (both HE and AP) among all Tier IV destroyers.
Longest range of all destroyers at Tier IV.
Deadly torpedoes with nearly the highest maximum damage at her tier (behind Clemson and Shenyang by a mere 467 hp).
Can launch torpedoes without being detected, even without Concealment Expert.
High speed of over 41 knots with Engine Boost  and Sierra Mike .
Cons:
No Smoke Generator .
Torpedoes reload in 75 seconds (worst at her tier).
A fairly large turning circle (2nd largest behind Izyaslav).
Mediocre gun and torpedo arcs that require effort to use well.
Only 33 knots without Engine Boost or Sierra Mike.
Research
Availability of researchable upgrades for Bourrasque is as follows:
Hull: Upgrade to Hull (B) for better armor and anti-air defenses. Research of this module unlocks progression to Jaguar.
Gun Fire Control System: Upgrade to PCA n° 4 Mle 2 for an extra 10% range on the main battery.
It is recommended for captains to first research the Hull upgrade for an additional 2,400 HP on
Bourrasque
. Captains may decide to then proceed immediately to the next ship on the tech tree,
Jaguar
. Alternatively, captains may research the PCA n° 4 Mle 2 upgrade for a 10% increase to
Bourrasque's
already large main battery range.
Optimal Configuration
Upgrades
For Slot 1, the signal Juliet Charlie

prevents detonation. In this case, Magazine Modification 1
is unnecessary and Main Armaments Modification 1

is preferred to keep armaments functioning.
Unlike the French cruisers, the French DDs don't seem especially apt to lose their steering or propulsion. In Slot 2, Engine Room Protection
is useful as incapacitation of the engine and/or steering gear can be fatal. With the Last Stand skill, Damage Control System Modification 1 

becomes viable in Slot 2 as it can decrease the chance of fire and flooding.
Commander Skills
Key skills for Bourrasque commanders include Preventive Maintenance, Last Stand, and Concealment Expert.
  Recommended Commander Skills  
Cost
(points)

Attack

Defense



1

★★

 

 

 

 

★★



2

 

 

 

 

 

★★



3

★★

 

★★

 

 

★★



4

 

 

 

★★

★★

 

Key: ★★★ - Extremely Useful      ★★ - Frequently Useful      ★ - Occasionally Useful     No stars - Not Useful
Consumables
Bourrasque equips the following consumables:
Signals
Note: Use of the Juliet Charlie signal makes detonation impossible.
Gallery
References
See here for links to Update notes.

Available for testing by supertesters in the game starting from Update 0.8.3.
Mar 26, 2019:

Preliminary characteristics.

July 19, 2019:

The chance of the engine and steering gears being incapacitated was decreased.
Torpedo tubes reload time decreased from 90 to 75 s.
Maximum torpedo damage decreased from 14,833 to 11,267.
Torpedo range decreased from 9 to 7.5 km.
Torpedo speed decreased from 60 to 57 knots.
Introduced in Update 0.8.7.
Update 0.8.9:

Main battery reload time increased from 6 to 6.6 s.

Update 0.9.3:

Minor fixes to textures and ship model.

Update 0.9.6:

The value of the in-game turning circle radius was changed to 560 m to correct prior discrepancy.

Update 0.9.8:

Minor fixes to textures and geometry of the ship.