Clemson
Revision as of 15:17, 28 May 2017

historical accuracy

Revision as of 14:54, 31 May 2017
Line 6:
Line 6:
 
 
 
|Performance=<!-- write text about performance in battles below -->
 
|Performance=<!-- write text about performance in battles below -->
?
The Clemson is a difficult destroyer to play due to its poor, short-ranged torpedoes. While the upgraded torpedoes have an added 1700 damage and 0.5km range, it has an increased reload time of 26 seconds (23.4 with Torpedo Armament Expertise skill), which makes it questionable to upgrade to the Mk 11 torpedoes. The guns are excellent with relatively good shell speed and penetration for 102mm guns. However, its range is relatively short, much like a Japanese destroyer at 8.6km. Additionally, it has a relatively high detectability of 7km, slightly worse than its tier 5 counterpart and much worse than the Isokaze. However, it does have good rudder shift time, allowing for short-notice dodging. Its 2x3 torpedoes per side allow it to launch waves of torpedoes and keep the enemy at arm's length. In summary, it is a decent US destroyer, featuring good shell speed and maneuverability despite the below-average torpedoes.
+
Clemson is a difficult destroyer to play due to its poor, short-ranged torpedoes. While the upgraded torpedoes have an added 1700 damage and 0.5km range, it has an increased reload time of 26 seconds (23.4 with Torpedo Armament Expertise skill), which makes it questionable to upgrade to the Mk 11 torpedoes. The guns are excellent with relatively good shell speed and penetration for 102mm guns. However, its range is relatively short, much like a Japanese destroyer at 8.6km. Additionally, it has a relatively high detectability of 7km, slightly worse than its tier 5 counterpart and much worse than the Isokaze. However, it does have good rudder shift time, allowing for short-notice dodging. Its 2x3 torpedoes per side allow it to launch waves of torpedoes and keep the enemy at arm's length. In summary, it is a US destroyer, featuring good shell speed and maneuverability despite the below-average torpedoes.
 
 
 
|Pros=<!-- write list of positive points below. use * as in ordinary wiki-list. -->
 
|Pros=<!-- write list of positive points below. use * as in ordinary wiki-list. -->
Revision as of 14:54, 31 May 2017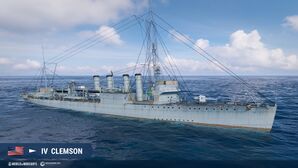 Tech Tree Position
533 mm Triple
4 х 3 

pcs.
Rate of Fire
1.5 

shots/min.
Reload Time
40 

sec.
Rotation Speed
25 

deg./sec.
180 Degree Turn Time
7.2 

sec.
Torpedo
Bliss Leavitt Mk9 mod. 1b 
Maximum Damage
9,900 
Torpedo Speed
56 

knot
Torpedo Range
5.04 

km.
76.2 mm/23 Mk.14 on a single mount
1 х 1 

pcs.
. . . Average Damage per Second
1 
. . . Firing Range
3 

km.
Maximum Speed
35 

knot
Turning Circle Radius
520 

m.
Rudder Shift Time
4.1 

sec.
Surface Detectability Range
7.02 

km.
Air Detectability Range
2.45 

km.
Battle Levels
Clemson — American Tier IV destroyer.
Developed from the Wickes class, Clemson belonged to the second series of the U.S. Navy "flush-deckers". The ship's hull was designed in such a way that the single mounts of the main battery could be replaced by twin mounts in order to double the destroyer's firepower.
Modules
Compatible Upgrades
Player Opinion
Performance
As a torpedo boat, the Clemson is a difficult destroyer to play due to its poor, short-ranged torpedoes. While the upgraded torpedoes have an added 1700 damage and 0.5km range, it has an increased reload time of 26 seconds (23.4 with Torpedo Armament Expertise skill), which makes it questionable to upgrade to the Mk 11 torpedoes. The guns are excellent with relatively good shell speed and penetration for 102mm guns. However, its range is relatively short, much like a Japanese destroyer at 8.6km. Additionally, it has a relatively high detectability of 7km, slightly worse than its tier 5 counterpart and much worse than the Isokaze. However, it does have good rudder shift time, allowing for short-notice dodging. Its 2x3 torpedoes per side allow it to launch waves of torpedoes and keep the enemy at arm's length. In summary, it is a solid US destroyer, featuring good shell speed and maneuverability despite the below-average torpedoes.
Pros:
Relatively good ergonomics for a small ship.
Good shell speed.
Good HE damage and AP penetration.
Fast turret traverse and reload.
Fast rudder shift time.
Small profile.
Relatively quick torpedo reload- until the upgrade.
Cons:
High detectability.
Very short-ranged torpedoes (cannot torpedo outside of detection range).
Research
If you don't want the torpedoes due to the reload time, quickly go for the B hull to get the guns. While it is a +1 to artillery, you actually effectively double your firepower (each turret has one added gun).
If you want the torpedoes first, then quickly research them and the guns last.
Optimal Configuration
Commander Skills
Recommended Commander Skills
Cost
(points)

Endurance

Attack

Support

Versatility



1

★

★★★

★

 

 

 

 

 



2

★★

★

★★

 

★

 

★★

★★★



3

 

★★★

★

 

★★★

★★

★★

★



4

 

 

★

 

★

 

 

★★★

Key: ★★★ - Extremely Useful       ★★ - Frequently Useful       ★ - Occasionally Useful      No stars - Meh    

Χ

- Not recommended
Signals
Recommended Signal Flags
Combat

 

 

★★

★★

★★

★

★★

★★★

 

 

 

★★★

 

 

Economic

 

 

★★★

★★

★

Special

 

 

★

 

 

 

 

 

Key: ★★★ - Extremely Useful       ★★ - Frequently Useful       ★ - Occasionally Useful      No stars - Not Useful
Note: Use of the Juliet Charlie signal makes detonation impossible.
Gallery

Cite error: <ref> tags exist, but no <references/> tag was found