Colbert
Revision as of 18:52, 2 September 2020

Added ship price to the ship description

Revision as of 04:23, 26 September 2020
Line 4:
Line 4:
 
|Promo=<!-- in case of gift or promo ship write conditions to get it. (optional)-->
 
|Promo=<!-- in case of gift or promo ship write conditions to get it. (optional)-->
 
<!-- ''{{#var:ship_name}}'' was first released for sale on DD MMM YYYY for the NA server and DD MMM YYYY for the EU server. -->
 
<!-- ''{{#var:ship_name}}'' was first released for sale on DD MMM YYYY for the NA server and DD MMM YYYY for the EU server. -->
?
''{{#var:ship_name}}'' was first released in August 2019 along with the [[Ship:Research Bureau|Research Bureau]], where she remains available for for 57,000{{RP}}.
+
''{{#var:ship_name}}'' was first released in August 2019 along with the [[Ship:Research Bureau|Research Bureau]], where she remains available for .
 
 
 
|Anno=<!-- you can write below short description for the ship. it will replace default once. -->
 
|Anno=<!-- you can write below short description for the ship. it will replace default once. -->
Revision as of 04:23, 26 September 2020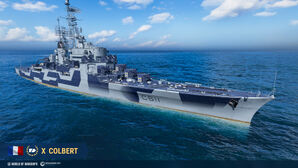 Tech Tree Position
127 mm/54 Mle 1948
8 х 2 

pcs.
Rate of Fire
17.65 

shots/min.
Reload Time
3.4 

sec.
Rotation Speed
30 

deg./sec.
180 Degree Turn Time
6 

sec.
Firing Range
13.8 

km.
Maximum Dispersion
118 

m.
HE Shell
127 mm HE Mark 42 
Maximum HE Shell Damage
2,100 
Chance of Fire on Target Caused by HE Shell
7 

%
Initial HE Shell Velocity
808 

m./s.
HE Shell Weight
31.5 

kg.
AP Shell
127 mm AP Mark 41 
Maximum AP Shell Damage
2,600 
Initial AP Shell Velocity
808 

m./s.
AP Shell Weight
32.5 

kg.
57 mm/60 ACAD Mle 1951
10 х 2 

pcs.
. . . Average Damage per Second
255 
. . . Firing Range
3.81 

km.
127 mm/54 Mle 1948
8 х 2 

pcs.
. . . Average Damage per Second
125.6 
. . . Firing Range
5.19 

km.
Maximum Speed
33 

knot
Turning Circle Radius
620 

m.
Rudder Shift Time
9.2 

sec.
Surface Detectability Range
12.42 

km.
Air Detectability Range
7.41 

km.
Battle Levels
Colbert — French promo premium Tier X cruiser.
Designed and built after World War II, and equipped with powerful dual-purpose 127 mm artillery, this relatively small cruiser was primarily used for AA defenses.
Colbert was first released in August 2019 along with the Research Bureau, where she remains available for Research Points.
Modules
Compatible Upgrades
 Slot 1 
 Slot 2 
 Slot 3 
 Slot 4 
 Slot 5 
 Slot 6 
Player Opinion
Performance
Colbert proudly serves at Tier X, representing France. She is equipped with numerous small-caliber main guns sporting lightning-fast turret-traverse time and rate of fire. This blistering firepower can prove to be overwhelming to nearly any ship unlucky enough to find herself on the receiving end of a barrage from these guns.
As a French ship,
Colbert
is fast. She has access to the Speed Boost consumable, which is most effective when paired with a sierra-mike signal flag. Players intending to deploy
Colbert
in open water must utilize her speed and employ evasive maneuvers in order to avoid being sent back to port prematurely.
Colbert
has a quick rate of fire, but her armor and low gun-caliber restrict her ability to hold out against more-heavily armored ships with large-caliber guns, such as her tech-tree counterpart,
Henri IV
. Her stock firing range is relatively lackluster, meaning that players should expect to devote at least four commander points and/or an upgrade module slot to extending her gun range.
Colbert
can be a very rewarding ship to play, but she demands a captain who will utilize her strengths to play strategically. Her speed can get her into dangerous situations very quickly--without a torpedo armament or access to a smoke screen consumable, a bold playstyle will likely be punished very harshly by the enemy. Luckily, she has access to numerous charges of the
Repair Party
(

) consumable to restore hit points after a close call.
Pros:
Extremely high rate of fire.
Extremely fast turret traverse.
Decent anti-aircraft armament.
Access to the speed boost consumable, providing a high top-speed.
Decent concealment.
Cons:
High citadel and large profile make for an easy target.
Concealment, consumable, and gun range skills and upgrades are practically a necessity, limiting customization options.
Relatively low alpha strike potential on anything larger than a destroyer.
No torpedo armament, smoke screen consumable, or spotter aircraft.
Research
As a premium ship, Colbert doesn't have any upgrades to research.
Optimal Configuration
Upgrades
The recommended upgrades for Colbert are as follows:
If available, Engine Boost Modification 1 (

) should be equipped in Slot 2.
Commander Skills
Key skills for Colbert commanders include Superintendent, Advanced Firing Training, and Concealment Expert.
Recommended Commander Skills
Cost
(points)

Endurance

Attack

Support

Versatility



1

★★★

★★

 

Χ

Χ

Χ

★★★

Χ



2

 

★★★

 

Χ

Χ

Χ

★★★

★



3

 

 

Χ

Χ

★

★★★

★★★

★



4

 

 

 

Χ

★★

 

★

★★★

Key: ★★★ - Extremely Useful      ★★ - Frequently Useful      ★ - Occasionally Useful     No stars - Meh     

Χ

- Not recommended
Consumables
Colbert can equip the following consumables:
Camouflage
As a premium ship, Colbert comes included with Type 20 camouflage that lowers her detection radius, reduces the accuracy of incoming shells, reduces her repair costs, and increases the amount of experience she earns.
Signals
Recommended Signal Flags
Combat

 

★★

 

★★

★★

★

★★★

★★★

★★★

★

★

★★

 

 

Economic

★★

★★

★★

★★

★★

Special

★★

★★

★★

★★

★★

★★

★★

★★

Key: ★★★ - Extremely Useful       ★★ - Frequently Useful       ★ - Occasionally Useful      No stars - Not Useful
Gallery
References