Danae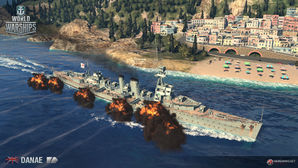 Tech Tree Position
152 mm/50 BL Mk.XII on a CPXIV mount
6 х 1 

pcs.
Rate of Fire
8 

shots/min.
Reload Time
7.5 

sec.
Rotation Speed
10 

deg./sec.
180 Degree Turn Time
18 

sec.
Firing Range
11.33 

km.
Maximum Dispersion
118 

m.
Chance of Fire on Target Caused by HE Shell
0 

%
AP Shell
152 mm AP 4crh 
Maximum AP Shell Damage
2,900 
Initial AP Shell Velocity
853 

m./s.
AP Shell Weight
45.36 

kg.
533 mm TR Mk I
4 х 3 

pcs.
Rate of Fire
0.97 

shots/min.
Reload Time
62 

sec.
Rotation Speed
25 

deg./sec.
180 Degree Turn Time
7.2 

sec.
Torpedo
533 mm Mk II 
Maximum Damage
10,000 
Torpedo Speed
53 

knot
Torpedo Range
6 

km.
40 mm/39 Vickers QF Mk.II on a single mount
2 х 1 

pcs.
. . . Average Damage per Second
11.2 
. . . Firing Range
2.01 

km.
12.7 mm Mk.III
4 х 4 

pcs.
. . . Average Damage per Second
8.4 
. . . Firing Range
1.2 

km.
76.2 mm/45 QF HA Mk.I on an HA Mk.IV mount
2 х 1 

pcs.
. . . Average Damage per Second
4.2 
. . . Firing Range
3 

km.
Maximum Speed
30 

knot
Turning Circle Radius
590 

m.
Rudder Shift Time
8.5 

sec.
Surface Detectability Range
10.13 

km.
Air Detectability Range
4.3 

km.
Battle Levels
Danae — British Tier IV cruiser.
Developed from the preceding Caledon-class cruiser ships. In contrast to her predecessors, she was bigger in size and had more powerful torpedoes. Apart from that, Danae featured reinforced artillery.
Modules
Compatible Upgrades
Player Opinion
Performance
Warning. The data presented in the AA Defense sidebar section may be incorrect.
For a graphic summary of ships Tiers VIII thru XI see LittleWhiteMouse's "Actual AA DPS".
At first glance, Danae might appear to suffer from the same problem that her immediate predecessor has: not enough guns. Further research, though, shows the concern is largely unwarranted. She sports six centerline-mounted 152mm rifles, and — just like Caledon — she can bring them all to bear on a single target with reasonable haste. This leaves her only a couple of guns shy of the maximum broadsides of rivals like Phoenix and Svietlana and slightly ahead of Karlsruhe. Her 8 rounds per minute rate of fire is also comparable for the tier.
As befits her light cruiser status, her armor is nothing to write home about and her health pool is below average;
Danae
's ability to utilize the
Repair Party
consumable is key to getting the most out of her in a given game. Her maximum firing range is excellent — second only to
Yubari
— and her rudder shift time is also above average, though her speed places her firmly in the middle-of-the-pack. She starts off with the same torpedoes as
Caledon
, though in an upgraded two triple-tube per side configuration. She can research a torpedo upgrade that moderately increases the damage and speed of her fish, but unfortunately does nothing for their 6.0 km range.
Pros:
Centerline mounted guns with excellent traverse time ensure she can get all her barrels on target when she wants to.
Twelve torpedo tubes available (six per side) for maximum carnage.
Maintains access to the Repair Party consumable, giving her additional survivability if played intelligently.
Good handling characteristics: solid rudder shift time and best-in-tier turning radius.
Cons:
Only six barrels will leave most captains feeling under-gunned even if they technically aren't against equal-tiered ships. When up-tiered into Tier V games, Danae can definitely find herself a liability to her team.
Smallest health pool of all non-premium Tier IV cruisers.
Lack of high explosive shells leaves her unable to reliably damage angled battleships.
Engine compartment space sits relatively high amidships; she is not hard to land citadels against when broadside.
Guns have very high shell arcs, making hitting fast-moving targets at long ranges difficult.
Research
Captains are recommended to research modules in the following order: the Fire Control System module first, then Hull (B), and lastly the Torpedo upgrade.
Optimal Configuration
Upgrades
The recommended upgrades for Danae are:
Commander Skills
Danae is almost certain to encounter enemy aircraft carriers, but her overall AA damage per second is so low that it makes sinking points into AA skills unattractive. Captains who are interested in a destroyer hunter role should consider investing points into Level 4's Radio Location.
  Recommended Commander Skills  
Cost
(points)

Attack

Defense



1

★

★

 

 

★★

★



2

 

★

★★

 

★

★



3

 

★

★★

 

★★

★



4

★★

★★

★

 

★★★

★

Key: ★★★ - Extremely Useful      ★★ - Frequently Useful      ★ - Occasionally Useful     No stars - Not Useful
Consumables
Danae equips the following consumables:
Signals
It is viable to mount India Delta because of how fragile Danae is and the fact that she has access to a heal ability. Additionally, it is worthwhile to mount November Foxtrot.
Note: Use of the Juliet Charlie signal makes detonation impossible.
Gallery
References
See here for links to Update notes.

Available to supertesters in the game starting from Update 0.5.11.
Introduced into the game as a researchable ship in Update 0.5.13.
Update 0.6.2:

Fixed model of destroyed torpedo tubes.

Update 0.6.3:

Experience earnings increased by +5%
Credit earnings increased by +5%

Update 0.6.12:

Detectability when firing main guns in smoke changed to 4.71 km.

Update 0.6.13:

Fire extinguishing time now 30 s instead of 60 s.

Update 0.7.10:

The range of the Hydroacoustic Search consumable was unified: 4 km for detecting ships, 3 km for detecting torpedoes.

Update 0.9.6:

The value of the in-game turning circle radius was changed to 590 m to correct prior discrepancy.

Update 0.9.7:

The Hydroacoustic Search consumable is available for installation on the base hull.

Update 0.11.11:

Minor updates to geometry and textures.