Daring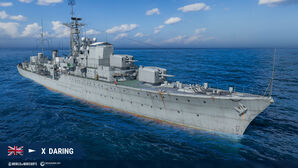 Tech Tree Position
113 mm/45 RP 41 Mk VI
3 х 2 

pcs.
Rate of Fire
21.43 

shots/min.
Reload Time
2.8 

sec.
Rotation Speed
25 

deg./sec.
180 Degree Turn Time
7.2 

sec.
Firing Range
12.78 

km.
Maximum Dispersion
110 

m.
HE Shell
113 mm HE 5crh 
Maximum HE Shell Damage
1,700 
Chance of Fire on Target Caused by HE Shell
8 

%
Initial HE Shell Velocity
746 

m./s.
HE Shell Weight
24.95 

kg.
AP Shell
113 mm SAP 55 lb 
Maximum AP Shell Damage
2,100 
Initial AP Shell Velocity
746 

m./s.
AP Shell Weight
25 

kg.
533 mm PR Mk II
2 х 5 

pcs.
Rate of Fire
0.48 

shots/min.
Reload Time
125 

sec.
Rotation Speed
25 

deg./sec.
180 Degree Turn Time
7.2 

sec.
Torpedo
533 mm Mk IXM 
Maximum Damage
16,767 
Torpedo Speed
62 

knot
Torpedo Range
9.99 

km.
113 mm/45 RP 41 Mk VI
3 х 2 

pcs.
. . . Average Damage per Second
53.4 
. . . Firing Range
5.01 

km.
40 mm STAAG
2 х 2 

pcs.
. . . Average Damage per Second
26.8 
. . . Firing Range
3.51 

km.
40 mm Bofors Mk V
1 х 2 

pcs.
. . . Average Damage per Second
12.3 
. . . Firing Range
3.51 

km.
Maximum Speed
35 

knot
Turning Circle Radius
630 

m.
Rudder Shift Time
4.6 

sec.
Surface Detectability Range
7.6 

km.
Air Detectability Range
3.46 

km.
Battle Levels
Daring — British Tier X destroyer.
The Daring class ships were the last and the largest British destroyers carrying torpedo tubes and artillery guns. Their main battery comprised of 114 mm guns mounted in enhanced dual-purpose turrets.


Modules
Compatible Upgrades
 Slot 1 
 Slot 2 
 Slot 3 
 Slot 4 
 Slot 5 
 Slot 6 
Player Opinion
Performance

Aptly nicknamed the "Mini-Taur",due to it's usage of AP shells in a gunfight, the HMS Daring finds herself as one of the strongest destroyers at Tier X. For starters, despite the fact that she has a rather small amount of HP, at just 20,400, she boasts an effective heal that allows her to keep fighting,regardless of who's shooting at her. She carries 6 guns in 3 twin D.P turrets that also rotate 360*, and while her 113mm caliber guns are rather small, thanks to the improved AP autobounce and fuse timer, as well as brutal HE shells, she can easily dispatch overconfident DDs who sought her out as easy prey (and she will dispatch them quickly, thanks to a reload time of just 2.5 seconds stock ). Her torpedoes are an oddity,being the same ones found on the Minotaur, with a 10km range and 62 knots of speed. While they are quite mediocre, comparable to the Z-52 or Grozovoi, she can single fire them, and a skilled player can fire them with surgical precision to quickly take down opposing cruisers or battleships. She does have downsides, however. Her concealment can only reach 6.00km, which allows other DDs to sneak up on her and deliver the powerful blows that could possibly cripple her. She does have Hydroacoustic Search, which allows her to sneak up on destroyers hiding in smoke, but it has a limited range of just 3 kilometers, compared to the 4/6km of the Z-52. Also, she's rather sluggish, due to a lack of engine boost to speed things along.
Overall, she's an excellent hybrid DD that makes the best of both worlds of torpedo boats and gunboats. Use these things wisely, and she will reward you handsomely
Pros:
Excellent ability to start fires with her HE shells.
Torpedoes have a fast reload and are stealthy.
Ability to single fire torpedoes.
Hydroacoustic Search () can keep her from being surprised by torpedoes.
Enhanced auto bounce angles increase's the effectiveness of AP vs angled targets.
Heal allows Daring to stay in the fight for longer.
Short duration smoke generator with short cooldown, can make 'hit and run' style tactics very effective.
Cons:
The smoke from her Smoke Generator () has a short action time and smoke duration.
The lack of Engine Boost () makes Daring slow when compared to other destroyers at her tier.
No Defensive AA Fire () to increase her AA effectiveness.
Concealment is worse than her predecessor, Jutland.
Optimal Configuration
Commander Skills
Recommended Commander Skills
Cost
(points)

Endurance

Attack

Support

Versatility



1

 

 

 

Χ

Χ

Χ

 

Χ



2

 

 

 

 

 

Χ

 

 



3

 

 

 

Χ

 

 

 

 



4

 

 

 

Χ

 

 

 

 

Key: ★★★ - Extremely Useful      ★★ - Frequently Useful      ★ - Occasionally Useful     No stars - Meh     

Χ

- Not recommended
Consumables
Daring can equip the following consumables: