Dmitri Donskoi
Revision as of 06:41, 11 November 2016
Revision as of 13:04, 28 November 2016
Line 17:
Line 17:
 
* Improved 7.1 inch guns from her tier 5 predecessor Kirov
 
* Improved 7.1 inch guns from her tier 5 predecessor Kirov
 
* Fast despite her appearance
 
* Fast despite her appearance
?
* Powerful AA suite, potentially surpassing her US counterpart Baltimore in terms of this
+
* Powerful AA suite
 
* Impressive gun range
 
* Impressive gun range
 
* Good rudder shift
 
* Good rudder shift
Revision as of 13:04, 28 November 2016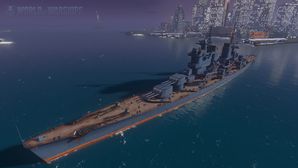 Tech Tree Position
100 mm/56 on a B-54 mount
6 х 2 

pcs.
Firing Range
6.95 

km.
Rate of Fire
16 

shots/min.
Reload Time
3.75 

sec.
HE Shell
HE-56 
Maximum HE Shell Damage
1,400 
Initial HE Shell Velocity
895 

m./s.
Chance of Fire on Target Caused by HE Shel
6 

%
533 mm Quintuple PTA-53-68-bis
2 х 5 

pcs.
Rate of Fire
0.51 

shots/min.
Reload Time
117 

sec.
Rotation Speed
25 

deg./sec.
180 Degree Turn Time
7.2 

sec.
Torpedo
53-36 mod. 2 
Maximum Damage
14,400 
Torpedo Speed
55 

knot
Torpedo Range
8.01 

km.
100 mm/56 on a B-54 mount
6 х 2 

pcs.
. . . Average Damage per Second
59.4 
. . . Firing Range
5.01 

km.
25 mm 110-PM on a 2M-3 mount
10 х 2 

pcs.
. . . Average Damage per Second
59 
. . . Firing Range
2.49 

km.
45 mm SM-20-ZIF mount
6 х 4 

pcs.
. . . Average Damage per Second
123.6 
. . . Firing Range
3.51 

km.
Maximum Speed
36 

knot
Turning Circle Radius
970 

m.
Rudder Shift Time
14.8 

sec.
Surface Detectability Range
16.02 

km.
Air Detectability Range
7.61 

km.
Battle Levels
Dmitri Donskoi — Soviet Tier IX cruiser.
The ship was developed from the Chapayev class. He received stronger armament and a more powerful propulsion (Project 65). Dmitri Donskoi surpassed his prototype in all major characteristics: dimensions, speed, artillery power, AA capabilities, and torpedo armament.
Modules
Compatible Upgrades
 Slot 1 
 Slot 2 
 Slot 3 
 Slot 4 
 Slot 5 
 Slot 6 
Player Opinion
Performance
A reliable cruiser in skilled hands, the Dmitri Donskoi, named after hero Dmitri Donskoi (translation: Dmitri of the Don) or "Dima" can be said as the analogous counterpart for the US cruiser of the same tier the Baltimore, albeit having different values than her US counterpart. If anything, the cruiser has a surprising AA suite aboard as well as trading gun caliber from the standard 8 inch guns normally seen on heavy cruisers to the 7.1 inch guns that was mounted on the Kirov at first. As an "escort cruiser", she is ideal for screening the carriers and battleships from aerial assaults as well as providing a second line of fire within the battle line as her range can permit her to do so. However despite her potency and effectiveness, be constantly vigilant and mobile as the ship absolutely can NOT survive a beating nor can it hide if it is concentrated upon. Work as a support cruiser and escort cruiser and you will see surprising results.
Pros:
Improved 7.1 inch guns from her tier 5 predecessor Kirov
Fast despite her appearance
Powerful AA suite
Impressive gun range
Good rudder shift
Friendly ergonomics
Surprisingly durable for a cruiser of her type
Cons:
High detection range for a cruiser; it is equivalent to a battleship
The ship, despite being fairly durable, cannot take excess punishment
Cannot effectively join fast striking cruiser groups due to her detection compared to her colleagues the Roon, Baltimore and Ibuki
Research
If you are comfortable with the range with your rather high detection range, research hull B to improve your ship's HP and AA suite then hull C and then the GFCS, or you can acquire hull B, then gun range then hull C.
Gallery