Dresden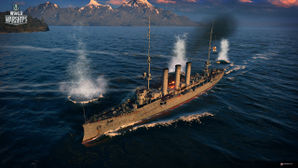 Tech Tree Position
105 mm/40 SK C/04 on an MPL C/04 mount
10 х 1 

pcs.
Rate of Fire
12 

shots/min.
Reload Time
5 

sec.
Rotation Speed
10 

deg./sec.
180 Degree Turn Time
18 

sec.
Firing Range
9.92 

km.
Maximum Dispersion
108 

m.
HE Shell
105 mm Spr.Gr. L/3.85 
Maximum HE Shell Damage
1,200 
Chance of Fire on Target Caused by HE Shell
4 

%
Initial HE Shell Velocity
710 

m./s.
HE Shell Weight
17.5 

kg.
AP Shell
105 mm P.Spr.Gr. 
Maximum AP Shell Damage
2,300 
Initial AP Shell Velocity
710 

m./s.
AP Shell Weight
17.4 

kg.
7.92 mm MG 08 machine gun
4 х 1 

pcs.
. . . Average Damage per Second
6.8 
. . . Firing Range
0.99 

km.
Maximum Speed
25 

knot
Turning Circle Radius
420 

m.
Rudder Shift Time
6.9 

sec.
Surface Detectability Range
9.26 

km.
Air Detectability Range
3.62 

km.
Battle Levels
Dresden — German Tier II cruiser.
A typical German protected cruiser of the early 20th century. Dresden could serve as a scout or raider, or cover a ship squadron from enemy destroyers. She boasted a high speed for her time and very good protection. Compared with the majority of enemy cruisers, she was fitted with numerous yet less efficient guns.


Modules
Compatible Upgrades
Player Opinion
Performance
Warning. The data presented in the AA Defense sidebar section may be incorrect.
For a graphic summary of ships Tiers VIII thru XI see LittleWhiteMouse's "Actual AA DPS".
The German cruiser line truly begins here at Tier II with Dresden. Along with Tier III's Kolberg, she is something of an anomaly in the overall context of the branch in that both ships will spend most of their time firing high-explosive shells at enemy cruisers and destroyers.
This ship, and her successor Kolberg, are well known for being an oddity in the German cruiser branch. While all German tech tree cruisers from Tier 7 and up are heavy cruisers, Dresden Kolberg barely qualify as light cruisers. In fact, they are more like gunboat destroyers. While she does have guns so small that higher-tier German ships use (a variant) of them as flak guns, Dresden can spew out an endless machine-gun stream of shells. That said, she can't do any damage whatsoever. Her AP shells are light and slow, with bad firing arcs, meaning they are worthless. Her HE shells are very bad, as is characteristic of German HE shells. With their 1/4 penetration values, Dresden will need to target destroyers or the superstructure of other ships to deal direct damage, with very few exceptions. However, HE shells still start fires, even if they don't penetrate. Additionally, since she will be meeting low-tier players who have poor DCP discipline, (excluding the seal-clubbers) she can burn everything to a crisp - except destroyers, who die so fast they don't have time to catch fire. She has low survivability, and poor maneuverability, but her speed is usable. She has horrible firing range and arcs, but accuracy doesn't matter when the whole map is raining shells.
Overall, Dresden is an oddity - something you will only find at low tiers. She is a small, fragile, protected cruiser, with bad maneuverability and usable speed. However, with a stupid number of guns (comparable to the Tier 3
St. Louis
or
Bogatyr
) and a machine-gun rate of fire (each gun capable of outputting 15 rounds per minute) she can melt destroyers and burn anything larger to a well-done steak. Play her to her strengths and she is still average or below-average, but a ton of fun to use, and a great hinderance to enemies, which will vastly help your team. And winning battles gets you out of her faster. Very few players will spend more than a few battles in Dresden, which makes it easy to only see a part of what she truly is - a fragile machine-gun firing mostly worthless bullets. Destroyers stand no chance against her, but most everything else is a serious threat, given her poor penetration values, poor survivability, maneuverability, and fire chances. Stay with allies, so you can be continuously firing without having to weather retaliation.
Pros:
Even bad, small HE shells can start fires - a swarm of bees will kill a bear.
On the fast side for Tier II cruiser.
Given her ROF and gun count, she can machine-gun everything
Destroyers die so fast they don't have time to catch fire.
Cons:
Shortest firing range of all Tier II cruisers found in the regular tech tree.
HE shells do extremely small amounts of damage and AP is practically worthless.
Large turning radius for a ship her size makes dodging torpedoes a challenge.
High shell arc.
When dealing with same-tier or higher-tier ships (other than destroyers) she is restricted to firing at the superstructure or waiting for DoT effects to take their toll.
Research
Availability of researchable upgrades for Dresden is as follows:
Hull: Upgrade to Hull (B) for more health, faster rudder shift time, and more main battery guns.
Gun Fire Control System: Upgrade to FKS Typ 2 Mod. 2 for an extra 10% range on the main battery.
Propulsion: There is no propulsion module upgrade, but access to the beginning of the German destroyer branch (V-25) stems from here.
Hull (B) is the top upgrade priority; not only does it increase
Dresden
's health pool, but she gains one more barrel in each broadside. Pick up the Fire Control System range upgrade second.
Optimal Configuration
Upgrades
The recommended upgrades for Dresden are as follows:
Dresden only has access to Upgrade Slot 1. Given the bare handful of games most captains will spend in her this is a fairly minor upgrade; either Main Armaments Modification 1 or Magazine Modification 1
are recommended.
Commander Skills
  Recommended Commander Skills  
Cost
(points)

Attack

Defense



1

★★

 

 

 

★

 



2

★★

 

 

 

★★★

 



3

★★★

 

★★★

 

 

 



4

 

 

★

 

★★★

 

Key: ★★★ - Extremely Useful      ★★ - Frequently Useful      ★ - Occasionally Useful     No stars - Not Useful
Consumables
Dresden can equip the following consumables:
Signals
Note: Use of the Juliet Charlie signal makes detonation impossible.
Gallery
References
See here for links to Update notes.

Available for testing by supertesters in the game starting from Update 0.4.0.4.
Update 0.5.0:

The "Secondary armament modification 1" module was removed.

Introduced into the game as a researchable ship in Update 0.5.0.3.
Update 0.5.1:

AP shells armor penetration was increased.

Update 0.5.2:

Experience earnings increased +7%.
Credit earnings increased +6%.

Update 0.5.8:

The hull armored model was refined.

Update 0.5.16:

The position of the side lights on the bow of the ship was corrected.

Update 0.6.3:

Base firing range increased from 8,110 to 9,920 m.

Update 0.6.9:

Improved appearance with the use of a special technology for improved rendering of thin elements (rigging).

Update 0.6.12:

Detectability when firing main guns in smoke changed to 3.4 km.

Update 0.6.13:

Fire extinguishing time now 30 s instead of 60 s.

Update 0.7.6:

The turning circle radius displayed in port was changed from 580 m to 420 m.

Update 0.7.9:

Main battery reload time increased from 4.0 to 5.0 s.

Update 0.10.9:

Ship flag was changed to Kaiserliche Marine flag for historical reasons.

Update 12.5:

The penetration of HE shells fired by 105 mm main battery guns has been increased from 18 to 26 mm.