Druid
Revision as of 00:19, 9 June 2021

Added performance, upgrades, pros/cons, research, camo, signals

Revision as of 00:27, 9 June 2021

Added gallery photos

Line 117:
Line 117:
 
 
 
|Gallery=<!-- write below list of files with description (if necessary) separated with | --><gallery>
 
|Gallery=<!-- write below list of files with description (if necessary) separated with | --><gallery>
?
 
+
 
+
 
+
 
+
 
+
 
+
 
+
 
</gallery>
 
</gallery>
 
 
Revision as of 00:27, 9 June 2021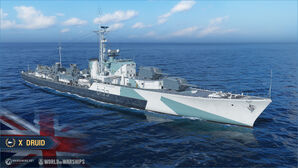 Tech Tree Position
127 mm/56 QF Mk N2
2 х 2 

pcs.
Rate of Fire
31.58 

shots/min.
Reload Time
1.9 

sec.
Rotation Speed
25 

deg./sec.
180 Degree Turn Time
7.2 

sec.
Firing Range
12.1 

km.
Maximum Dispersion
105 

m.
Chance of Fire on Target Caused by HE Shell
0 

%
AP Shell
127 mm AP 58 lb Mk N2 
Maximum AP Shell Damage
2,200 
Initial AP Shell Velocity
975 

m./s.
AP Shell Weight
23 

kg.
127 mm/56 QF Mk N2
2 х 2 

pcs.
. . . Average Damage per Second
70 
. . . Firing Range
5.01 

km.
20 mm Oerlikon Mk V
8 х 2 

pcs.
. . . Average Damage per Second
48.8 
. . . Firing Range
2.01 

km.
40 mm Bofors Mk VI
4 х 6 

pcs.
. . . Average Damage per Second
80.8 
. . . Firing Range
3.51 

km.
Maximum Speed
35 

knot
Turning Circle Radius
690 

m.
Rudder Shift Time
5.4 

sec.
Surface Detectability Range
8.4 

km.
Air Detectability Range
4.08 

km.
Battle Levels
Druid — British Tier X destroyer.
A "super destroyer" armed with dual-purpose 127 mm gun mounts designed in Great Britain in the early 1950s.
Modules
Compatible Upgrades
 Slot 1 
 Slot 2 
 Slot 3 
 Slot 4 
 Slot 5 
 Slot 6 
Player Opinion
Performance
Druid is a British Tier X destroyer armed with dual-purpose 127 mm gun mounts. Despite lacking torpedoes, she poses a significant threat to other ships due to the rapid rate of fire of her main battery guns. In addition, her anti-aircraft armament creates an effective defense against attacking aircraft.
Fully specialized for concealment, Druid has a somewhat high detectability range, meaning that Druid will often be spotted first in an engagement. Players must account for enemy destroyers with lower detectability ranges that will expose them in a flanking maneuver. When conducting such maneuvers, players will find that Druid can be sluggish in turns. In an engagement, Druid excels at punishing enemy destroyers foolish enough to show their broadside. Armed only with armor-piercing (AP) shells, Druid may have trouble penetrating the armored hulls of angled ships. In a scenario where a ship is running from an engagement or turning, players should aim for the superstructure to increase the likelihood of an effective penetrating hit. If players find themselves in a predicament, Druid is armed with a long-lasting short-range Hydroacoustic Search (

) consumable as well as a short-burst Smoke Generator (

). Although limited in their function, they may be just enough to help the player avoid torpedoes or break line of sight with an enemy to return to concealment. Perhaps the most useful consumable is her Repair Party (

). Druid is equipped with a decent repair party that can help her recover hit points after taking damage in a fight, increasing her usefulness and longevity in gameplay. Both of her gun mounts are located in a forward-facing configuration, leaving her stern unprotected when running or facing away from enemy ships.
Due to her high detectability range, somewhat sluggish turning, and lack of torpedoes, players must plan their attacks and take special note of where enemy destroyers were last spotted to avoid being detected.
Druid
excels at hunting and gunfighting other destroyers but she will likely be spotted first. To increase the likelihood of a successful engagement, players must account for an exit strategy to disengage from the fight while also utilizing consumables to maximize the ship's effectiveness in combat.
Pros:
Main battery has a high rate of fire with decent ballistic properties
Forward facing gun configuration makes her a small target when hunting and charging enemy ships
Decent anti-aircraft suite offers protection against aircraft attacks
Has access to the Repair Party () consumable as a destroyer
Cons:
Lacks a torpedo armament
No rear-facing gun mounts
Somewhat high detectability range, even when fully specialized for concealment
Her Hydroacoustic Search () and Smoke Generator () consumables are limited to short-range and short burst, respectively
Research
As a premium ship, Druid doesn't have any upgrades to research.
Optimal Configuration
Upgrades
The recommended upgrades for Druid are as follows:
Camouflage
As a premium ship, Druid comes included with Type 20 camouflage that lowers her detection radius, reduces the accuracy of incoming shells, reduces her repair costs, and increases the amount of experience she earns.
Signals
Recommended Signal Flags
Combat

★★★

 

 

 

 

 

★★★

★★★

★★★

★

★

★★★

 

 

Economic

★★★

★★★

★★★

★★★

★★★

Special

★★★

★★★

★★★

★★★

★★★

★★★

★★★

★★★

Key: ★★★ - Extremely Useful       ★★ - Frequently Useful       ★ - Occasionally Useful      No stars - Not Useful
Note: Use of the Juliet Charlie signal makes detonation impossible.
Gallery

Cite error: <ref> tags exist, but no <references/> tag was found