En. Gabolde
Revision as of 11:56, 10 June 2019

Added 3d model.

Revision as of 19:33, 4 October 2019

Commander Skills 2

Line 17:
Line 17:
 
 
 
|Pros=<!-- write list of positive points below. use * as in ordinary wiki-list. -->
 
|Pros=<!-- write list of positive points below. use * as in ordinary wiki-list. -->
?
*
+
*
?
*
+
*
 
*
 
*
 
*
 
*
 
 
 
|Cons=<!-- write list of negative points below. use * as in ordinary wiki-list. -->
 
|Cons=<!-- write list of negative points below. use * as in ordinary wiki-list. -->
?
*
+
*
?
*
+
*
 
*
 
*
 
*
 
*
 
 
 
|Research=<!-- write text about priority sequence of research below -->
 
|Research=<!-- write text about priority sequence of research below -->
?
<!--Availability of researchable upgrades for ''{{#var:ship_name}}'' is as follows:
+
Availability of researchable upgrades for ''{{#var:ship_name}}'' is as follows:
?
* '''Main Battery:'''
+
* '''Hull:''' Upgrade to Hull (B) for . Research of this module unlocks progression to .
?
* '''Hull:''' Upgrade to Hull (B) for XXX. Research of this module unlocks progression to YYY.
+
* '''Gun Fire Control System:''' Upgrade for an extra 10% range on the main battery.
?
* '''Torpedoes:'''
+
?
* '''Gun Fire Control System:''' Upgrade to XXX for an extra 10% range on the main battery.
+
?
* '''Propulsion:'''
+
?
-->
+
 
 
 
<!-- FOR PREMIUM SHIPS:
 
<!-- FOR PREMIUM SHIPS:
Line 44:
Line 40:
 
|Upgrades=<!-- write text about best upgrades below, add * after upgrade link to designate that another upgrade may be viable -->
 
|Upgrades=<!-- write text about best upgrades below, add * after upgrade link to designate that another upgrade may be viable -->
 
 
?
<!--The recommended upgrades for ''{{#var:ship_name}}'' are as follows:
+
The recommended upgrades for ''{{#var:ship_name}}'' are as follows:
?
* '''Slot 1''':
+
* '''Slot 1''':
?
* '''Slot 2''':
+
?
* '''Slot 3''':
+
?
* '''Slot 4''':
+
?
* '''Slot 5''':
+
?
* '''Slot 6''':
+
?
-->
+
 
 
 
|CommanderSkills=<!-- write text about best set of Commander Skills below -->
 
|CommanderSkills=<!-- write text about best set of Commander Skills below -->
?
<!--Key skills for ''{{#var:ship_name}}'' commanders include INSERT TEXT HERE.
+
Key skills for ''{{#var:ship_name}}'' commanders include .
 
 
?
{{Commander Skills
+
{{Commander Skills
?
| Priority Target =
+
?
| Preventative Maintenance =
+
| Priority Target
?
| Expert Loader =
+
| =
?
| Air Supremacy =
+
| Expert Loader
?
| Direction Center for Fighters =
+
| Air Supremacy
?
| Improved Engine Boost =
+
| Direction Center for Fighters
?
| Incoming Fire Alert =
+
| Improved Engine Boost
?
| Last Gasp =
+
| Incoming Fire Alert
 
+
| Last Gasp
 
 
?
| High Alert =
+
| High Alert
?
| Jack of All Trades =
+
| Jack of All Trades
?
| Expert Marksman =
+
| Expert Marksman
?
| Torpedo Acceleration =
+
| Torpedo Acceleration
?
| Smoke Screen Expert =
+
| Smoke Screen Expert
?
| Improved Engines =
+
| Improved Engines
?
| Adrenaline Rush =
+
| Adrenaline Rush
?
| Last Stand =
+
| Last Stand
 
 
?
| Basics of Survivability =
+
| Basics of Survivability
?
| Survivability Expert =
+
| Survivability Expert
?
| Torpedo Armament Expertise =
+
| Torpedo Armament Expertise
?
| Aircraft Armor =
+
| Aircraft Armor
?
| Basic Firing Training =
+
| Basic Firing Training
?
| Superintendent =
+
| =
?
| Demolition Expert =
+
| Demolition Expert
?
| Vigilance =
+
| =
 
 
?
| Manual Fire Control for Secondary Armament =
+
| Manual Fire Control for Secondary Armament
?
| Fire Prevention =
+
| Fire Prevention
?
| Inertia Fuse for HE Shells =
+
| Inertia Fuse for HE Shells
?
| Sight Stabilization =
+
| Sight Stabilization
?
| Advanced Firing Training =
+
| Advanced Firing Training
?
| Manual Fire Control for AA Armament =
+
| =
?
| Radio Position Finding =
+
| Radio Position Finding
?
| Concealment Expert =
+
| Concealment Expert
?
}}-->
+
}}
 
 
 
|Consumables=<!-- write text about selection of Consumables below -->
 
|Consumables=<!-- write text about selection of Consumables below -->
Revision as of 19:33, 4 October 2019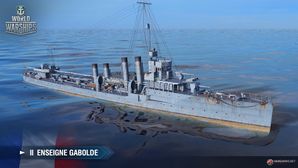 Tech Tree Position
550 mm tube lance-torpilles
2 х 2 

pcs.
Rate of Fire
1.71 

shots/min.
Reload Time
35 

sec.
Rotation Speed
25 

deg./sec.
180 Degree Turn Time
7.2 

sec.
Torpedo
550 mm 19V 
Maximum Damage
7,433 
Torpedo Speed
52 

knot
Torpedo Range
6.99 

km.
Maximum Speed
31 

knot
Turning Circle Radius
450 

m.
Rudder Shift Time
2.8 

sec.
Surface Detectability Range
5.94 

km.
Air Detectability Range
2.07 

km.
Battle Levels
Enseigne Gabolde — French Tier II destroyer.
An experimental destroyer equipped with a new type of turbine. The ship was laid down before the start of World War I, and was completed after the war ended. Based on the experience gained during wartime, the ship was armed with more powerful armament—in particular, formidable 550 mm torpedo tubes.


Modules
Compatible Upgrades
Player Opinion
Pros:
Fast torpedo reload.
Fast turret traverse.
Cons:
Torpedoes have small warheads.
No smoke generator.
Research
Availability of researchable upgrades for Enseigne Gabolde is as follows:
Hull: Upgrade to Hull (B) for improved health pool and better maneuverability. Research of this module unlocks progression to Fusilier.
Gun Fire Control System: Upgrade for an extra 10% range on the main battery.
Optimal Configuration
Upgrades
The recommended upgrades for Enseigne Gabolde are as follows:
Commander Skills
Key skills for Enseigne Gabolde commanders include Preventive Maintenance and Last Stand.
Recommended Commander Skills
Cost
(points)

Endurance

Attack

Support

Versatility



1

★★

★★★

 

Χ

Χ

Χ

★

Χ



2

 

 

 

 

Χ

Χ

 

★★★



3

 

 

 

Χ

★★

 

★★

 



4

 

 

★

Χ

★

 

 

★★★

Key: ★★★ - Extremely Useful      ★★ - Frequently Useful      ★ - Occasionally Useful     No stars - Meh     

Χ

- Not recommended
Gallery