Furutaka
Revision as of 00:28, 10 May 2021
Revision as of 15:07, 10 May 2021
Line 16:
Line 16:
 
''Furutaka's'' weak armor can be compensated for by conducting evasive maneuvers and angling. While her hull can withstand armor piercing shells from other cruisers when angled, most battleships will have little to no problem over-matching most sections of the ship.
 
''Furutaka's'' weak armor can be compensated for by conducting evasive maneuvers and angling. While her hull can withstand armor piercing shells from other cruisers when angled, most battleships will have little to no problem over-matching most sections of the ship.
 
 
?
''Furutaka's'' Hull C upgrade changes the look of the ship dramtically. The upgrade rearranges the cruiser's six guns into three dual-gun turrets, two superfiring turrets on the front and one on the rear, the same configuration that [[Ship:Aoba|Aoba]] carries. This basically doubles ''Furutaka's'' forward armament compared to its Hull B, allowing it to chase and track targets far more effectively with its forward guns, and carry out evasive maneuvers while firing.
+
''Furutaka's'' Hull upgrade changes the look of the ship . The upgrade rearranges the cruiser's six guns into three dual-gun turrets, two superfiring turrets on the front and one on the rear, the same configuration that [[Ship:Aoba|Aoba]] carries. Hull B , .
 
 
 
|Pros=<!-- write list of positive points below. use * as in ordinary wiki-list. -->
 
|Pros=<!-- write list of positive points below. use * as in ordinary wiki-list. -->
Line 29:
Line 29:
 
 
 
|Cons=<!-- write list of negative points below. use * as in ordinary wiki-list. -->
 
|Cons=<!-- write list of negative points below. use * as in ordinary wiki-list. -->
?
* Poor light armor for a heavy cruiser with a large citadel(Hull A).
+
* Poor light armor for a heavy cruiserlarge .
 
* Due to her larger gun caliber, the ship has a longer reload time than most other cruisers at her tier.
 
* Due to her larger gun caliber, the ship has a longer reload time than most other cruisers at her tier.
 
+
 
* Poor main battery firing range at 13.9km.
 
* Poor main battery firing range at 13.9km.
 
* Stock guns has the longest reload time of any cruiser in the game at 21 seconds.
 
* Stock guns has the longest reload time of any cruiser in the game at 21 seconds.
Line 36:
Line 37:
 
 
 
|Research=<!-- write text about priority sequence of research below -->
 
|Research=<!-- write text about priority sequence of research below -->
?
Captains should first research the second main battery module for the reduction in reload time it provides. Then the B Hull for better maneuverability, health pool, and especially a real AA suite. Then the C Hull for the reconfigured main battery, two more torpedo tubes, and even better AA. Next either the gun range buff or the much better mod.2 torpedoes, depending on whether you value her guns or torpedoes more highly.
+
Captains should first research the second main battery module for the reduction in reload time it provides. Then the B Hull for the reconfigured main battery, two more torpedo tubes, and better AA . Next either the gun range buff or the much better mod.2 torpedoes, depending on whether you value her guns or torpedoes more highly.
 
 
 
|OptimalConfiguration=<!-- write some general text about selection of optimal configuration below (optional)-->
 
|OptimalConfiguration=<!-- write some general text about selection of optimal configuration below (optional)-->
Revision as of 15:07, 10 May 2021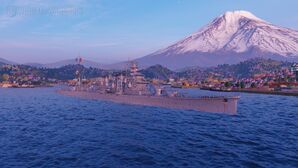 Tech Tree Position
76 mm /40 3rd Year Type on a single mount
4 х 1 

pcs.
Firing Range
4.3 

km.
Rate of Fire
17.14 

shots/min.
Reload Time
3.5 

sec.
HE Shell
76 mm HE Mk2 
Maximum HE Shell Damage
1,300 
Initial HE Shell Velocity
680 

m./s.
Chance of Fire on Target Caused by HE Shel
5 

%
610 mm Quad
2 х 4 

pcs.
Rate of Fire
0.67 

shots/min.
Reload Time
90 

sec.
Rotation Speed
25 

deg./sec.
180 Degree Turn Time
7.2 

sec.
Torpedo
Type8 
Maximum Damage
14,600 
Torpedo Speed
63 

knot
Torpedo Range
6 

km.
76 mm /40 3rd Year Type on a single mount
4 х 1 

pcs.
. . . Average Damage per Second
6.4 
. . . Firing Range
3 

km.
13 mm/76 Type 93 on a twin mount
4 х 2 

pcs.
. . . Average Damage per Second
8 
. . . Firing Range
1.2 

km.
7.7 mm/80 Type 92 on a single mount
2 х 1 

pcs.
. . . Average Damage per Second
3.2 
. . . Firing Range
0.99 

km.
Maximum Speed
34.5 

knot
Turning Circle Radius
750 

m.
Rudder Shift Time
9.2 

sec.
Surface Detectability Range
12.24 

km.
Air Detectability Range
5.78 

km.
Battle Levels
Furutaka — Japanese Tier V cruiser.
A powerful scout cruiser employed to carry out reconnaissance operations and to protect battleship fleets from enemy light naval forces. Furutaka's primary distinction from her predecessors was an enhanced artillery armament featuring a pyramid arrangement of turret mounts.
Modules
Compatible Upgrades
Player Opinion
Performance
The first heavy cruiser within Japan's cruiser tree and one of the first heavy cruisers in the game, Furutaka carries a powerful complement of six 203mm guns after upgrading from the 200mm, allowing her to deal with anything she encounters. While slow-firing, their large caliber and accuracy allows Furutaka captains to deal large amounts of damage in a single salvo. Fully upgraded, her guns have a range of 13.9km, while her torpedoes can hit 10km after researching the improved range. A common tactic is to close in on an isolated target and launch all available torpedoes before turning around to disengage. While she is faster than most cruisers at her tier, she rapidly slows down when turning, as such you will be the most vulnerable when turning to run away from the opponent.
If possible, captain's are recommended to remain undetected, as Furutaka's poor armor prevents her from tanking damage effectively. Avoid getting drawn into a close range gunfight at all costs, as Furutaka will almost always lose. The ship excels most when firing at unsuspecting targets from a distance. Despite her poor armor, playing Furutaka plays more like a strike cruiser rather than a typical heavy cruiser. Often the best way to play the cruiser, especially in higher tier battles, is to find a battleship or destroyer to support.
Furutaka's weak armor can be compensated for by conducting evasive maneuvers and angling. While her hull can withstand armor piercing shells from other cruisers when angled, most battleships will have little to no problem over-matching most sections of the ship.
Furutaka's
Hull B upgrade changes the look of the ship dramatically. The upgrade rearranges the cruiser's six guns into three dual-gun turrets, two superfiring turrets on the front and one on the rear, the same configuration that
Aoba
carries. Torpedo bulges are added in Hull B that helps cover 80% of the citadel that was exposed in hull A, which allows better protection from shells.
Pros:
Very thick central deck armor (48 mm): even the biggest AP shells can ricochet.
Powerful, accurate guns for her tier with large firing arcs on all turrets.
HE shells have a high fire chance and great damage.
Hull B has superb torpedo bulges that make the citadel rather small.
Powerful torpedoes with good range, speed, and damage.
Torpedo mounts have excellent firing angles compared to higher tier Japanese cruisers.
Upon upgrade to Hull B, the ship can bear the majority of her firepower forwards, allowing the cruiser to pursue and harass fleeing ships with relative ease.
Reasonable fast with a fast rudder shift time.
Cons:
Poor light armor for a heavy cruiser, takes large chunks of damage from anything being fired at her.
Due to her larger gun caliber, the ship has a longer reload time than most other cruisers at her tier.
Despite the torpedo protection covering most of the citadel, it still rises well above the waterline.
Poor main battery firing range at 13.9km.
Stock guns has the longest reload time of any cruiser in the game at 21 seconds.
The ship's anti-aircraft armament is weak and leaves the ship vulnerable to carrier strikes.
Research
Captains should first research the second main battery module for the reduction in reload time it provides. Then the B Hull for the reconfigured main battery, two more torpedo tubes, better maneuverability, health pool, and better AA suite. Next either the gun range buff or the much better mod.2 torpedoes, depending on whether you value her guns or torpedoes more highly.
Optimal Configuration
Upgrades
The recommended upgrades for Furutaka are as follows:
Commander Skills
The key skills for Furutaka include Grease the Gears at Level 1, Priority Target at Level 2, Adrenaline Rush at Level 3, and Concealment Expert at Level 4. Captains who use the ship's torpedoes often may also wish to invest in one or more of the torpedo skills if they have points remaining after investing in her main guns and concealment. The AA skills, particularly Expert AA Marksman, are almost always a good choice for leftover skill points on cruisers. While Pyrotechnician could be taken at Level 2 to improve her shells' fire chances, her rate of fire is too low to properly take advantage of the relative small boost to fire chance per shell. Captains may also with to invest in Top Grade Gunner to improve the slow rate of fire when they find themselves unable to drop off detection using her concealment.
  Recommended Commander Skills  
Cost
(points)

Attack

Defense



1

★★

★

 

★★

 

★



2

★★

★

 

 

★★

★★



3

 

★

★★★

★

★★

★



4

★

★★

★

 

★★★

 

Key: ★★★ - Extremely Useful      ★★ - Frequently Useful      ★ - Occasionally Useful     No stars - Not Useful
Consumables
Furutaka equips the following consumables:
Camouflage
Furutaka does not have a purchasable permanent camouflage available to her. Instead, Type 1, 2, or 5 camouflage can be equipped for credits; Types 1 or 5 are recommended at a minimum to reduce detectability range.
Signals
Furutaka captains should mount the standard flags to improve the ship's performance in battle. To improve upon the ship's armaments, India X-Ray (

), Victor Lima (

), and Juliet Whiskey Unaone (

) flags are recommended to increase the fire chance and flooding chances respectively. To improve the ship's survivability, captains should mount November Foxtrot (

) and India Yankee (

) flags. Sierra Mike (

) flags are recommended to increase the ship's already high top speed. Lastly, economic and special signal flags can be mounted to improve the ship's economic gains per battle.
Recommended Signal Flags
Combat

★★

★

★★

★

★★★

★

★★

★★★

 

 

★★

★

 

 

Economic

 

 

★★

★

 

Special

 

★★

★★

 

★★

 

 

 

Key: ★★★ - Extremely Useful       ★★ - Frequently Useful       ★ - Occasionally Useful      No stars - Not Useful
Note: Use of the Juliet Charlie signal makes detonation impossible.
Gallery
References

Cite error: <ref> tags exist, but no <references/> tag was found