G-101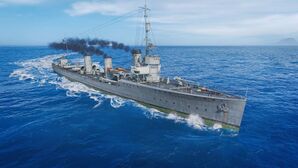 Tech Tree Position
105 mm/45 Tbts C/16 on a Tbts LC/16 mount
4 х 1 

pcs.
Rate of Fire
15 

shots/min.
Reload Time
4 

sec.
Rotation Speed
10 

deg./sec.
180 Degree Turn Time
18 

sec.
Firing Range
8.18 

km.
Maximum Dispersion
76 

m.
HE Shell
105 mm Spr.Gr. L/3.89 
Maximum HE Shell Damage
1,200 
Chance of Fire on Target Caused by HE Shell
5 

%
Initial HE Shell Velocity
715 

m./s.
HE Shell Weight
18 

kg.
AP Shell
105 mm P.Spr.Gr. L/3.8 
Maximum AP Shell Damage
2,300 
Initial AP Shell Velocity
715 

m./s.
AP Shell Weight
18.2 

kg.
500 mm Zwilling
2 х 2 / 2 х 1 

pcs.
Rate of Fire
1.58 

shots/min.
Reload Time
38 

sec.
Rotation Speed
25 

deg./sec.
180 Degree Turn Time
7.2 

sec.
Torpedo
G/6 AV** 
Maximum Damage
10,600 
Torpedo Speed
49 

knot
Torpedo Range
6 

km.
Maximum Speed
33.5 

knot
Turning Circle Radius
520 

m.
Rudder Shift Time
4.1 

sec.
Surface Detectability Range
6.46 

km.
Air Detectability Range
2.46 

km.
Battle Levels
G-101 — German Tier III destroyer.
This destroyer was built in Germany for the Argentine Navy. However, she was commissioned into the Imperial German Navy at the outbreak of World War I. Compared to V-25 class destroyers, she was larger in size and had more guns, but was slower.
Modules
Compatible Upgrades
Player Opinion
Pros:
Highest hit points of the Tier III destroyers by a large margin.
Very fast firing guns, with the fastest rate of fire of all Tier III destroyers.
Relatively long torpedo range allows a small window for firing torpedoes from stealth.
Retains the same torpedo firing angles as the V-25, including the forward firing torpedoes.
Cons:
Tied for highest base detection range of all Tier III destroyers.
Slowest of all Tier III destroyers.
High shell arcs.
Very short smokescreen duration limits offensive smoking ability.
Research
G-101 starts off with a pretty generous health pool for a Tier III destroyer, but her detection range works against her. Spend early experience gains on Hull (B) to improve survivability, then take the improved Fire Control System module that extends her gun range. The improved Torpedo module (which provides faster fish and more range) is a fairly minimal upgrade and can be saved for last.
Optimal Configuration
Upgrades
The recommended upgrades for G-101 are as follows:
Commander Skills
Low-tier German DDs need skills that allow them to survive longer. Priority Target, Preventative Maintenance, High Alert, Last Stand, Vigilance, Survivability Expert, Concealment Expert, and Advanced Firing Training will all help in this regard.
  Recommended Commander Skills  
Cost
(points)

Attack

Defense



1

★

★★

 

 

 

 



2

 

★★★

 

 

★★

★★★



3

★★

★★★

★★

 

★★

★★★



4

 

★

★

 

★★★

★

Key: ★★★ - Extremely Useful      ★★ - Frequently Useful      ★ - Occasionally Useful     No stars - Not Useful
Consumables
G-101 equips the following consumables:
Signals
Players looking to quickly grind down the German destroyer line should mount the following signals: Equal Speed Charlie London (🚫) for faster XP gain, Sierra Mike (

) to compensate for her rather slow speed, and Zulu Hotel (🚫) for faster commander retraining if the player transferred the commander from the preceding ship. Juliet Whiskey Unaone (

) is not recommended as battleships will be infrequent in the matchmaking spread, and early tier battleships do not have very much torpedo protection. Furthermore, G-101 has quick-reloading torpedo tubes.
Note: Use of the Juliet Charlie signal makes detonation impossible.
Gallery
The G-101 favors extremely aggressive gameplay. The enemy Isokaze is confused by the constant turns and forward torpedo arcs.
References
See here for links to Update notes.

Available to supertesters in the game starting from Update 0.5.15.
Introduced into the game as a researchable ship in Update 0.5.16.
Update 0.6.6:

Fixed targeting sectors of the torpedo tubes. On the right single-tube torpedo tube, the sector is equated to the left (reduced by 10 degrees), and on paired torpedo tubes, it is increased by 12 degrees towards the stern.

Update 0.6.12:

Detectability when firing main guns in smoke changed to 2.13 km.

Update 0.6.13:

Fire extinguishing time now 30 s instead of 60 s.

Update 0.6.15:

Minor fixes to ship textures and geometry.

Update 0.8.5:

Credits earnings increased by +5%.
Experience earnings increased by +5%.

Update 0.10.9:

Ship flag was changed to Kaiserliche Marine flag for historical reasons.

Update 12.5:

The penetration of HE shells fired by 105 mm main battery guns has been increased from 18 to 26 mm.