Gangut
Revision as of 21:08, 13 June 2019

Added content to Performance section along with Pros & Cons.

Latest revision as of 19:55, 1 August 2020

10 intermediate revisions by 4 users not shown

Line 6:
Line 6:
 
 
 
|Anno=<!-- you can write below short description for the ship. it will replace default once. -->
 
|Anno=<!-- you can write below short description for the ship. it will replace default once. -->
?
Was part of the first series of dreadnought battleships built in Russia. She was armed with twelve main battery guns. The ship's features included a significant area of side armor and a general layout providing a full sideboard salvo at the widest possible angles.<br><br>{{Model3DViewer|c08d9449eac64762af7b6b8af9f02422}}
+
Was part of the first series of dreadnought battleships built in Russia. She was armed with twelve main battery guns. The ship's features included a significant area of side armor and a general layout providing a full sideboard salvo at the widest possible angles.<br><br>{{Model3DViewer|c08d9449eac64762af7b6b8af9f02422}}
 
 
 
|Performance=<!-- write text about performance in battles below -->
 
|Performance=<!-- write text about performance in battles below -->
Line 20:
Line 20:
 
|Pros=<!-- write list of positive points below. use * as in ordinary wiki-list. -->
 
|Pros=<!-- write list of positive points below. use * as in ordinary wiki-list. -->
 
* Good rudder shift time when upgraded to B-hull.
 
* Good rudder shift time when upgraded to B-hull.
?
* Superstructure is small with well-armored conning towers to eat HE.
+
* Superstructure is small well-armored to HE .
 
* Hull armor scheme pairs well with main battery layout.
 
* Hull armor scheme pairs well with main battery layout.
?
* Main guns have good firing arcs and, for their limitations, shell ballistics.
+
* Main guns have good firing arcs, , .
?
* Damage control has fast cooldowns in exchange for limited charges.
+
* Damage control has fast .
 
 
 
|Cons=<!-- write list of negative points below. use * as in ordinary wiki-list. -->
 
|Cons=<!-- write list of negative points below. use * as in ordinary wiki-list. -->
Line 29:
Line 29:
 
* Slowest unmodified main battery reload in the game along with ''[[Knyaz Suvorov]]''.
 
* Slowest unmodified main battery reload in the game along with ''[[Knyaz Suvorov]]''.
 
* Slightly improved, but still poor AA defense.
 
* Slightly improved, but still poor AA defense.
?
* High and underprotected citadel is easily hit if not angled.
+
* High and citadel is easily hit if not angled.
?
* No torpedo blisters means only a 9% reduction in damage from torpedo hits
+
* No torpedo blisters means only a 9% reduction in damage from torpedo hits
 
+
 
 
 
|Research=<!-- write text about priority sequence of research below -->
 
|Research=<!-- write text about priority sequence of research below -->
?
<!--Availability of researchable upgrades for ''{{#var:ship_name}}'' is as follows:
+
of ''{{#var:ship_name}}'' is to (B) to for 10% range .
?
* '''Main Battery:'''
+
?
* '''Hull:''' Upgrade to Hull (B) for XXX. Research of this module unlocks progression to YYY.
+
?
* '''Torpedoes:'''
+
?
* '''Gun Fire Control System:''' Upgrade to XXX for an extra 10% range on the main battery.
+
?
* '''Propulsion:'''
+
?
-->
+
?
 
+
?
<!-- FOR PREMIUM SHIPS:
+
?
As a premium ship, ''{{#var:ship_name}}'' doesn't have any upgrades to research.-->
+
?
 
+
 
|OptimalConfiguration=<!-- write some general text about selection of optimal configuration below (optional)-->
 
|OptimalConfiguration=<!-- write some general text about selection of optimal configuration below (optional)-->
 
 
 
|Upgrades=<!-- write text about best upgrades below, add * after upgrade link to designate that another upgrade may be viable -->
 
|Upgrades=<!-- write text about best upgrades below, add * after upgrade link to designate that another upgrade may be viable -->
?
 
+
The recommended upgrades for ''{{#var:ship_name}}'' are as follows:
?
<!--The recommended upgrades for ''{{#var:ship_name}}'' are as follows:
+
* '''Slot 1''':
?
* '''Slot 1''':
+
* '''Slot 2''':
?
* '''Slot 2''':
+
?
* '''Slot 3''':
+
?
* '''Slot 4''':
+
?
* '''Slot 5''':
+
?
* '''Slot 6''':
+
?
-->
+
 
 
 
|CommanderSkills=<!-- write text about best set of Commander Skills below -->
 
|CommanderSkills=<!-- write text about best set of Commander Skills below -->
?
<!--Key skills for ''{{#var:ship_name}}'' commanders include INSERT TEXT HERE.
+
.
 
 
?
{{Commander Skills
+
{{Commander Skills
?
| Priority Target =
+
?
| Preventative Maintenance =
+
| Priority Target
?
| Expert Loader =
+
| =
?
| Air Supremacy =
+
| Expert Loader
?
| Direction Center for Fighters =
+
| Air Supremacy
?
| Improved Engine Boost =
+
| Direction Center for Fighters
?
| Incoming Fire Alert =
+
| Improved Engine Boost
?
| Last Gasp =
+
| Incoming Fire Alert
 
+
| Last Gasp
 
 
?
| High Alert =
+
| High Alert
?
| Jack of All Trades =
+
| Jack of All Trades
?
| Expert Marksman =
+
| Expert Marksman
?
| Torpedo Acceleration =
+
| Torpedo Acceleration
?
| Smoke Screen Expert =
+
| Smoke Screen Expert
?
| Improved Engines =
+
| Improved Engines
?
| Adrenaline Rush =
+
| Adrenaline Rush
?
| Last Stand =
+
| Last Stand
 
 
?
| Basics of Survivability =
+
| Basics of Survivability
?
| Survivability Expert =
+
| Survivability Expert
?
| Torpedo Armament Expertise =
+
| Torpedo Armament Expertise
?
| Aircraft Armor =
+
| Aircraft Armor
?
| Basic Firing Training =
+
| Basic Firing Training
?
| Superintendent =
+
| =
?
| Demolition Expert =
+
| Demolition Expert
?
| Vigilance =
+
| =
 
 
?
| Manual Fire Control for Secondary Armament =
+
| Manual Fire Control for Secondary Armament
?
| Fire Prevention =
+
| Fire Prevention
?
| Inertia Fuse for HE Shells =
+
| Inertia Fuse for HE Shells
?
| Sight Stabilization =
+
| Sight Stabilization
?
| Advanced Firing Training =
+
| Advanced Firing Training
?
| Manual Fire Control for AA Armament =
+
| =
?
| Radio Position Finding =
+
| Radio Position Finding
?
| Concealment Expert =
+
| Concealment Expert
?
}}-->
+
}}
 
 
 
|Consumables=<!-- write text about selection of Consumables below -->
 
|Consumables=<!-- write text about selection of Consumables below -->
?
<!--''{{#var:ship_name}}'' can equip the following consumables:
+
''{{#var:ship_name}}'' the following consumables:
?
* '''Slot 1:''' {{Damage Control Party}}
+
* '''Slot 1:''' {{Damage Control }}
?
* {{Repair Party}}
+
* '''''' {{}}
?
* {{Smoke Generator}}
+
 
?
* {{Defensive AA Fire}} '''or''' {{Hydroacoustic Search}}
+
?
* {{Surveillance Radar}}
+
?
* {{Torpedo Reload Booster}}
+
?
* {{Main Battery Reload Booster}}
+
?
* {{Engine Boost}}
+
?
* {{Spotting Aircraft}} '''or''' {{Catapult Fighter}}
+
?
-->
+
 
 
 
|Camouflage=<!-- write text about useful camouflage below -->
 
|Camouflage=<!-- write text about useful camouflage below -->
?
<!-- FOR TECH TREE SHIPS
+
[[Ship:Camouflage#Standard Camouflage|Type 1, 2, or 5 camouflage]] can be equipped for credits;
?
[[Ship:Camouflage#Standard Camouflage|Type 1, 2, or 5 camouflage]] can be equipped for credits;
+
 
 
?
Choose one and append after semicolon above:
+
camouflage ship.
?
Types 1 or 5 are recommended at a minimum to reduce detectibility range.
+
?
Types 2 or 5 are recommended at a minimum to reduce the accuracy of incoming shells.
+
?
 
+
?
Players who wish to spend doubloons can equip ''{{#var:ship_name}}'' with [[Ship:Camouflage#Permanent_Camouflage|Type XX camouflage]] that lowers her detection radius, reduces the accuracy of incoming shells, reduces her repair costs, and increases the amount of experience she earns.
+
?
-->
+
?
 
+
?
<!--FOR PREMIUM SHIPS
+
?
As a premium ship, ''{{#var:ship_name}}'' comes included with [[Ship:Camouflage#Premium_Camouflage|Type XX camouflage]] that lowers her detection radius, reduces the accuracy of incoming shells, reduces her repair costs, and increases the amount of experience she earns.
+
?
-->
+
 
 
 
|Signals=<!-- write text about best set of signals below -->
 
|Signals=<!-- write text about best set of signals below -->
 
 
?
<!-- {{Signal Flags
+
{{Signal Flags
 
| November Echo Setteseven =
 
| November Echo Setteseven =
?
| Mike Yankee Soxisix =
+
| Mike Yankee Soxisix =
 
| India X-Ray =
 
| India X-Ray =
 
| Juliet Whiskey Unaone =
 
| Juliet Whiskey Unaone =
 
| Victor Lima =
 
| Victor Lima =
?
| Hotel Yankee =
+
| Hotel Yankee =
 
 
?
| November Foxtrot =
+
| November Foxtrot =
?
| Sierra Mike =
+
| Sierra Mike =
?
| India Delta =
+
| India Delta =
?
| Juliet Yankee Bissotwo =
+
| Juliet Yankee Bissotwo =
?
| India Yankee =
+
| India Yankee =
?
| Juliet Charlie =
+
| Juliet Charlie =
 
 
?
| Zulu =
+
| Zulu =
?
| India Bravo Terrathree =
+
| India Bravo Terrathree =
?
| Equal Speed Charlie London =
+
| Equal Speed Charlie London =
?
| Zulu Hotel =
+
| Zulu Hotel =
?
| Papa Papa =
+
| Papa Papa =
 
 
?
| Wyvern =
+
| Wyvern =
?
| Red Dragon =
+
| Red Dragon =
?
| Dragon Flag =
+
| Dragon Flag =
?
| Ouroboros =
+
| Ouroboros =
?
| Hydra =
+
| Hydra =
?
| Basilisk =
+
| Basilisk =
 
 
?
| Leviathan =
+
| Leviathan =
?
| Scylla =
+
| Scylla =
?
}} -->
+
}}
 
 
 
|Gallery=<!-- write below list of files with description (if necessary) separated with | --><gallery>
 
|Gallery=<!-- write below list of files with description (if necessary) separated with | --><gallery>
Line 171:
Line 141:
 
<div class="thumb tright">
 
<div class="thumb tright">
 
{{AnnoWiki|content=
 
{{AnnoWiki|content=
?
<h2>''{{#var:ship_name}}'', YEAR</h2>
+
<h2>''{{#var:ship_name}}'', </h2>
 
===Construction===
 
===Construction===
?
:Builder: Yard; City, Country
+
:Builder: ; ,
?
:Laid down: DD MONTH YEAR
+
:Laid down:
?
:Launched: DD MONTH YEAR
+
:Launched:
?
:Commissioned: DD MONTH YEAR
+
:Commissioned:
 
----
 
----
 
===Specifications===
 
===Specifications===
?
:XX tons displacement, standard
+
:
?
:XXm length
+
tons displacement,
?
:XXm beam
+
:length
?
:XXm draft
+
:beam
 
+
:draft
 
----
 
----
 
====Machinery====
 
====Machinery====
?
:
+
:
 
+
 
+
 
----
 
----
 
====Performance====
 
====Performance====
?
:XX knots at XX shaft horsepower
+
:knots at shaft horsepower
?
:XX nm at XX knots
+
:nm at knots
 
----
 
----
 
====Armor====
 
====Armor====
?
:Main belt:
+
:Main belt:
?
:Upper belt:
+
:Upper belt:
?
:Torpedo bulkhead:
+
::
?
:Decks:
+
::
?
:Bulkheads:
+
:Bulkheads:
?
:Barbettes and Turrets:
+
:Barbettes
?
:Conning tower:
+
Turrets:
 
+
:Conning tower:
 
----
 
----
 
====Armament====
 
====Armament====
 
=====Main=====
 
=====Main=====
?
:
+
:
 
=====Secondary=====
 
=====Secondary=====
?
:
+
:
?
=====Anti-aircraft=====
+
:
?
:
+
 
=====Torpedoes=====
 
=====Torpedoes=====
?
:
+
:
 
----
 
----
?
====Aircraft====
 
?
=====Total=====
 
?
:
 
?
=====Fighters=====
 
?
:
 
?
===== Bombers=====
 
?
:
 
 
}}</div>
 
}}</div>
 
[[File:PICTURE.JPG|none|frame|x350px|link=|CAPTION.]]
 
[[File:PICTURE.JPG|none|frame|x350px|link=|CAPTION.]]
Line 226:
Line 192:
 
 
 
====Service====
 
====Service====
 
+
 
+
 
+
 
+
 
+
 
+
 
+
 
+
 
+
 
+
 
+
 
+
 
+
 
+
 
 
 
===Historical Inaccuracies===
 
===Historical Inaccuracies===
Line 238:
Line 218:
 
 
 
|Ref= <!-- write below -->
 
|Ref= <!-- write below -->
 
+
 
+
 
+
 
+
 
+
 
+
 
 
 
}}<!-- DO NOT DELETE THIS LINE. DO NOT INSERT ANYTHING BELOW THIS LINE -->
 
}}<!-- DO NOT DELETE THIS LINE. DO NOT INSERT ANYTHING BELOW THIS LINE -->
Latest revision as of 19:55, 1 August 2020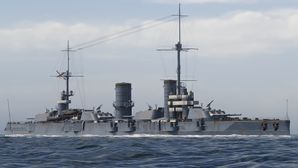 Tech Tree Position
305 mm/52 Model 1907 in a Metal Works Plant turret
4 х 3 

pcs.
Rate of Fire
1.67 

shots/min.
Reload Time
36 

sec.
Rotation Speed
3.2 

deg./sec.
180 Degree Turn Time
56.25 

sec.
Firing Range
12.41 

km.
Maximum Dispersion
180 

m.
HE Shell
305 mm HE Model 1911 
Maximum HE Shell Damage
4,500 
Chance of Fire on Target Caused by HE Shell
33 

%
Initial HE Shell Velocity
762 

m./s.
HE Shell Weight
470.9 

kg.
AP Shell
305 mm AP Model 1911 
Maximum AP Shell Damage
8,600 
Initial AP Shell Velocity
762 

m./s.
AP Shell Weight
470.9 

kg.
120 mm/50 Model 1905
16 х 1 

pcs.
Firing Range
3.5 

km.
Rate of Fire
7 

shots/min.
Reload Time
8.57 

sec.
HE Shell
120 mm HE Model 1907 
Maximum HE Shell Damage
1,700 
Initial HE Shell Velocity
823 

m./s.
Chance of Fire on Target Caused by HE Shel
8 

%
75 mm Model 1892 on a Meller AA mounting
8 х 1 

pcs.
. . . Average Damage per Second
15.2 
. . . Firing Range
3 

km.
Maximum Speed
23 

knot
Turning Circle Radius
660 

m.
Rudder Shift Time
14.3 

sec.
Surface Detectability Range
13.62 

km.
Air Detectability Range
8.86 

km.
Battle Levels
Gangut — Soviet Tier IV battleship.
Was part of the first series of dreadnought battleships built in Russia. She was armed with twelve main battery guns. The ship's features included a significant area of side armor and a general layout providing a full sideboard salvo at the widest possible angles.
Modules
Compatible Upgrades
Player Opinion
Performance
Coming from
Knyaz Suvorov
,
Gangut
is sure to feel like a welcome improvement thanks mainly to the centerline turret layout which allows 75% of the main battery to be fired while still giving favorable hull angles to deflect or absorb incoming fire. Captains who own either
Oktyabrskaya Revolutsiya
or
Imperator Nikolai I
will find adjusting to this ship to be a rather pain-free experience due to their similarities. However, since
Gangut
is a tech tree Russian battleship, it does not have the longer range accuracy found on the aforementioned premium ships and instead must close the distance with enemy ships to land more than singular random hits. This is somewhat easily accomplished by her 23-knot top speed which ties
Gangut
for second-fastest BB of the tier alongside
Kaiser
, meaning she will be able to (slowly) run down or outrun most other battleships in her matchmaking spread.
Pros:
Good rudder shift time when upgraded to B-hull.
Superstructure is small and well-armored and the ship's 32 mm outer plating make her highly resistant to HE spam.
Hull armor scheme pairs well with main battery layout.
Main guns have good firing arcs, accuracy, and penetration.
Damage control has a fast cooldown.
Cons:
Detection range is higher than maximum possible firing range without commander skills and camo.
Slowest unmodified main battery reload in the game along with Knyaz Suvorov.
Slightly improved, but still poor AA defense.
High and under-protected citadel is easily hit if not angled. The ship's armor is ineffective against battleship guns.
No torpedo blisters means only a 9% reduction in damage from torpedo hits.
Damage control has limited charges.
Research
The research path of Gangut is relatively simple – players are encouraged to first unlock the (B) hull to increase ship health, anti-aircraft armament, and rudder response time, and finish with the fire control upgrade, which allows for a 10% firing range upgrade.
Optimal Configuration
Upgrades
The recommended upgrades for Gangut are as follows:
Commander Skills
With a limited number of damage control team uses, fire control and prevention becomes very important.
Recommended Commander Skills
Cost
(points)

Endurance

Attack

Support

Versatility



1

★★★

★★

★

Χ

Χ

Χ

 

Χ



2

★★

 

★★★

Χ

Χ

Χ

★★★

 



3

★★★

 

Χ

Χ

★

★★★

 

★★



4

 

★★★

 

Χ

★

 

 

★

Key: ★★★ - Extremely Useful      ★★ - Frequently Useful      ★ - Occasionally Useful     No stars - Meh     

Χ

- Not recommended
Consumables
Gangut equips the following consumables:
Keep in mind that while the damage control team is very efficient, it can be used a limited number of times before becoming exhausted.
Camouflage
Type 1, 2, or 5 camouflage can be equipped for credits 

or the outstanding Type 59 for  

; Types 2 or 5 are recommended at a minimum to reduce the accuracy of incoming shells.
There is no standard permanent camouflage for this ship.
Signals
Recommended Signal Flags
Combat

 

★

 

 

 

★

★★

★★

★★★

★

★★★

★

Economic

★★

★

★★

★★

★

Special

★★

★★

★★

★

★★

★★

★★

★★

Key: ★★★ - Extremely Useful       ★★ - Frequently Useful       ★ - Occasionally Useful      No stars - Not Useful
Gallery
References