Hakuryu
Revision as of 21:15, 24 September 2016
Revision as of 08:23, 9 October 2016

Replaced Camod illustration with clean one

Line 29:
Line 29:
 
|HistoricalGallery=<!-- write below list of files without tags. description (if necessary) for each should be separated with template {{!}} --><gallery>
 
|HistoricalGallery=<!-- write below list of files without tags. description (if necessary) for each should be separated with template {{!}} --><gallery>
 
2612725.png|Blueprints of G15.
 
2612725.png|Blueprints of G15.
?
G15_Taiho-Kai.jpg|Illustration of G15.
+
-.|Illustration of G15.
 
</gallery>|Video=<!-- put below video clips with using template VideoYT. You can use html-tags for formatting. -->
 
</gallery>|Video=<!-- put below video clips with using template VideoYT. You can use html-tags for formatting. -->
 
 
Revision as of 08:23, 9 October 2016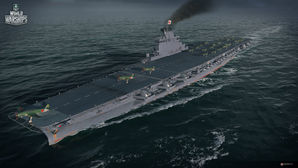 Tech Tree Position
100 mm/65 Type 98 on a Model A mount
12 х 2 

pcs.
Firing Range
5 

km.
Rate of Fire
20.98 

shots/min.
Reload Time
2.86 

sec.
HE Shell
100 mm HE Type98 
Maximum HE Shell Damage
1,700 
Initial HE Shell Velocity
1000 

m./s.
Chance of Fire on Target Caused by HE Shel
6 

%
100 mm/65 Type 98 on a Model A mount
12 х 2 

pcs.
. . . Average Damage per Second
249.6 
. . . Firing Range
5.01 

km.
40 mm/60 Type 5 on a twin mount
22 х 2 

pcs.
. . . Average Damage per Second
242 
. . . Firing Range
3.51 

km.
Maximum Speed
34.5 

knot
Turning Circle Radius
1 250 

m.
Rudder Shift Time
17.1 

sec.
Surface Detectability Range
15.66 

km.
Air Detectability Range
11.42 

km.
Battle Levels
Hakuryū — Japanese Tier X aircraft сarrier.
An aircraft carrier designed to be an enlarged and enhanced version of the Taihō class. Hakuryū was superior to her predecessor in size, armor and artillery power. Owing to an increased hangar, she could carry the largest air group among all Japanese aircraft carriers.
Modules
Compatible Upgrades
 Slot 1 
 Slot 2 
 Slot 3 
 Slot 4 
 Slot 5 
 Slot 6 
Player Opinion
Performance
Rightly dubbed as the "Sky Hammer" due to the notion that she can have a lot of squadrons in the air at any given time, the Hakuryu is a battleship's worst nightmare, with special mention to the Yamato which was sunk by aircraft during her very last sortie, as she can field a large number of squadrons, one particular loadout having six strike aircraft at her disposal, to destroy any capital ship or a standard ship in the water. The cost of having a large number of squadrons in the air however is the fact that each squadron has a small air wing than their US counterparts and can be easily destroyed by a very solid AA screen or good fighters that can intercept the planes. The carrier is no slouch when it comes to visibility as being large as she is, she has a rather reasonable concealment value, better than her counterpart the Midway.
Pros:
Can put several squadrons into the air at any given time, especially strike aircraft
Carrier itself has good concealment values
Deck does not burn easily
A daunting thing to be wary of in high tier matches
Fighters are rather sound at their tier
Cons:
Squadron has a small air wing which makes it a bit easy to have fighters intercept them
Fighters are still swamped by US fighters in dogfights
Gallery