Hakuryu
Revision as of 06:03, 10 October 2016
Revision as of 03:26, 10 February 2017

Added recommended upgrades, commander skills, and signals; added consumables and camouflage sections

Line 19:
Line 19:
 
* Squadron has a small air wing which makes it a bit easy to have fighters intercept them
 
* Squadron has a small air wing which makes it a bit easy to have fighters intercept them
 
* Fighters are still swamped by US fighters in dogfights
 
* Fighters are still swamped by US fighters in dogfights
 
+
 
+
 
+
 
+
 
+
 
+
 
+
 
+
 
+
 
+
 
+
 
+
 
+
 
+
 
+
 
+
 
+
 
+
 
+
 
+
 
+
 
+
 
+
 
+
 
+
 
+
 
+
 
+
 
+
 
+
 
+
 
+
 
+
 
+
 
+
 
+
 
+
 
+
 
+
 
+
 
+
 
+
 
+
 
+
 
+
 
+
 
+
 
+
 
+
 
+
 
+
 
+
 
+
 
+
 
 
 
|Gallery=<!-- write below list of files without tags. description (if necessary) for each should be separated with template {{!}} --><gallery>
 
|Gallery=<!-- write below list of files without tags. description (if necessary) for each should be separated with template {{!}} --><gallery>
Revision as of 03:26, 10 February 2017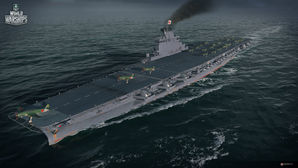 Tech Tree Position
100 mm/65 Type 98 on a Model A mount
12 х 2 

pcs.
Firing Range
5 

km.
Rate of Fire
20.98 

shots/min.
Reload Time
2.86 

sec.
HE Shell
100 mm HE Type98 
Maximum HE Shell Damage
1,700 
Initial HE Shell Velocity
1000 

m./s.
Chance of Fire on Target Caused by HE Shel
6 

%
100 mm/65 Type 98 on a Model A mount
12 х 2 

pcs.
. . . Average Damage per Second
249.6 
. . . Firing Range
5.01 

km.
40 mm/60 Type 5 on a twin mount
22 х 2 

pcs.
. . . Average Damage per Second
242 
. . . Firing Range
3.51 

km.
Maximum Speed
34.5 

knot
Turning Circle Radius
1 250 

m.
Rudder Shift Time
17.1 

sec.
Surface Detectability Range
15.66 

km.
Air Detectability Range
11.42 

km.
Battle Levels
Hakuryū — Japanese Tier X aircraft сarrier.
An aircraft carrier designed to be an enlarged and enhanced version of the Taihō class. Hakuryū was superior to her predecessor in size, armor and artillery power. Owing to an increased hangar, she could carry the largest air group among all Japanese aircraft carriers.
Modules
Compatible Upgrades
 Slot 1 
 Slot 2 
 Slot 3 
 Slot 4 
 Slot 5 
 Slot 6 
Player Opinion
Performance
Rightly dubbed as the "Sky Hammer" due to the notion that she can have a lot of squadrons in the air at any given time, the Hakuryu is a battleship's worst nightmare, with special mention to the Yamato which was sunk by aircraft during her very last sortie, as she can field a large number of squadrons, one particular loadout having six strike aircraft at her disposal, to destroy any capital ship or a standard ship in the water. The cost of having a large number of squadrons in the air however is the fact that each squadron has a small air wing than their US counterparts and can be easily destroyed by a very solid AA screen or good fighters that can intercept the planes. The carrier is no slouch when it comes to visibility as being large as she is, she has a rather reasonable concealment value, better than her counterpart the Midway.
Pros:
Can put several squadrons into the air at any given time, especially strike aircraft
Carrier itself has good concealment values
Deck does not burn easily
A daunting thing to be wary of in high tier matches
Fighters are rather sound at their tier
Cons:
Squadron has a small air wing which makes it a bit easy to have fighters intercept them
Fighters are still swamped by US fighters in dogfights
Optimal Configuration
Upgrades
As a carrier at Tier X with all six possible upgrade slots, it's best to mount Air Groups Modification 1, Flight Control Modification 1 (for faster aircraft servicing time / rearming time) or Air Groups Modification 2 (for better fighter capability in fighting enemy fighters and taking down enemy bombers), Air Groups Modification 3 (for better plane survivability due to the powerful anti-air armaments of cruisers at this tier), Damage Control System Modification 1, Damage Control System Modification 2 (if the player chooses to use Emergency Takeoff Skill and does not have Damage Control Party ready) or Propulsion Modification 2 (if the player feels the need to relocate and avoid enemies is more important), and Concealment System Modification 1 on Hakuryu.
Commander Skills
As Hakuryu is a Tier X carrier, the player has access to the special carrier Defensive Fire consumable, which lasts for two minutes and increases the ship's AA DPS by a factor of 1.75. Coupled with Basic Firing Training and Manual Fire Control for AA Armament, the player can significantly increase the ship's AA DPS to shoot down enemy planes effectively. Or, as Hakuryu has access to the Concealment System Modification, the player can opt to choose to utilize the Concealment Expert skill as an indirect form of further protection from enemy ships (with skill, camouflage, and upgrade, detection is 11.12km). Owing to Hakuryu's superb array of bomber squadrons, being a very stealthy carrier will allow the player to strike at enemies relentlessly, being able to simultaneously be close to the enemy as well as "cycle" the attack squadrons out in quick succession, as the planes at this tier are very fast and even more so after they have dropped their bombs on the enemy.
Recommended Commander Skills
Cost
(points)

Endurance

Attack

Support

Versatility



1

★

★

 

★★★

 

 

★

 



2

★

 

 

★★★

 

 

★★

★



3

★★

 

★★★

 

★★

 

★

★



4

 

 

 

 

 

 

 

★★

Key: ★★★ - Extremely Useful       ★★ - Frequently Useful       ★ - Occasionally Useful      No stars - Meh    

Χ

- Not recommended
Consumables
As a carrier at Tier X, Hakuryu has access to Damage Control Party and Defensive AA Fire.
Camouflage
Type 1, 2, or 5 camouflage can be equipped for credits; Types 1 or 5 are recommended at a minimum to reduce the chance of being detected.
Players who wish to spend doubloons can equip
Hakuryu
with
Type 20 camouflage
that lowers her detection radius, reduces the accuracy of incoming shells, reduces cost of post-battle service, and increases the amount of experience she earns.
Gallery