Harugumo
Revision as of 11:59, 7 August 2018
Revision as of 13:36, 22 August 2018

All but Performance (Soon)

Line 9:
Line 9:
 
 
 
|Performance=<!-- write text about performance in battles below -->
 
|Performance=<!-- write text about performance in battles below -->
?
<!--
 
?
PERFORMANCE SECTION GUIDELINES
 
?
1. Write a brief intro paragraph of 1-3 sentences.
 
?
2. Write 1-3 paragraphs of "meat". Talk about what the ship does well, what it doesn't, how it compares to same tier ships of the same type, how it compares to the previous ship in the tech tree, whatever. Try to avoid quoting vital statistics to players unless it is really relevant (i.e. concealment); they can see those in the sidebar on the right and don't need them read back.
 
?
3. Write a brief summary paragraph of 1-3 sentences highlighting the key takeaways from the paragraphs above.
 
?
-->
 
 
 
 
|Pros=<!-- write list of positive points below. use * as in ordinary wiki-list. -->
 
|Pros=<!-- write list of positive points below. use * as in ordinary wiki-list. -->
?
*
+
*
?
*
+
*
?
*
+
*
?
*
+
*
 
+
 
+
 
+
 
 
 
|Cons=<!-- write list of negative points below. use * as in ordinary wiki-list. -->
 
|Cons=<!-- write list of negative points below. use * as in ordinary wiki-list. -->
?
*
+
*
?
*
+
*
?
*
+
*
?
*
+
*
 
+
 
+
 
 
 
|Research=<!-- write text about priority sequence of research below -->
 
|Research=<!-- write text about priority sequence of research below -->
?
<!--Availability of researchable upgrades for ''{{#var:ship_name}}'' is as follows:
+
* ''':''' Torpedoes.
?
* '''Main Battery:'''
+
?
* '''Hull:''' Upgrade to Hull (B) for XXX. Research of this module unlocks progression to YYY.
+
?
* '''Torpedoes:'''
+
?
* '''Gun Fire Control System:''' Upgrade to XXX for an extra 10% range on the main battery.
+
?
* '''Propulsion:'''
+
?
-->
+
 
 
?
<!-- FOR PREMIUM SHIPS:
+
, to research .
?
As a premium ship, ''{{#var:ship_name}}'' doesn't have any upgrades to research.-->
+
 
 
 
|OptimalConfiguration=<!-- write some general text about selection of optimal configuration below (optional)-->
 
|OptimalConfiguration=<!-- write some general text about selection of optimal configuration below (optional)-->
Line 44:
Line 36:
 
|Upgrades=<!-- write text about best upgrades below, add * after upgrade link to designate that another upgrade may be viable -->
 
|Upgrades=<!-- write text about best upgrades below, add * after upgrade link to designate that another upgrade may be viable -->
 
 
?
<!--The recommended upgrades for ''{{#var:ship_name}}'' are as follows:
+
The recommended upgrades for ''{{#var:ship_name}}'' are as follows:
?
* '''Slot 1''':
+
* '''Slot 1''':
?
* '''Slot 2''':
+
* '''Slot 2''':
?
* '''Slot 3''':
+
* '''Slot 3''':
?
* '''Slot 4''':
+
* '''Slot 4''':
?
* '''Slot 5''':
+
* '''Slot 5''':
?
* '''Slot 6''':
+
* '''Slot 6''':
?
-->
+
 
 
+
 
+
 
 
 
|CommanderSkills=<!-- write text about best set of Commander Skills below -->
 
|CommanderSkills=<!-- write text about best set of Commander Skills below -->
?
<!--Key skills for ''{{#var:ship_name}}'' commanders include INSERT TEXT HERE.
+
Key skills for ''{{#var:ship_name}}'' commanders include .
 
 
 
{{Commander Skills
 
{{Commander Skills
?
| Priority Target =
+
| Priority Target =
?
| Preventative Maintenance =
+
| Preventative Maintenance =
 
| Expert Loader =
 
| Expert Loader =
 
| Aircraft Servicing Expert =
 
| Aircraft Servicing Expert =
 
| Direction Center for Catapult Aircraft =
 
| Direction Center for Catapult Aircraft =
 
| Dogfighting Expert =
 
| Dogfighting Expert =
?
| Incoming Fire Alert =
+
| Incoming Fire Alert =
 
| Evasive Maneuver =
 
| Evasive Maneuver =
 
 
?
| High Alert =
+
| High Alert =
?
| Jack of All Trades =
+
| Jack of All Trades =
 
| Expert Marksman =
 
| Expert Marksman =
?
| Torpedo Acceleration =
+
| Torpedo Acceleration =
?
| Smoke Screen Expert =
+
| Smoke Screen Expert =
 
| Expert Rear Gunner =
 
| Expert Rear Gunner =
?
| Adrenaline Rush =
+
| Adrenaline Rush =
?
| Last Stand =
+
| Last Stand =
 
 
?
| Basics of Survivability =
+
| Basics of Survivability =
?
| Survivability Expert =
+
| Survivability Expert =
?
| Torpedo Armament Expertise =
+
| Torpedo Armament Expertise =
 
| Emergency Takeoff =
 
| Emergency Takeoff =
?
| Basic Firing Training =
+
| Basic Firing Training =
?
| Superintendent =
+
| Superintendent =
?
| Demolition Expert =
+
| Demolition Expert =
?
| Vigilance =
+
| Vigilance =
 
 
 
| Manual Fire Control for Secondary Armament =
 
| Manual Fire Control for Secondary Armament =
 
| Fire Prevention =
 
| Fire Prevention =
?
| Inertia Fuse for HE Shells =
+
| Inertia Fuse for HE Shells =
 
| Air Supremacy =
 
| Air Supremacy =
?
| Advanced Firing Training =
+
| Advanced Firing Training =
?
| Manual Fire Control for AA Armament =
+
| Manual Fire Control for AA Armament =
?
| Radio Position Finding =
+
| Radio Position Finding =
?
| Concealment Expert =
+
| Concealment Expert =
?
}}-->
+
}}
 
 
 
|Consumables=<!-- write text about selection of Consumables below -->
 
|Consumables=<!-- write text about selection of Consumables below -->
?
<!--''{{#var:ship_name}}'' can equip the following consumables:
+
''{{#var:ship_name}}'' can equip the following consumables:
 
* '''Slot 1:''' {{Damage Control Party}}
 
* '''Slot 1:''' {{Damage Control Party}}
?
* {{Repair Party}}
+
* {{Smoke Generator}}
?
* {{Smoke Generator}}
+
* '''''' {{Engine Boost}}
?
* {{Defensive AA Fire}} '''or''' {{Hydroacoustic Search}}
+
* '''''' {{}}
?
* {{Surveillance Radar}}
+
 
?
* {{Torpedo Reload Booster}}
+
?
* {{Engine Boost}}
+
?
* {{Spotting Aircraft}} '''or''' {{Catapult Fighter}}-->
+
 
 
 
|Camouflage=<!-- write text about useful camouflage below -->
 
|Camouflage=<!-- write text about useful camouflage below -->
?
<!-- FOR TECH TREE SHIPS
+
[[Ship:Camouflage#Standard Camouflage|Type 1, 2, or 5 camouflage]] can be equipped for credits; Types 1 or 5 are recommended at a minimum to reduce detectibility range.
?
[[Ship:Camouflage#Standard Camouflage|Type 1, 2, or 5 camouflage]] can be equipped for credits;
+
?
 
+
?
Choose one and append after semicolon above:
+
?
Types 1 or 5 are recommended at a minimum to reduce detectibility range.
+
?
Types 2 or 5 are recommended at a minimum to reduce the accuracy of incoming shells.
+
 
 
 
Players who wish to spend doubloons can equip ''{{#var:ship_name}}'' with [[Ship:Camouflage#Permanent_Camouflage|Type XX camouflage]] that lowers her detection radius, reduces the accuracy of incoming shells, reduces her repair costs, and increases the amount of experience she earns.
 
Players who wish to spend doubloons can equip ''{{#var:ship_name}}'' with [[Ship:Camouflage#Permanent_Camouflage|Type XX camouflage]] that lowers her detection radius, reduces the accuracy of incoming shells, reduces her repair costs, and increases the amount of experience she earns.
?
-->
 
?
 
?
<!--FOR PREMIUM SHIPS
 
?
As a premium ship, ''{{#var:ship_name}}'' comes included with [[Ship:Camouflage#Premium_Camouflage|Type XX camouflage]] that lowers her detection radius, reduces the accuracy of incoming shells, reduces her repair costs, and increases the amount of experience she earns.
 
?
-->
 
 
 
 
|Signals=<!-- write text about best set of signals below -->
 
|Signals=<!-- write text about best set of signals below -->
 
 
?
<!-- {{Signal Flags
+
{{Signal Flags
?
| November Echo Setteseven =
+
| November Echo Setteseven =
 
| Mike Yankee Soxisix =
 
| Mike Yankee Soxisix =
?
| India X-Ray =
+
| India X-Ray =
?
| Juliet Whiskey Unaone =
+
| Juliet Whiskey Unaone =
?
| Victor Lima =
+
| Victor Lima =
 
| Hotel Yankee =
 
| Hotel Yankee =
 
 
?
| November Foxtrot =
+
| November Foxtrot =
?
| Sierra Mike =
+
| Sierra Mike =
 
| India Delta =
 
| India Delta =
 
| Juliet Yankee Bissotwo =
 
| Juliet Yankee Bissotwo =
?
| India Yankee =
+
| India Yankee =
?
| Juliet Charlie =
+
| Juliet Charlie =
 
 
?
| Zulu =
+
| Zulu =
?
| India Bravo Terrathree =
+
| India Bravo Terrathree =
?
| Equal Speed Charlie London =
+
| Equal Speed Charlie London =
?
| Zulu Hotel =
+
| Zulu Hotel =
?
| Papa Papa =
+
| Papa Papa =
 
 
?
| Wyvern =
+
| Wyvern =
?
| Red Dragon =
+
| Red Dragon =
?
| Dragon Flag =
+
| Dragon Flag =
?
| Ouroboros =
+
| Ouroboros =
?
| Hydra =
+
| Hydra =
?
}} -->
+
}}
 
 
 
|Gallery=<!-- write below list of files with description (if necessary) separated with | --><gallery>
 
|Gallery=<!-- write below list of files with description (if necessary) separated with | --><gallery>
Line 161:
Line 143:
 
 
 
|History=<!-- write text below -->
 
|History=<!-- write text below -->
?
<div class="thumb tright">
+
'''' . of -.
?
{{AnnoWiki|content=
+
?
<h2>''{{#var:ship_name}}'', YEAR</h2>
+
?
===Construction===
+
?
:Builder: Yard; City, Country
+
?
:Laid down: DD MONTH YEAR
+
?
:Launched: DD MONTH YEAR
+
?
:Commissioned: DD MONTH YEAR
+
?
----
+
?
===Specifications===
+
?
:XX tons displacement, standard
+
?
:XXm length
+
?
:XXm beam
+
?
:XXm draft
+
?
----
+
?
====Machinery====
+
?
:
+
?
----
+
?
====Performance====
+
?
:XX knots at XX shaft horsepower
+
?
:XX nm at XX knots
+
?
----
+
?
====Armor====
+
?
:Main belt:
+
?
:Upper belt:
+
?
:Torpedo bulkhead:
+
?
:Decks:
+
?
:Bulkheads:
+
?
:Barbettes and Turrets:
+
?
:Conning tower:
+
?
----
+
?
====Armament====
+
?
=====Main=====
+
?
:
+
?
=====Secondary=====
+
?
:
+
?
=====Anti-aircraft=====
+
?
:
+
?
=====Torpedoes=====
+
?
:
+
?
----
+
?
====Aircraft====
+
?
=====Total=====
+
?
:
+
?
=====Fighters=====
+
?
:
+
?
===== Bombers=====
+
?
:
+
?
}}</div>
+
?
[[File:PICTURE.JPG|none|frame|x350px|link=|CAPTION.]]
+
?
 
+
?
===History===
+
?
 
+
?
====Design====
+
?
 
+
?
====Service====
+
?
 
+
?
 
+
?
|HistoricalGallery=<!-- write below list of files with description (if necessary) separated with | --><gallery>
+
?
 
+
?
</gallery>
+
?
 
+
?
|Video=<!-- put below video clips with using template VideoYT. You can use html-tags for formatting. -->
+
?
 
+
?
|Ref= <!-- write below -->
+
 
 
 
}}<!-- DO NOT DELETE THIS LINE. DO NOT INSERT ANYTHING BELOW THIS LINE -->
 
}}<!-- DO NOT DELETE THIS LINE. DO NOT INSERT ANYTHING BELOW THIS LINE -->
Revision as of 13:36, 22 August 2018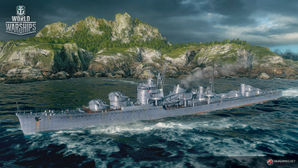 Tech Tree Position
100 mm/65 Type 98 on a Model A mount
5 х 2 

pcs.
Rate of Fire
20 

shots/min.
Reload Time
3 

sec.
Rotation Speed
16 

deg./sec.
180 Degree Turn Time
11.25 

sec.
Firing Range
12.55 

km.
Maximum Dispersion
109 

m.
HE Shell
100 mm HE Type98 
Maximum HE Shell Damage
1,200 
Chance of Fire on Target Caused by HE Shell
5 

%
Initial HE Shell Velocity
1000 

m./s.
HE Shell Weight
13 

kg.
AP Shell
100 mm AP Type98 
Maximum AP Shell Damage
1,700 
Initial AP Shell Velocity
1000 

m./s.
AP Shell Weight
13 

kg.
610 mm Sextuple
1 х 6 

pcs.
Rate of Fire
0.35 

shots/min.
Reload Time
171 

sec.
Rotation Speed
25 

deg./sec.
180 Degree Turn Time
7.2 

sec.
Torpedo
Type93 mod. 3 
Maximum Damage
23,767 
Torpedo Speed
67 

knot
Torpedo Range
12 

km.
100 mm/65 Type 98 on a Model A mount
5 х 2 

pcs.
. . . Average Damage per Second
104 
. . . Firing Range
5.01 

km.
40 mm/60 Type 5 on a twin mount
6 х 2 

pcs.
. . . Average Damage per Second
66 
. . . Firing Range
3.51 

km.
25 mm/60 Type 96 on a single mount
16 х 1 

pcs.
. . . Average Damage per Second
28.8 
. . . Firing Range
2.49 

km.
Maximum Speed
35.7 

knot
Turning Circle Radius
830 

m.
Rudder Shift Time
5.5 

sec.
Surface Detectability Range
7.92 

km.
Air Detectability Range
4.18 

km.
Battle Levels
Harugumo — Japanese Tier X destroyer.
A further development of the Akizuki-class destroyers. This ship features larger dimensions and ten dual-purpose 100 mm guns arranged in five turrets to serve as the ship's primary armament.


Modules
Compatible Upgrades
 Slot 1 
 Slot 2 
 Slot 3 
 Slot 4 
 Slot 5 
||
 Slot 6 
Player Opinion
Pros:
Highest DPM of all Tier X Destroyers.
Largest base health pool of all Destroyers.
Powerful torpedo armament.
1/4 penetration for her main battery results in no need for Inertia Fuse for High Explosive shells skill.
Using IFHE anyway results in the ability to penetrate 32 mm of armor with her HE.
Low-caliber Armor Piercing is effective at engaging enemy destroyers when given broadside.
Torpedo Reload Booster consumable allows her to put 12 torpedoes in the water every few minutes.
Cons:
Tied for worst concealment among Tier X Destroyers (with Khabarovsk).
Worst turning radius among all destroyers; is larger than that of many cruisers.
Huge size makes her an easy target; battleship AP has no issues getting full penetrations against her.
Only one set of torpedoes with a long reload.
Lack of a Repair Party consumable results in her having less "effective" HP than the two Tier 10 Soviet Destroyers.
Lack of Defensive Fire consumable and large turning radius makes her an easy target for Aircraft Carriers.
Research
Torpedoes: Type F3 Torpedoes.
There is only one module to research to acquire Elite status; the 8 km, 76 knot Type F3 torpedo. This upgrade is unnecessary for most captains, as the short range of the torpedoes make them quite difficult to use properly. Captains are free to research it on their own time.
Optimal Configuration
Upgrades
The recommended upgrades for Harugumo are as follows:
For captains who are afraid of detonating, Magazine Modification 1 () can be equipped instead.

Either option is good. If a captain decides to not use Advanced Firing Training, opting for the extended main battery range is a good choice. If both Gun Fire Control System Modification 2 and Advanced Firing Training are used in concert, Harugumo can reach a whopping 17.47 km of range. It should be noted that that is not recommended, as engaging all but a stationary battleship at that range is nearly impossible.
Commander Skills
Key skills for Harugumo commanders include the standard "gunboat" destroyer skills. Captains who want a pure gunboat build should pick up both Basic Firing Training and Advanced Firing Training. Despite now having 1/4 HE penetration, taking Inertia Fuse for HE Shells is still recommended, as it now allows the Japanese 100 mm gun to penetrate 32 mm plating.
Recommended Commander Skills
Cost
(points)

Endurance

Attack

Support

Versatility



1

★★

★★

 

 

 

 

★

 



2

★

★★

 

★

★

 

★★

★★★



3

★

★★★

★

 

★★

★★

★★

★



4

 

 

★★★

 

★★

 

★★

★★★

Key: ★★★ - Extremely Useful       ★★ - Frequently Useful       ★ - Occasionally Useful      No stars - Meh    

Χ

- Not recommended
Consumables
Harugumo can equip the following consumables:
Premium variants of the consumables can be used to increase her performance in battle.
Camouflage
Type 1, 2, or 5 camouflage can be equipped for credits; Types 1 or 5 are recommended at a minimum to reduce detectibility range.
Players who wish to spend doubloons can equip Harugumo with Type XX camouflage that lowers her detection radius, reduces the accuracy of incoming shells, reduces her repair costs, and increases the amount of experience she earns.
Signals
Recommended Signal Flags
Combat

★

 

★★★

★★

★★★

 

★★★

★★

 

 

★★

★★★

 

 

Economic

★

★

★

★

★

Special

★

★

★

★

★

 

 

 

Key: ★★★ - Extremely Useful       ★★ - Frequently Useful       ★ - Occasionally Useful      No stars - Not Useful
Note: Use of the Juliet Charlie signal makes detonation impossible.
Gallery

Cite error: <ref> tags exist, but no <references/> tag was found