Henri IV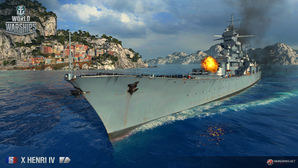 Tech Tree Position
240 mm/55 Mle 1939
3 х 3 

pcs.
Rate of Fire
4.62 

shots/min.
Reload Time
13 

sec.
Rotation Speed
5.5 

deg./sec.
180 Degree Turn Time
32.73 

sec.
Firing Range
19.08 

km.
Maximum Dispersion
164 

m.
HE Shell
240 mm HE OEA Mle 1939 
Maximum HE Shell Damage
3,400 
Chance of Fire on Target Caused by HE Shell
22 

%
Initial HE Shell Velocity
845 

m./s.
HE Shell Weight
220 

kg.
AP Shell
240 mm AP OPfK Mle 1939 
Maximum AP Shell Damage
6,200 
Initial AP Shell Velocity
845 

m./s.
AP Shell Weight
220 

kg.
127 mm/54 Mle 1948
6 х 2 

pcs.
Firing Range
6 

km.
Rate of Fire
15 

shots/min.
Reload Time
4 

sec.
HE Shell
127 mm HE Mark 41 
Maximum HE Shell Damage
1,800 
Initial HE Shell Velocity
808 

m./s.
Chance of Fire on Target Caused by HE Shel
9 

%
550 mm tube lance-torpilles
2 х 3 

pcs.
Rate of Fire
0.67 

shots/min.
Reload Time
90 

sec.
Rotation Speed
25 

deg./sec.
180 Degree Turn Time
7.2 

sec.
Torpedo
550 mm 23DT 
Maximum Damage
14,833 
Torpedo Speed
60 

knot
Torpedo Range
9 

km.
57 mm/60 ACAD Mle 1951
8 х 2 

pcs.
. . . Average Damage per Second
204 
. . . Firing Range
3.81 

km.
127 mm/54 Mle 1948
6 х 2 

pcs.
. . . Average Damage per Second
94.2 
. . . Firing Range
5.19 

km.
Maximum Speed
35 

knot
Turning Circle Radius
840 

m.
Rudder Shift Time
11.8 

sec.
Surface Detectability Range
16.56 

km.
Air Detectability Range
8.28 

km.
Battle Levels
Henri IV — French Tier X cruiser.
Developed from the preceding project with enhanced anti-aircraft defenses, this cruiser carried 240 mm main guns designed in the 1930s. The ship featured a powerful propulsion plant and a very high speed.


Modules
Compatible Upgrades
 Slot 1 
 Slot 2 
 Slot 3 
 Slot 4 
 Slot 5 
 Slot 6 
Player Opinion
Performance
Proudly standing at the peak of the French cruisers tree, Henri IV takes her place alongside the Russian Moskva as the second "Big Gun" cruiser of Tier X. Henri IV's key upgrades from her predecessor Saint-Louis are her speed (she is now capable of 35 knots in a straight line) and her new 3x3 240mm guns, which are 20mm bigger than those on Moskva. Her main battery shells have the highest armor piercing damage available to Tier X cruisers and tie with Zao's for the most high explosive damage. With their excellent penetration statistics, good accuracy, and great range, these guns, combined with the ship's amazing speed, make Henri IV very potent indeed.
Several trade-offs must be made in order to squeeze guns of this caliber on to a cruiser hull: they have the second longest reload time, below-average shell velocity, and there are only nine of them. Henri IV is armed with a torpedo configuration that will feel familiar to veterans of the line: a single triple-tube 550mm torpedo launcher on each side of the ship, which boast a 9.0 km range married with decent reload time, low speed, and moderate damage. Henri IV captains have far fewer torpedoes available than captains of Hindenburg, Minotaur, or Zao and as such, they must be treated as a supplementary or last-ditch weapon. Henri IV's base AA performance is lackluster, but her 57mm and 127mm guns have excellent range and decent damage when upgraded via modules and commander skills, with the latter fully benefitting from the Manual Control for AA Armament skill. Her AA is good enough for self-defense, but won't truly be capable of defending friendly ships like most high-tier cruisers can.
While Henri IV lacks a catapult to launch reconnaissance seaplane or catapult fighter, she comes with a choice between Defensive AA Fire (

) or Hydroacoustic Search (

) as well as default access to the improved French cruiser version of Engine Boost (

) consumable that increases her speed by a massive 20%. Combined with the Sierra Mike (

) signal flag, she is capable of reaching 43.9 knots... which is patently absurd for a cruiser. As with all high-tier cruisers, she also has access to Repair Party (

). Captains have a choice between Defensive AA Fire for a massive increase in her AA performance, or Hydroacoustic Search for hunting destroyers, something the speed-demon Henri IV excels at.
Similar to the rest of the French cruisers,
Henri IV
's armor shouldn't be relied upon. She does have the second highest health pool of all Tier X cruisers, but her large size and poor concealment coupled with her limited armor can lead to an over-extending
Henri IV
being sent back to port very quickly.
Henri IV
's speed can almost work against her, as she must avoid overextending at all costs, something that is a tad difficult in a ship that goes so fast. Overall,
Henri IV
poses a threat to nearly every ship class in the game, capable of mercilessly pursuing destroyers and slamming them with high-damage and accurate HE shells, able to re-position rapidly mid-battle to cover multiple fronts at once, equipped oppose enemy cruisers with her superior gun caliber, and still readily take on battleships with her excellent guns and her torpedoes. She is a Tier X cruiser worthy of addition to any captain's port.
Pros:
AP shells have excellent penetration statistics and she has the highest AP damage and ties with Zao for the highest HE damage.
Fire chance of 22% on primary HE shells is unsurpassed among cruisers.
Leagues ahead of all other cruisers at her tier in terms of speed; with Engine Boost () active Henri IV is capable of reaching 43.9 knots, and can catch up to and even outrun high-tier destroyers.
Main Battery Reload Booster allows for brutal burst attacks that can obliterate other destroyers and cruisers with ease
Mounts the biggest guns of Tier X cruisers (240mm), moving Moskva (220mm) to second place.
Second highest health amongst Tier X cruisers.
Armed with three torpedo tubes per broadside with decent range, speed, and reload time.
Cons:
Poor shell velocity on both HE and AP shells; the arcs make it harder to land citadel hits at long range, even against broadside targets.
At long range, the penetration value of her AP shells lags behind Moskva.
Fewer number of guns plus a longer reload time reduces Henri IV's DPM capabilities.
Mediocre AA characteristics.
Literally has three torpedoes per side, which limits usability even as a last ditch weapon
Second worst concealment value, after Moskva.
While fast in a straight line, Henri IV bleeds a lot of speed in a hard turn.
Lacks aviation facilities for a Spotting Aircraft () or a Catapult Fighter ().
Research
As a Tier X ship, Henri IV has no additional modules to research.
Optimal Configuration
Upgrades
The recommended upgrades for Henri IV are as follows:
Commander Skills
Recommended Commander Skills
Cost
(points)

Endurance

Attack

Support

Versatility



1

★★★

★★

★★★

Χ

Χ

Χ

★

Χ



2

★

★

★★★

 

Χ

Χ

★★★

★



3

★

★

★

Χ

★★

★★★

★

★



4

 

★

★★★

Χ

★

 

★

★★★

Key: ★★★ - Extremely Useful      ★★ - Frequently Useful      ★ - Occasionally Useful     No stars - Meh     

Χ

- Not recommended
Consumables
Henri IV can equip the following consumables:
Camouflage
Type 1, 2, or 5 camouflage can be equipped for credits; Types 2 or 5 are recommended at a minimum to reduce the accuracy of incoming shells.
Players who wish to spend doubloons can equip Henri IV with Type 20 camouflage that lowers her detection radius, reduces the accuracy of incoming shells, reduces her repair costs, increases her credit earnings, and increases the amount of experience she earns.
Signals
Recommended Signal Flags
Combat

★★

 

★

★

★★

★

★★

★★★

★★

★

★★

★

Economic

★★

★★★

★

★

★

Special

 

 

★★

 

 

 

 

 

Key: ★★★ - Extremely Useful       ★★ - Frequently Useful       ★ - Occasionally Useful      No stars - Not Useful
Gallery