Hermelin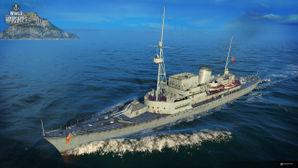 Tech Tree Position
128 mm/61 SK C/42 in a turret
2 х 2 

pcs.
Rate of Fire
15 

shots/min.
Reload Time
4 

sec.
Rotation Speed
10 

deg./sec.
180 Degree Turn Time
18 

sec.
Firing Range
9.86 

km.
Maximum Dispersion
88 

m.
HE Shell
128 mm Spr.Gr. L/4.5 
Maximum HE Shell Damage
900 
Chance of Fire on Target Caused by HE Shell
5 

%
Initial HE Shell Velocity
900 

m./s.
HE Shell Weight
26 

kg.
128 mm/61 SK C/42 in a turret
2 х 2 

pcs.
. . . Average Damage per Second
2.48 
. . . Firing Range
5.19 

km.
37 mm/83 SK C/30 on a Dopp LC/30 mount
3 х 2 

pcs.
. . . Average Damage per Second
0.6 
. . . Firing Range
0.9 

km.
20 mm/65 C/38 on a twin mount
2 х 2 

pcs.
. . . Average Damage per Second
0.84 
. . . Firing Range
0.6 

km.
Maximum Speed
24 

knot
Turning Circle Radius
360 

m.
Rudder Shift Time
3.3 

sec.
Surface Detectability Range
8.38 

km.
Air Detectability Range
6.67 

km.
Battle Levels
Hermelin — German Tier I cruiser.
A large armored gunboat capable of operating on the high seas, intended for colonial service. Besides her powerful armament, Hermelin was also noted for her high speed, uncommon for this ship type.


Modules
Compatible Upgrades
Player Opinion
Performance
Warning. The data presented in the AA Defense sidebar section may be incorrect.
For a graphic summary of ships Tiers VIII thru XI see LittleWhiteMouse's "Actual AA DPS".
Captains' time in the ships of the Kaiserliche Marine and Kriegsmarine begins here with Tier I's Hermelin. Already on display is the German mindset for building cruisers: accurate, fast-firing guns capable of laying down withering barrages of fire any enemy ship they set their sights on. Hermelin's guns are 128mm, which are actually larger then the guns on the next few ships in the cruiser branch (until Tier IV's Karlsruhe).
The main draw back of
Hermelin
is that its large box silhouette gives it the highest detectability of any Tier I ship. She is essentially a floating citadel with guns; even incoming high explosive rounds have a good chance to rack up full penetration damage against her, let alone armor piercing shells. While her anti-aircraft is bar none the best of any Tier I ship, she will have to go way out of her way to even attempt to get paired against an aircraft carrier (which aren't available until Tier IV). Even if she could find her way into such a battle, with her speed and how easily she takes damage, aircraft would be the least of her worries.
Pros:
Second-highest firing range of all Tier I ships.
Second-lowest reload time of all Tier I ships.
High speed.
Second-highest damage per minute of all Tier I ships.
Accurate fairly damaging 128mm guns.
Best AA out of any Tier I ship.
Cons:
Fewest hit points of all Tier I ships.
Lowest chance of causing a fire of all Tier I ships.
Second-highest detectability range of all Tier I ships.
Somewhat sluggish and slow to turn (largest turning circle radius of all Tier I ships).
Lackluster turret traverse speed.
Floating citadel that even HE shells can get often enough.
The only aircraft it may ever see is Katori's catapult fighter.
Research
Availability of researchable upgrades for Hermelin is as follows:
Hull: There is no hull module upgrade, but access to the the next ship in the German cruiser branch (Dresden) stems from here.
Gun Fire Control System: Upgrade to FKS Typ 1 Mod. 2 for an extra 10% range on the main battery.
Optimal Configuration
Upgrades
The recommended upgrades for Hermelin are as follows:
Commander Skills
Key skills for Hermelin commanders include Preventative Maintenance, Last Stand, Basic Firing Training, and Advanced Firing Training.
  Recommended Commander Skills  
Cost
(points)

Attack

Defense



1

★★

 

 

 

★

 



2

★★

 

 

 

★★★

 



3

★★★

 

★★★

 

 

 



4

 

 

★

 

★★★

 

Key: ★★★ - Extremely Useful      ★★ - Frequently Useful      ★ - Occasionally Useful     No stars - Not Useful
Consumables
Hermelin can equip the following consumables:
Signals
Note: Use of the Juliet Charlie signal makes detonation impossible.
Gallery
References
See here for links to Update notes.

Available for testing by supertesters in the game starting from Update 0.4.0.4.
Update 0.5.0:

HP was reduced from 12,000 to 7,900.

Introduced into the game as a researchable ship in Update 0.5.0.3.
Update 0.5.1:

Midsection armor was increased to 23 mm.
The survivability of the main battery was increased.

Update 0.5.2:

Experience earnings were increased by 11%.
Credit earnings were increased by 12%.

Update 0.5.5:

The firing range of the main guns was increased 7.8 km to 8.6 km.

Update 0.5.8:

The armor model was refined.

Update 0.5.10:

HE and AP shells were removed, and replaced with a new type of shell, practice shell. The properties are identical to HE shells.
The researchable gun module was removed, and a new firing control systems module was added.
Decreased scaling of HP and damage by shells by 50%.

Update 0.6.3:

The base firing range was increased from 7,790 m to 8,960 m.
Experience earnings were increased by 10%.
Credit earnings were increased by 5%.

Update 0.6.7:

Experience earnings were decreased by 10%.

Update 0.6.9:

Improved the display of thin elements of the ship.

Update 0.6.12:

Detectability when firing main guns in smoke changed to 3.32 km.

Update 0.6.13:

Fire extinguishing time was reduced from 60 s to 30 s.

Update 0.8.2:

The researchable modules were removed. Compensation was 600 ship Experience and 6000 credits if the module was purchased.

Update 0.8.4:

The citadel has been replaced with a vital part of the ship, like that of the destroyers.

Update 0.9.2:

HE shell armor penetration was increased from 31 mm to 32 mm.