Hosho
Revision as of 22:34, 3 June 2016

Adding gameplay descriptions & hints

Revision as of 01:31, 18 October 2016

Created historical section

Line 16:
Line 16:
 
 
 
</gallery>|History=<!-- write text below -->
 
</gallery>|History=<!-- write text below -->
 
+
 
+
 
 
 
|HistoricalGallery=<!-- write below list of files without tags. description (if necessary) for each should be separated with template {{!}} --><gallery>
 
|HistoricalGallery=<!-- write below list of files without tags. description (if necessary) for each should be separated with template {{!}} --><gallery>
 
 
 
+
 
+
 
+
 
</gallery>|Video=<!-- put below video clips with using template VideoYT. You can use html-tags for formatting. -->
 
</gallery>|Video=<!-- put below video clips with using template VideoYT. You can use html-tags for formatting. -->
 
 
Revision as of 01:31, 18 October 2016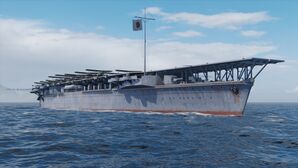 Tech Tree Position
140 mm/50 3rd Year Type on a single mount
4 х 1 

pcs.
Firing Range
3.5 

km.
Rate of Fire
7.5 

shots/min.
Reload Time
8 

sec.
HE Shell
140 mm HE Type0 
Maximum HE Shell Damage
2,400 
Initial HE Shell Velocity
850 

m./s.
Chance of Fire on Target Caused by HE Shel
10 

%
13 mm/76 Type 93 on a twin mount
6 х 2 

pcs.
. . . Average Damage per Second
12 
. . . Firing Range
1.2 

km.
Maximum Speed
25 

knot
Turning Circle Radius
740 

m.
Rudder Shift Time
11.1 

sec.
Surface Detectability Range
8.82 

km.
Air Detectability Range
6.46 

km.
Battle Levels
Hōshō — Japanese Tier IV aircraft сarrier.
The first ship in the world to be specifically designed and completed as an aircraft carrier. This ship was moderately sized and could carry a small air group. She had a decent speed and was only slightly inferior to a light cruiser in terms of armament.
Modules
Compatible Upgrades
Player Opinion
Performance
Being the first IJN carrier in the line, the Hosho features a simple loadout that is easy for players new to carriers to use. It is a bomber-friendly guidance for players, as it's squadron loadout boasts two 4-man squadrons of torpedo bombers, allowing for players to test out a variety of ways in which they can bomb their target. However, it's single fighter squadron may be problematic when the Hosho has to deal with its USN carrier counterpart, the Langley. Moreover, however, the Hosho holds a maximum of one squadron-full of reserves for each squadron, which is much more forgiving than its USN counterpart. In all, it is a good carrier that can teach newcomers to carrier play that favors bombing the enemy.
Pros:
Has 16 torpedo bombers total, making it forgiving to lose some bombers during a run
Powerful propulsion, allowing it to keep up with the team
Cons:
Has only 8 fighters, which makes it difficult to fight against Langley's potential 10 fighters
Research
Research Yokosuka B4Y torpedo bombers first, as the cruise speed and HP per plane may prove to be harsh when attempting bombing runs on nimbler ships. Then research the Mitsubishi A5M4 fighters to allow for some chance of fighting back against enemy carriers. The hull is upgraded last as it provides only extra ship health, which is not vital to carriers.
Gallery