Hosho
Revision as of 19:54, 10 December 2017
Revision as of 12:21, 11 May 2018

Added 3D model. Overall polish.

Line 3:
Line 3:
 
 
 
|Anno=<!-- you can write below short description for the ship. it will replace default once. -->
 
|Anno=<!-- you can write below short description for the ship. it will replace default once. -->
?
The first vessel in the world to be completed as a purpose-built aircraft carrier. This ship was moderately sized and could carry a small air group. For her size, she was armed with an impressive artillery setup and had decent speed and manoeuvrability.
+
The first vessel in the world to be completed as a purpose-built aircraft carrier. This ship was moderately sized and could carry a small air group. For her size, she was armed with an impressive artillery setup and had decent speed and .
 
 
 
|Performance=<!-- write text about performance in battles below -->
 
|Performance=<!-- write text about performance in battles below -->
?
Being the first IJN carrier in the line, ''{{#var:ship_name}}'' features a simple load-out that is easy for players new to carriers to use. She is a bomber-friendly guidance for players, as its squadron load-out boasts two 4-man squadrons of torpedo bombers, allowing for players to test out a variety of ways in which they can bomb their target. Moreover, ''Hosho'' holds a maximum of one squadron-full of reserves for each squadron, which is much more forgiving than her USN counterpart. However, its single fighter squadron may be problematic when ''{{#var:ship_name}}'' has to deal with its USN carrier counterpart, ''[[Langley]]''. Also note that ''{{#var:ship_name}}'' does not contain any dive-bombers, which means Captains will not gain any experience in their use until they unlock ''[[Zuiho]]''; experienced ''Langley'' Captains will be sure to exploit such. They key to success in ''{{#var:ship_name}}'' is leaning how to properly overwhelm your target with two torpedo squadrons, whilst using your fighter squadron to protect your strike aircraft from harassment. Preferred targets to strike will be slow, unaware, and isolated. In all, she is a good carrier that can teach newcomers carrier play that favors bombing the enemy.
+
first carrier the , ''{{#var:ship_name}}'' features a simple load-out that is easy for players carriers to use. She is a bomber for , as squadron load-out boasts two -squadrons of torpedo bombers, allowing for players to test out a variety of ways in which they can .
 
+
 
 
+
Moreover, ''Hosho'' holds a maximum of one squadron of reserves for each squadron, which is much more forgiving than her counterpart. However, single fighter squadron may be problematic when ''{{#var:ship_name}}'' has to with ''Langley''. Also note that ''{{#var:ship_name}}'' does not contain any dive bombers, which means will not gain any experience in their use until they unlock ''[[Zuiho]]''; experienced ''Langley'' be to exploit .
 
+
 
 
+
They key to success in ''{{#var:ship_name}}'' is leaning how to properly overwhelm target with two torpedo squadrons whilst using fighter squadron to protect strike aircraft from harassment. Preferred targets to strike will be slow, unaware, and isolated. In all, she is a good carrier that can teach newcomers carrier that the .
 
 
 
|Pros=<!-- write list of positive points below. use * as in ordinary wiki-list. -->
 
|Pros=<!-- write list of positive points below. use * as in ordinary wiki-list. -->
?
*Has 16 torpedo bombers total, making it forgiving to lose some bombers during a run
+
* Has 16torpedo bombers total, making it forgiving to lose some bombers during a run
?
*2 torpedo squadrons provide fearsome striking capability
+
* torpedo squadrons provide fearsome striking capability
?
*Powerful propulsion, allowing it to keep up with the team
+
* Powerful propulsion, allowing it to keep up with the team
?
*Only fighters and torpedo bombers; makes it easy to micromanage aircraft
+
* Only fighters and torpedo bombers; makes it easy to micromanage aircraft
?
*Slightly stealthier than ''Langley''
+
* Slightly stealthier than ''Langley''
 
 
 
|Cons=<!-- write list of negative points below. use * as in ordinary wiki-list. -->
 
|Cons=<!-- write list of negative points below. use * as in ordinary wiki-list. -->
?
*Only has 8 fighters, which makes it difficult to fight against ''Langley's'' potential 10 fighters
+
* Only has 8fighters, which makes it difficult to fight against ''Langley''potential 10 fighters
?
*No dive-bombers
+
* No dive-bombers
?
*All ''{{#var:ship_name}}'' squadrons are smaller than ''Langley's''
+
* All ''{{#var:ship_name}}'' squadrons are smaller than ''''
?
*Un-armoured. HE shells will cause significant damage
+
* Un-. HE shells will cause significant damage
?
 
+
 
 
 
|Research=<!-- write text about priority sequence of research below -->
 
|Research=<!-- write text about priority sequence of research below -->
Line 34:
Line 37:
 
*'''Slot 1''': {{Air Groups Modification 1}}
 
*'''Slot 1''': {{Air Groups Modification 1}}
 
*'''Slot 2''': {{Damage Control System Modification 1}}
 
*'''Slot 2''': {{Damage Control System Modification 1}}
?
 
 
 
 
|CommanderSkills=<!-- write text about best set of Commander Skills below -->
 
|CommanderSkills=<!-- write text about best set of Commander Skills below -->
?
As ''{{#var:ship_name}}'' is a Tier IV carrier with only one 4-man squadron of fighters and no dive bombers, it's best to choose the following recommended skills. Players can opt to sacrifice Emergency Takeoff and Dogfighting Expert skills for Concealment Expert (which would reduce her detection to 7.1km when coupled with camouflage), but ''{{#var:ship_name}}'' already has sufficient stealth and speed to avoid detection by enemy ships. Therefore, Concealment Expert is not a highly recommended skill. Priority Target and Incoming Fire Alert are not really necessary because when a carrier is detected, the ship often becomes a priority target for many players.
+
''{{#var:ship_name}}'' only one -squadron of fighters and no dive bombers, it's best to choose the following recommended skills. Players can opt to sacrifice Emergency Takeoff and Dogfighting Expert skills for Concealment Expert (which would reduce her detection to 7.1km when coupled with camouflage), but ''{{#var:ship_name}}'' already has sufficient stealth and speed to avoid detection by enemy ships. Therefore, Concealment Expert is not a highly recommended skill. Priority Target and Incoming Fire Alert are not really necessary because when a carrier is detected, the ship often becomes a priority target for many players. Evasive Maneuvers is not recommended because it only affects bombers that have dropped their payload and are returning to the carrier.
?
 
+
?
'''Evasive Maneuvers''' is not recommended because it only affects bombers that have dropped their payload and are returning to the carrier.
+
 
 
?
{{block|!|content= ATTENTION
+
{{block|!|content=As of Update 0.6.3, this carrier can no longer use manual attack .}}
?
*As of Update 0.6.3, this carrier can no longer use manual / Alt function attack.}}
+
 
 
 
{{Commander Skills
 
{{Commander Skills
Line 83:
Line 82:
 
 
 
|Consumables=<!-- write text about selection of Consumables below -->
 
|Consumables=<!-- write text about selection of Consumables below -->
?
As a carrier at Tier IV, ''{{#var:ship_name}}'' has access to only {{Damage Control Party}}.
+
''{{#var:ship_name}}''
 
+
{{Damage Control Party}}
 
 
 
|Camouflage=<!-- write text about useful camouflage below -->
 
|Camouflage=<!-- write text about useful camouflage below -->
Line 89:
Line 89:
 
 
 
|Signals=<!-- write text about best set of signals below -->
 
|Signals=<!-- write text about best set of signals below -->
?
As a carrier, ''{{#var:ship_name}}'' can only mount at most four signals at a time and has no risk of detonating. Players should mount Equal Speed Charlie London (for faster XP grinding / increased XP gain per battle), Zulu Hotel (when coupled with Equal Speed Charlie London greatly helps increase commander (re)training), and Juliet Whiskey Unaone (to have a better chance at causing flooding and dealing damage via flooding). However, Juliet Whiskey Unaone is not highly recommended if the player wishes to conserve the signal for later tiers.
+
As a carrier, ''{{#var:ship_name}}'' can only mount at most four signals at a time and has no risk of detonating. Players should mount Equal Speed Charlie London (), Zulu Hotel (), and Juliet Whiskey Unaone (). However, Juliet Whiskey Unaone is not highly recommended if the player wishes to conserve the signal for later tiers.
 
 
 
{{Signal Flags
 
{{Signal Flags
Line 137:
Line 137:
 
:Launched: 13 November 1921
 
:Launched: 13 November 1921
 
:Builder: Yokosuka Naval Arsenal, Yokosuka, Japan
 
:Builder: Yokosuka Naval Arsenal, Yokosuka, Japan
?
:Completed: 10 January 1922.
+
:Completed: 10 January 1922
 
:Commissioned: 27 December 1922
 
:Commissioned: 27 December 1922
 
----
 
----
Line 172:
Line 172:
 
}}
 
}}
 
</div>
 
</div>
?
[[File:IJN_Hosho_02.jpeg|500px|link=]]
+
[[File:IJN_Hosho_02.jpeg||link=]]
 
 
 
===Design===
 
===Design===
Line 179:
Line 179:
 
As Japan's first purpose-built carrier, her design was based of a converted cruiser hull, which limited her tonnage to under 8,000 tonnes and no armour to speak of. For propulsion, eight boilers fed to two turbines, generating 30,000 shaft horsepower, which in speed trials pushed the vessel to 26 knots. For a ship of her size, she had an impressive range of above 8,000 nautical miles. Unique to ''Hosho'', she carried an onboard gyrostabilizer to reduce rolling during rough seas.
 
As Japan's first purpose-built carrier, her design was based of a converted cruiser hull, which limited her tonnage to under 8,000 tonnes and no armour to speak of. For propulsion, eight boilers fed to two turbines, generating 30,000 shaft horsepower, which in speed trials pushed the vessel to 26 knots. For a ship of her size, she had an impressive range of above 8,000 nautical miles. Unique to ''Hosho'', she carried an onboard gyrostabilizer to reduce rolling during rough seas.
 
 
?
As a purpose-built carrier, ''Hosho'' had a full, unobstructed flight deck that was slightly tilted down to aid aircraft acceleration. Originally built, ''Hosho'' had an island superstructure on the starboard side, which held the bridge and aircraft control centre. ''Hosho's'' two hangars were designed to house different aircraft. The smaller, forward hanger housed fighters, while the rear, larger hangar housed bombers. Originally built, ''Hosho's'' aircraft complement was 15 aircraft, split between fighters and torpedo bombers.
+
As a purpose-built carrier, ''Hosho'' had a full, unobstructed flight deck that was slightly tilted down to aid aircraft acceleration. Originally built, ''Hosho'' had an island superstructure on the starboard side, which held the bridge and aircraft control . ''Hosho's'' two hangars were designed to house different aircraft. The smaller, forward hanger housed fighters, while the rear, larger hangar housed bombers. Originally built, ''Hosho's'' aircraft complement was 15 aircraft, split between fighters and torpedo bombers.
 
 
?
For close-in defence, ''Hosho'' was armed with four 140mm naval guns, which were considered to be a heavy battery for a ship of this tonnage, at that time. Carrier doctrine was non-existent at this time, and so designers considered artillery combat a possibility with aircraft carriers. Conversely, not much was considered for anti-aircraft defence; she was originally armed with two 80mm high-angle guns, positioned near the back of the ship.
+
For close-in defence, ''Hosho'' was armed with four 140mm naval guns, which were considered to be a heavy battery for a ship of this tonnage, at that time. Carrier doctrine was non-existent at this time, and so designers considered artillery combat a possibility with aircraft carriers. Conversely, not much was considered for anti-aircraft ; she was originally armed with two 80mm high-angle guns, positioned near the back of the ship.
 
 
 
Throughout her carrier, ''Hosho'' underwent some modifications. The most significant change was in 1924, when the island was deleted and the funnels were moved to the side of the ship, in order to provide an unobstructed flight deck. Furthermore, the funnels could swivel to lie horizontally, to eject gasses away from the deck. Her AA armament, seen to be ineffective was replaced with various numbers of 25mm cannons throughout the War. Finally, in late 1944, ''Hosho's'' flight deck was extended to make landings easier.
 
Throughout her carrier, ''Hosho'' underwent some modifications. The most significant change was in 1924, when the island was deleted and the funnels were moved to the side of the ship, in order to provide an unobstructed flight deck. Furthermore, the funnels could swivel to lie horizontally, to eject gasses away from the deck. Her AA armament, seen to be ineffective was replaced with various numbers of 25mm cannons throughout the War. Finally, in late 1944, ''Hosho's'' flight deck was extended to make landings easier.
Line 192:
Line 192:
 
With tensions rising in China in the early 1930s, ''Hosho'' – along with the rest of the Third Fleet – was stationed near Shanghai and covered Japanese operations through February and March. She was the first IJN ship to conduct aerial operations; mainly in the way of air-superiority, bomber escort, and airfield raids.
 
With tensions rising in China in the early 1930s, ''Hosho'' – along with the rest of the Third Fleet – was stationed near Shanghai and covered Japanese operations through February and March. She was the first IJN ship to conduct aerial operations; mainly in the way of air-superiority, bomber escort, and airfield raids.
 
 
?
From late 1935 to early 1936, ''Hosho'' was spending time in the dockyards after suffering damage from a typhoon while undergoing a training sortie with the Fourth Fleet. The entire first half of the flight deck had to be rebuilt and reinforced after the original one collapsed and had to be cut away. Also while in the dockyards, measures were taken to decrease her top weight; funnels permanently swivelled horizontally, aircraft crane and upper deck aviation fuel tanks were deleted.
+
From late 1935 to early 1936, ''Hosho'' was spending time in the dockyards after suffering damage from a typhoon while undergoing a training sortie with the Fourth Fleet. The entire first half of the flight deck had to be rebuilt and reinforced after the original one collapsed and had to be cut away. Also while in the dockyards, measures were taken to decrease her top weight; funnels permanently horizontally, aircraft crane and upper deck aviation fuel tanks were deleted.
 
 
 
''Hosho'' was stationed back in China with the Third Fleet after the Second Sino-Japanese War commenced in the late 1930s. During the summer of 1937, ''Hosho's'' air groups were tasked with bomber interdiction and close-air support to assist the Imperial Japanese Army operations near Shanghai. By autumn of 1937, ''Hosho'', along with ''[[Ryujo]]'', operated off the south China coast conducting further raids against Chinese airfields.
 
''Hosho'' was stationed back in China with the Third Fleet after the Second Sino-Japanese War commenced in the late 1930s. During the summer of 1937, ''Hosho's'' air groups were tasked with bomber interdiction and close-air support to assist the Imperial Japanese Army operations near Shanghai. By autumn of 1937, ''Hosho'', along with ''[[Ryujo]]'', operated off the south China coast conducting further raids against Chinese airfields.
Line 198:
Line 198:
 
By the winter, she was relegated to reserve status and transferred her aircraft to ''[[Ryujo]]''. Although out-dated, the Navy realized her service life could be extended as a training carrier, and as such modifications were made by late 1939.
 
By the winter, she was relegated to reserve status and transferred her aircraft to ''[[Ryujo]]''. Although out-dated, the Navy realized her service life could be extended as a training carrier, and as such modifications were made by late 1939.
 
 
?
When the Second World War commenced, ''Hosho'' was pressed into service as secondary air-defence for the Main Body of Battleships for the Combined Fleet for not only the raid on Pearl Harbour, but Midway as well. With the Japanese defeat, ''Hosho'' returned to mainland Japan to resume training duties.
+
When the Second World War commenced, ''Hosho'' was pressed into service as secondary air-defence for the Main Body of Battleships for the Combined Fleet for not only the raid on Pearl , but Midway as well. With the Japanese defeat, ''Hosho'' returned to mainland Japan to resume training duties.
 
 
 
In order to service the larger and more modern aircraft that were coming into service in late 1944, ''Hosho'' had her flight deck enlarged, and new aircraft handling gear installed. She dutifully trained new pilots until the end of the war.
 
In order to service the larger and more modern aircraft that were coming into service in late 1944, ''Hosho'' had her flight deck enlarged, and new aircraft handling gear installed. She dutifully trained new pilots until the end of the war.
Line 206:
Line 206:
 
 
 
|HistoricalGallery=<!-- write below list of files without tags. description (if necessary) for each should be separated with template {{!}} --><gallery>
 
|HistoricalGallery=<!-- write below list of files without tags. description (if necessary) for each should be separated with template {{!}} --><gallery>
?
IJN_Hosho_02.jpeg| Hosho as built.
 
 
IJN_Hosho_01.jpeg|
 
IJN_Hosho_01.jpeg|
 
Hosho_%281921%29.jpg|
 
Hosho_%281921%29.jpg|
?
IJN_Hosho_05.jpeg|''Hosho's'' external appearance in 1922.
+
IJN_Hosho_05.jpeg|''Hosho''external appearance in 1922.
?
IJN_Hosho_07.jpeg|''Hosho's'' external appearance in 1924.
+
IJN_Hosho_07.jpeg|''Hosho''external appearance in 1924.
?
IJN_Hosho_08.jpeg|''Hosho's'' external appearance in 1936.
+
IJN_Hosho_08.jpeg|''Hosho''external appearance in 1936.
?
IJN_Hosho_09.jpeg|''Hosho's'' external appearance in 1945.
+
IJN_Hosho_09.jpeg|''Hosho''external appearance in 1945.
 
IJN_Hosho_03.jpeg|''Hosho'' stationed in Shanghai.
 
IJN_Hosho_03.jpeg|''Hosho'' stationed in Shanghai.
?
IJN_Hosho_06.jpeg|''[[Kaga]]'' and ''Hosho'' during the Second Sino-Japanese War
+
IJN_Hosho_06.jpeg|''[[Kaga]]'' and ''Hosho'' during the Second Sino-Japanese War
 
</gallery>
 
</gallery>
 
 
Revision as of 12:21, 11 May 2018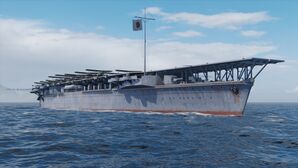 Tech Tree Position
140 mm/50 3rd Year Type on a single mount
4 х 1 

pcs.
Firing Range
3.5 

km.
Rate of Fire
7.5 

shots/min.
Reload Time
8 

sec.
HE Shell
140 mm HE Type0 
Maximum HE Shell Damage
2,400 
Initial HE Shell Velocity
850 

m./s.
Chance of Fire on Target Caused by HE Shel
10 

%
13 mm/76 Type 93 on a twin mount
6 х 2 

pcs.
. . . Average Damage per Second
12 
. . . Firing Range
1.2 

km.
Maximum Speed
25 

knot
Turning Circle Radius
740 

m.
Rudder Shift Time
11.1 

sec.
Surface Detectability Range
8.82 

km.
Air Detectability Range
6.46 

km.
Battle Levels
Hōshō — Japanese Tier IV aircraft сarrier.
The first vessel in the world to be completed as a purpose-built aircraft carrier. This ship was moderately sized and could carry a small air group. For her size, she was armed with an impressive artillery setup and had decent speed and maneuverability.


Modules
Compatible Upgrades
Player Opinion
Performance
The first aircraft carrier players working up the Japanese tech tree gain access to, Hōshō features a simple load-out that is easy for players that are learningto carriers to use. She is a great introduction to bomber mechanics for new carrier captains, as her squadron load-out boasts two four-plane squadrons of torpedo bombers, allowing for players to test out a variety of ways in which they can attack targets.
Moreover, Hosho holds a maximum of one squadron of reserves for each squadron, which is much more forgiving than her American counterpart, Langley. However, her single fighter squadron may be problematic when Hōshō has to face off with Langley. Also note that Hōshō does not contain any dive bombers, which means captains will not gain any experience in their use until they unlock Zuiho; experienced Langley captains may be able to exploit this inexperience.
They key to success in
Hōshō
is leaning how to properly overwhelm a target with two torpedo squadrons whilst using the fighter squadron to protect the strike aircraft from harassment. Preferred targets to strike will be slow, unaware, and isolated. In all, she is a good carrier that can teach newcomers carrier some of the tactical basics that favor the torpedo-focused style of the Japanese carrier line.
Pros:
Has sixteen (16) torpedo bombers total, making it forgiving to lose some bombers during a run.
Two torpedo squadrons provide fearsome striking capability.
Powerful propulsion, allowing it to keep up with the team.
Only fighters and torpedo bombers; makes it easy to micromanage aircraft.
Slightly stealthier than American counterpart Langley.
Cons:
Only has eight (8) fighters, which makes it difficult to fight against Langley's potential 10 fighters.
No dive-bombers.
All Hōshō squadrons are smaller than Langley's.
Un-armored. HE shells will cause significant damage.
Research
This is a suggested upgrade path:
Yokosuka B4Y torpedo bombers
Mitsubishi A5M4 fighters
Hosho (B) Hull
Optimal Configuration
Upgrades
The recommended upgrades for Hōshō are as follows:
Commander Skills
Since Hōshō has only one four-plane squadron of fighters and no dive bombers, it's best to choose the following recommended skills. Players can opt to sacrifice Emergency Takeoff and Dogfighting Expert skills for Concealment Expert (which would reduce her detection to 7.1km when coupled with camouflage), but Hōshō already has sufficient stealth and speed to avoid detection by enemy ships. Therefore, Concealment Expert is not a highly recommended skill. Priority Target and Incoming Fire Alert are not really necessary because when a carrier is detected, the ship often becomes a priority target for many players. Evasive Maneuvers is not recommended because it only affects bombers that have dropped their payload and are returning to the carrier.
As of Update 0.6.3, this carrier can no longer use the manual attack function.
Recommended Commander Skills
Cost
(points)

Endurance

Attack

Support

Versatility



1

 

 

 

★★★

 

 

 

 



2

★

 

 

★★★

 

 

 

 



3

 

 

★★★

 

★

 

 

 



4

 

 

 

 

★

 

 

★★

Key: ★★★ - Extremely Useful       ★★ - Frequently Useful       ★ - Occasionally Useful      No stars - Meh    

Χ

- Not recommended
Consumables
Hōshō can equip the following consumables:
Camouflage
Type 1, 2, or 5 camouflage can be equipped for credits; Types 1 or 5 are recommended at a minimum to reduce chances of being detected by the enemy.
Signals
As a carrier, Hōshō can only mount at most four signals at a time and has no risk of detonating. Players should mount Equal Speed Charlie London (

), Zulu Hotel (

), and Juliet Whiskey Unaone (

). However, Juliet Whiskey Unaone is not highly recommended if the player wishes to conserve the signal for later tiers.
Recommended Signal Flags
Combat

 

 

 

★★

 

 

 

★

 

 

 

 

 

 

Economic

★

 

★★★

★★★

 

Special

★

★

★

 

★

 

 

 

Key: ★★★ - Extremely Useful       ★★ - Frequently Useful       ★ - Occasionally Useful      No stars - Not Useful
Note: Use of the Juliet Charlie signal makes detonation impossible.
Gallery
References
Stille, M., Bryan, T. (2005) Imperial Japanese Navy Aircraft Carriers: 1921-45. Oxford, UK: Osprey Publishing Ltd.
Chesneau, R., Gardiner, R. (1980). Conway's All the World's Fighting Ships, 1922-1946. London, UK: Conway Maritime Press.
Sha, S. K. (1964). Japanese Aircraft Carriers and Destroyers: Vol 2. London, UK: Macdonald & Co. Ltd.


Cite error: <ref> tags exist, but no <references/> tag was found