Hosho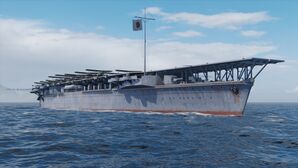 Tech Tree Position
140 mm/50 3rd Year Type on a single mount
4 х 1 

pcs.
Firing Range
3.5 

km.
Rate of Fire
7.5 

shots/min.
Reload Time
8 

sec.
HE Shell
140 mm HE Type0 
Maximum HE Shell Damage
2,400 
Initial HE Shell Velocity
850 

m./s.
Chance of Fire on Target Caused by HE Shel
10 

%
13 mm/76 Type 93 on a twin mount
6 х 2 

pcs.
. . . Average Damage per Second
12 
. . . Firing Range
1.2 

km.
Maximum Speed
25 

knot
Turning Circle Radius
740 

m.
Rudder Shift Time
11.1 

sec.
Surface Detectability Range
8.82 

km.
Air Detectability Range
6.46 

km.
Battle Levels
Hōshō — Japanese Tier IV aircraft сarrier.
The first vessel in the world to be completed as a purpose-built aircraft carrier. This ship was moderately sized and could carry a small air group. For her size, she was armed with an impressive artillery setup and had decent speed and maneuverability.


Modules
Compatible Upgrades
Player Opinion
Performance
The first aircraft carrier players working up the Japanese tech tree gain access to, Hōshō provides players an introduction to IJN's carrier line. In general, players can expect Attack Aircraft with great accuracy but a relatively small payload, Dive bombers with high potential damage and relatively stealthy Torpedo Bombers.
Attack Aircraft:
Like most Japanese carriers their attack aircraft carry hard hitting rockets and have reasonable accuracy that allows them to be used to hunt destroyers effectively as well as trolling cruisers and battleships. However they only launch 6 rockets per attack run, and a squadron can only attack twice. Attack aircraft should be used as much as possible when low on torpedo bombers.
Torpedo Bombers:
Torpedo bombers are the star of the show like many Japanese carriers and can deal large amounts of damage to targets in a short amount of time, they have very good concealment that allows them to surprise enemy ships or give them little reaction time as they come closer to be attacked. They also sport reasonable speed that allows them to balance the low healthpool of planes. These type of planes should be used to the maximum because they are the most reliable way to help support allied ships.
Dive Bombers:
Unlike British and American carriers, Japanese ones carry AP bombs that have good potentials of citadeling ships and cause large amounts of damage to targets as long as they hit the citadel. However when bombs do not hit the citadel they deal low damage. It is recommended to use torpedo bombers and attack aircraft more frequently because they can get a reliable amount of damage than dive bombers do.
Tips:
It is recommended to start with attack aircraft in the the beginning of the battle as spotting destroyers and other ships are important for other allied ships to plan ahead of what to do. When using torpedo bombers use 2/3 of the squadron so then you can save planes and attack at least twice. Torpedo bombers should be used as much as possible as they also are a threat to destroyers, attack aircraft should be used when needed. Players must learn to balance risk and reward when committing to an attack. Attack runs on targets that are either isolated or have weak AA defence is advised due to the relatively low risk involved. Players should also only call back their aircraft (f key by default) when they are safely outside AA bubbles in order to ensure they don't get shot down along the way.
Pros:
Hosho's attack aircraft are quite accurate like most Japanese carriers.
Torpedo and dive bombers have reasonable speed that allows them to attack often.
Torpedo bombers can land up to 29,000 damage on enemy ships when using entire squadron and no plane is lost.
Torpedo bombers and attack aircraft are effective against all ship type.
It's torpedo aircraft boast more potential damage (5800 vs 3500) and higher stealth (7.5 km vs 10 km) compared to its American counterpart Langley
Powerful propulsion that produce reasonable speed that allows her to keep up with the team.
Good concealment for ship and planes.
Cons:
Attack aircraft are only launch 6 rockets every attack run and can only attack twice(each aircraft are armed with 2 rockets, and 3 planes participate in each run).
Torpedo bomber squadron has 5 planes and only one of them attack in a attack run meaning that a few will get shot down as they stay in AA auras.
AP-bombs are treated as AP shells on a regular ship, and can over-penetrate or ricochet.
Hosho is largely unarmored. HE shells will cause citadel hits and large amounts of damage even from destroyers.
Research
The Hosho has only 1 upgrade, its B hull, which provides it with better AA, maneuverability and a slight increase in health.
Hosho (B) Hull
Optimal Configuration
Upgrades
The recommended upgrades for Hōshō are as follows:
Commander Skills
Players should emphasize increasing the HP of their planes as they have the lowest health of all 3 nations, a trend that continues up to tier 10
  Recommended Commander Skills  
Cost
(points)

Attack

Defense

Support



1

 

 

 

★★

 

 



2

★★

 

★★

 

 

 



3

★★

★★

 

★★

★★

 



4

 

★★

 

 

 

 

Key: ★★★ - Extremely Useful      ★★ - Frequently Useful      ★ - Occasionally Useful     No stars - Not Useful
Consumables
Hōshō has access to the following consumables:
All aircraft carrier consumables are automatically activated.
Attack Aircraft:
Torpedo Bombers:
Bombers:
Camouflage
Type 1, 2, or 5 camouflage can be equipped for credits; Types 1 or 5 are recommended at a minimum to reduce chances of being detected by the enemy.
Signals
As a carrier, Hōshō can only mount at most four signals at a time and has no risk of detonating. Players should mount Equal Speed Charlie London (

), Zulu Hotel (

), and Juliet Whiskey Unaone (

). However, Juliet Whiskey Unaone is not highly recommended if the player wishes to conserve the signal for later tiers.
Recommended Signal Flags
Combat

 

 

 

★★

 

 

 

★

 

 

 

 

 

 

Economic

★

 

★★★

★★★

 

Special

★

★

★

 

★

 

 

 

Key: ★★★ - Extremely Useful       ★★ - Frequently Useful       ★ - Occasionally Useful      No stars - Not Useful
Note: Use of the Juliet Charlie signal makes detonation impossible.
Gallery
References
Stille, M., Bryan, T. (2005) Imperial Japanese Navy Aircraft Carriers: 1921-45. Oxford, UK: Osprey Publishing Ltd.
*Chesneau, R., Gardiner, R. (1980). Conway's All the World's Fighting Ships, 1922-1946. London, UK: Conway Maritime Press.
*Sha, S. K. (1964). Japanese Aircraft Carriers and Destroyers: Vol 2. London, UK: Macdonald & Co. Ltd.


Cite error: <ref> tags exist, but no <references/> tag was found