Icarus
Revision as of 20:17, 25 October 2019

Commander Skills 2

Revision as of 23:17, 29 March 2020

references to Wikipedia for ship and class

Line 191:
Line 191:
 
 
 
|Ref= <!-- write below -->
 
|Ref= <!-- write below -->
 
+
 
+
 
 
 
}}<!-- DO NOT DELETE THIS LINE. DO NOT INSERT ANYTHING BELOW THIS LINE -->
 
}}<!-- DO NOT DELETE THIS LINE. DO NOT INSERT ANYTHING BELOW THIS LINE -->
Revision as of 23:17, 29 March 2020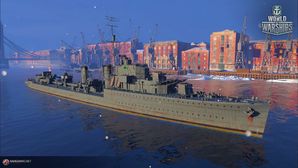 Tech Tree Position
120 mm/45 CPXVIII
4 х 1 

pcs.
Rate of Fire
12 

shots/min.
Reload Time
5 

sec.
Rotation Speed
10 

deg./sec.
180 Degree Turn Time
18 

sec.
Firing Range
10.55 

km.
Maximum Dispersion
102 

m.
HE Shell
120 mm HE 
Maximum HE Shell Damage
1,700 
Chance of Fire on Target Caused by HE Shell
8 

%
Initial HE Shell Velocity
808 

m./s.
HE Shell Weight
22.68 

kg.
AP Shell
120 mm AP 
Maximum AP Shell Damage
2,100 
Initial AP Shell Velocity
808 

m./s.
AP Shell Weight
22.68 

kg.
533 mm QR Mk II
2 х 4 

pcs.
Rate of Fire
0.63 

shots/min.
Reload Time
95 

sec.
Rotation Speed
25 

deg./sec.
180 Degree Turn Time
7.2 

sec.
Torpedo
533 mm Mk V 
Maximum Damage
11,967 
Torpedo Speed
59 

knot
Torpedo Range
6 

km.
20 mm Oerlikon Mk IV
2 х 1 

pcs.
. . . Average Damage per Second
7.2 
. . . Firing Range
2.01 

km.
12.7 mm Mk III
2 х 4 

pcs.
. . . Average Damage per Second
4.2 
. . . Firing Range
1.2 

km.
Maximum Speed
35.5 

knot
Turning Circle Radius
540 

m.
Rudder Shift Time
4.2 

sec.
Surface Detectability Range
6.84 

km.
Air Detectability Range
2.64 

km.
Battle Levels
Icarus — British Tier VI destroyer.
Part of the last series (I-class) of the "standard" destroyers of the British Navy. The ships of this class were the basis for transition from quadruple to quintuple torpedo tubes.


Modules
Compatible Upgrades
 Slot 1 
 Slot 2 
 Slot 3 
 Slot 4 
Player Opinion
Performance
Icarus is a Tier VI British Destroyer. Like other destroyers at her tier, she carries a powerful torpedo armament and small caliber guns. Captains already familiar with Acasta will feel accustomed to Icarus' playstyle.
Icarus' main armament consists of four 120mm guns in single mounts along the ship's center-line. While these guns do not have the quick traverse time and fire rate of the guns found on Farragut or Monaghan, they are more than adequate to protect the ship against other enemy destroyers. However, these guns often struggle to deal damage against larger, more armored targets, especially battleships. When facing ships larger than their own, captains should try to aim for the enemy's superstructure or other lightly armored areas.
Icarus' primary weapon set against larger targets is her torpedo armament. Icarus carries eight torpedo tubes in two quadruple launchers. When fully specialized, Icarus has a moderate window to fire her torpedoes from stealth. Like other Royal Navy destroyers, Icarus also has the ability to fire single torpedoes at a time, or fire a whole launcher in a narrow spread. Captains can use this ability to get more accurate torpedo strikes, especially against bow facing targets.
Lastly,
Icarus
carries a somewhat unusual consumable set for a destroyer. The ship cannot be fitted with the
Engine Boost
(

) consumable, but receives short ranged
Hydroacoustic Search
(

) instead. This consumable can be useful for spotting enemy torpedoes, or enemy ships in smoke.
Icarus'
Smoke Generator
(

) consumable also features a short duration and short reload time. Captains should save the smoke consumable for when they feel the need to disengage and retreat from pursuing enemy ships.
Pros:
Has access to the Hydroacoustic Search () consumable.
The ship can accelerate quicker than most other destroyers.
Has the ability to launch individual torpedoes.
Low surface detection range at Tier VI.
Cons:
Cannot mount the Engine Boost () consumable.
Smoke Generator () consumable has a short action and dispersion time.
Main battery shells can struggle to deal damage against larger targets.
Research
Availability of researchable upgrades for Icarus is as follows:
Hull: Upgrade to Hull (B) for an increased hit point pool, additional anti-aircraft weapons, and a decreased rudder shift time. Research of this module unlocks progression to Jervis.
Torpedoes: Upgrade to 533 mm Mk VII for increased torpedo range and damage.
Gun Fire Control System: Upgrade to Mk VI mod. 2 for an extra 10% range on the main battery.
Captains should first research Hull B before researching the Torpedoes and Gun Fire Control System upgrades.
Optimal Configuration
Upgrades
The recommended upgrades for Icarus are as follows:
Commander Skills
Key skills for Icarus commanders include Priority Target, Last Stand, Superintendent, and Concealment Expert. Captains looking to improve the ship's torpedo armament may find Torpedo Armament Expertise useful. High Alert, Jack of All trades, and Survivability Expert can be used to improve the ship's survivability. Basic Firing Training and Demolition Expert can be trained to improve the main armament.
Recommended Commander Skills
Cost
(points)

Endurance

Attack

Support

Versatility



1

★★

★★

★

Χ

Χ

Χ

★

Χ



2

★★

★★

★

 

★

Χ

★★

★★★



3

★

★★

★★★

Χ

★★

★★★

★★

★★



4

 

 

★★

Χ

★

 

★

★★★

Key: ★★★ - Extremely Useful      ★★ - Frequently Useful      ★ - Occasionally Useful     No stars - Meh     

Χ

- Not recommended
Consumables
Icarus can equip the following consumables:
Mounting premium versions of these consumables is recommended to decrease their cooldown timers.
Camouflage
Type 1, 2, or 5 camouflage can be equipped for credits; Types 1 or 5 are recommended at a minimum to reduce detectibility range.
Players who wish to spend doubloons can equip Icarus with Type 16 camouflage that lowers her detection radius, reduces the accuracy of incoming shells, reduces her repair costs, and increases the amount of experience she earns.
Signals
Recommended Signal Flags
Combat

★

 

★

 

★★

 

★★

★★★

 

 

★★

★★

Economic

★

 

★★

★★

★

Special

★

★★

★★

★

★★

 

 

 

Key: ★★★ - Extremely Useful       ★★ - Frequently Useful       ★ - Occasionally Useful      No stars - Not Useful
Gallery
References