Imperator Nikolai I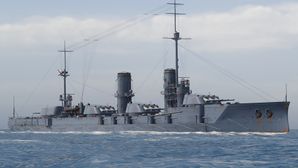 Tech Tree Position
305 mm/52 Model 1907
4 х 3 

pcs.
Rate of Fire
1.67 

shots/min.
Reload Time
36 

sec.
Rotation Speed
3.2 

deg./sec.
180 Degree Turn Time
56.25 

sec.
Firing Range
14.1 

km.
Maximum Dispersion
201 

m.
HE Shell
305 mm HE Model 1911 
Maximum HE Shell Damage
4,500 
Chance of Fire on Target Caused by HE Shell
33 

%
Initial HE Shell Velocity
762 

m./s.
HE Shell Weight
470.9 

kg.
AP Shell
305 mm AP Model 1911 
Maximum AP Shell Damage
8,600 
Initial AP Shell Velocity
762 

m./s.
AP Shell Weight
470.9 

kg.
130 mm/55 Model 1913
20 х 1 

pcs.
Firing Range
3.5 

km.
Rate of Fire
5 

shots/min.
Reload Time
12 

sec.
HE Shell
130 mm HE Model 1911 
Maximum HE Shell Damage
1,900 
Initial HE Shell Velocity
823 

m./s.
Chance of Fire on Target Caused by HE Shel
9 

%
63.3 mm Model 1916
2 х 1 

pcs.
. . . Average Damage per Second
2 
. . . Firing Range
3 

km.
7.62 mm Maxim machine gun
4 х 1 

pcs.
. . . Average Damage per Second
6.8 
. . . Firing Range
0.99 

km.
Maximum Speed
21 

knot
Turning Circle Radius
660 

m.
Rudder Shift Time
12.8 

sec.
Surface Detectability Range
12.78 

km.
Air Detectability Range
8.33 

km.
Battle Levels
Imperator Nikolai I — Soviet promo premium Tier IV battleship.
The last battleship laid down for the Imperial Russian Navy. Developed from the Imperatritsa Mariya-class battleships, she inherited high firepower from her predecessors. Experience gained in building early Russian dreadnoughts helped to significantly reinforce the ship's armor which received an advanced arrangement. She is no longer available to purchase.


Modules
Compatible Upgrades
Player Opinion
Performance
Imperator Nikolai I is the first Russian battleship that was added to World of Warship, and sits at Tier IV.
Her main battery is located in four triple turrets whioch are mounted along the centerline, which give her a weaker firepower over the bow and stern than Wyoming or Orion, however, of these four turrets three are facing forward with excellent firing arcs which allow an aggressive player to use 75% of Nikolai's firepower without exposing too much of her broadside. A special trait of Imperator Nikolai I is her accuracy, featuring a 2.0 sigma she has among the best accuracy of any T4 battleship, and the shells are likely to land where the player aimed them. With a decent penetration and good ballistics, any opponent showing too much side will face severe punishment.
The armor scheme of Imperator Nikolai I is typical of that of a dreadnought. With a long belt, which extends from the bow until almost the tip of the stern, hits into the citadel are unlikely to occur through the bow. The upper belt and a 35mm strong weather deck ensure that HE fire from cruisers will mostly shatter, while the superstructure is almost non-existant, making it more difficult for cruisers to deal consistent HE damage to Imperator Nikolai I. The upper bow remains a weakness being covered in thin armor, which can and will get overmatched by the battleships in her MatchMaking, and her side armor is not sufficient to stop shells from other battleships. Angling in Imperator Nikolai I is key.
The maneuverability is one of Nikolai's greatest weaknesses. Lacking the speed of other battleships like König or Myogi, players will struggle to reposition or disengage should the situation so demand. Her turning behaviour is average, which does allow her to maneuver if so needed.
Against aircraft Imperator Nikolai I is defenseless. Being tied with Ishizuchi for the worst AA of the Tier 4 battleships, aircraft carriers can be expected to prioritize the emperor. Staying with allies and keeping an eye on the minimap is heavily recommended to avoid taking too much damage from enemy aviation.
Pros:
Heaviest broadside of any Tier 4 battleship.
Excellent shell grouping with decent ballistics, making firing her guns very comfortable.
Armor that covers the majority of her side, allowing an angled Imperator Nikolai I to bounce off many shells while shattering HE.
Lack of superstructure, denying enemy cruisers the opportunity to farm damage.
Turret setup allows the usage of 75% of her firepower while remaining angled.
Cons:
Weak side protection in combination with a high citadel.
Non-existant AA defense.
Slow and somewhat sluggish when turning.
Slow main battery reload.
Weak secondary battery, with a slow reload.
Research
As a Premium ship, Imperator Nikolai I doesn't have any upgrades to research.
Optimal Configuration
Upgrades
The recommended upgrades for Imperator Nikolai I are as follows:
Commander Skills
Recommended Commander Skills
Cost
(points)

Endurance

Attack

Support

Versatility



1

★★★

★★

★

Χ

Χ

Χ

 

Χ



2

★★

 

★★★

Χ

Χ

Χ

★★★

 



3

★★★

 

Χ

Χ

★

★★★

 

★★



4

 

★★★

 

Χ

★

 

 

★★★

Key: ★★★ - Extremely Useful      ★★ - Frequently Useful      ★ - Occasionally Useful     No stars - Meh     

Χ

- Not recommended
Consumables
Imperator Nikolai I can equip the following consumables:
Camouflage
As a Premium ship, Imperator Nikolai I comes included with Type 9 camouflage that lowers her detection radius, reduces the accuracy of incoming shells, reduces her repair costs, and increases the amount of experience she earns.
Imperator Nikolai I also has an alternate premium camouflage called "Rasputin", in which she appears as she does during the Halloween scenarios "Saving Transylvania" and "Sunray in the Darkness". These camoflages do not provide additional benefits, but merely give a new appearance and are desired collector items.
Signals
Recommended Signal Flags
Combat

 

★

 

★

 

★

★★

★★

★★★

 

★★★

★

Economic

★★

★

★★

★★

★

Special

★★

★★

★★

★

★★

★★

★★

★★

Key: ★★★ - Extremely Useful       ★★ - Frequently Useful       ★ - Occasionally Useful      No stars - Not Useful
Gallery
References