Iowa
Revision as of 02:05, 21 January 2021
Revision as of 01:52, 25 January 2021

Commander skill rework, Skill rating untouched(they were added automatically)

Line 58:
Line 58:
 
|CommanderSkills=<!-- write text about best set of Commander Skills below -->
 
|CommanderSkills=<!-- write text about best set of Commander Skills below -->
 
 
?
{{Commander Skills 2
+
{{Commander Skills
 
<!-- This version enables a '0' rating. Use it for skills that have no effect (e.g. Improved Engines on a non-CV) or are detrimental to the ship. They should mirror what appears in the game client. -->
 
<!-- This version enables a '0' rating. Use it for skills that have no effect (e.g. Improved Engines on a non-CV) or are detrimental to the ship. They should mirror what appears in the game client. -->
 
| rating11 = 2 <!-- Priority Target -->
 
| rating11 = 2 <!-- Priority Target -->
Revision as of 01:52, 25 January 2021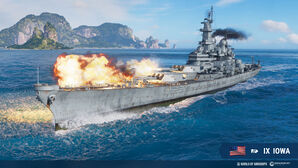 Tech Tree Position
406 mm/50 Mk.7 in a turret
3 х 3 

pcs.
Rate of Fire
2 

shots/min.
Reload Time
30 

sec.
Rotation Speed
4 

deg./sec.
180 Degree Turn Time
45 

sec.
Firing Range
21.23 

km.
Maximum Dispersion
272 

m.
HE Shell
406 mm HE/HC Mk13 
Maximum HE Shell Damage
5,700 
Chance of Fire on Target Caused by HE Shell
36 

%
Initial HE Shell Velocity
820 

m./s.
HE Shell Weight
862 

kg.
AP Shell
406 mm AP Mk8 
Maximum AP Shell Damage
13,500 
Initial AP Shell Velocity
762 

m./s.
AP Shell Weight
1225 

kg.
127 mm/38 Mk.12 on a Mk.32 mount
10 х 2 

pcs.
Firing Range
6.95 

km.
Rate of Fire
10 

shots/min.
Reload Time
6 

sec.
HE Shell
127 mm HE Mk32 
Maximum HE Shell Damage
1,800 
Initial HE Shell Velocity
792 

m./s.
Chance of Fire on Target Caused by HE Shel
5 

%
127 mm/38 Mk.12 on a Mk.32 mount
10 х 2 

pcs.
. . . Average Damage per Second
151 
. . . Firing Range
5.01 

km.
20 mm Oerlikon on a Mk.4 mount
21 х 1 

pcs.
. . . Average Damage per Second
75.6 
. . . Firing Range
2.01 

km.
40 mm Bofors on a Mk.2 mount
14 х 4 

pcs.
. . . Average Damage per Second
222.6 
. . . Firing Range
3.51 

km.
Maximum Speed
28.78 

knot
Turning Circle Radius
920 

m.
Rudder Shift Time
22.5 

sec.
Surface Detectability Range
16.2 

km.
Air Detectability Range
11.4 

km.
Battle Levels
Iowa — American Tier IX battleship.
One of the most powerful battleships of World War II. The ship was designed for escorting attack carrier forces. She surpassed the speed of all battleships in the world. The battleship's survivability was significantly improved owing to a novel and powerful torpedo protection system and a fundamentally different armor protection system featuring an internal armor belt.

All four Iowa-class ships built are now preserved as military museum ships: USS Iowa in San Pedro, California; USS Missouri in Pearl Harbor, Hawaii; USS Wisconsin in Norfolk, Virginia; and USS New Jersey in Camden, New Jersey.
Modules
Compatible Upgrades
 Slot 1 
 Slot 2 
 Slot 3 
 Slot 4 
 Slot 5 
 Slot 6 
Player Opinion
Performance
The historical counterpart of the famed battleship Yamato, Tier IX's Iowa is the pinnacle of the various fast battleship designs the United States commissioned into service before and during World War II.
Veterans of North Carolina will be well-familiar with how Iowa plays, as both ships are laid out in an identical AB-X turret arrangement. The key differences are found in Iowa's handling — she is faster, with a larger turning circle and slower rudder shift speed — slightly improved AA suite, and longer main battery rifles. Iowa's barrels are 50 caliber (as opposed to North Carolina's 45 caliber barrels) and the improvement in the velocity of her armor-piercing shells is notable. Her AP shells get on target faster, and new Iowa captains should allow a few games to learn how to adjust leading their shots accordingly. Additionally, she gains access to Artillery Plotting Room Modification 2 (
), which provides a significant reduction to her dispersion.
Exposing her flat broadside to enemies is as inadvisable in Iowa as it is in most battleships. Even though her citadel is at the ship's third deck at roughly waterline height, the third deck plating can be overmatched by every battleship in her matchmaking spread. Consequently, Iowa can deal catastrophic damage by well-aimed AP shells. Careful positioning and good situational awareness are required at all times to ensure she isn't removed from the game in a single enemy salvo, and this vulnerability makes fighting at close ranges very tricky as her overall length is more of a liability than an asset.
Once mastered, however, Iowa's capabilities are unmatched by just about any battleship in game. She combines speed, firepower, and survivability in a way that is unrivaled by any other ship in her tier and below. Her mobility allows her to get to where she is needed, her powerful super-heavy shells allow her to inflict significant damage on whatever she encounters there, and her armor allows her to tank punishment provided she doesn't expose her broadside or get blindsided by incoming torpedoes.
Pros:
Same gun range as her predecessor and highest range for a battleship at her tier.
Better penetration and shell velocity compared to North Carolina due to the 50 caliber gun.
Able to mount Artillery Plotting Room Modification 2 () for better dispersion.
Armor is more durable than her predecessor North Carolina
Incredible anti-aircraft suite makes her highly resistant to aerial assault.
Improved torpedo defense system with a torpedo damage reduction of 27% (compared to North Carolina's 19%).
Decent ship speed of 33 knots which is an improvement of North Carolina 's 27.5 knots.
Good firing angles.
Cons:
Weaker broadside armor than standard battleships, but still stronger broadside armor than North Carolina.
Bad rudder shift time (over 20 sec) until Hull (C).
Iowa's dispersion is poor at range without Artillery Plotting Room Modification 2 ().
Overall length combined with her turning circle takes some getting used to when trying to dodge torpedoes.
While at waterline level, the citadel is very long and the deck plating can be overmatched by every battleship and large cruisers in her matchmaking spread.
Very tall superstructure makes her easier to hit compared to other tier IX battleships, especially when trying to hide behind islands.
Weak secondary armament with a very low range compared to Tier IX counterparts Izumo, Friedrich der Große, and Alsace.
Research
Availability of researchable upgrades for Iowa is as follows:
Hull: Upgrade to Hull (B) for an additional 10,000 hit points and an improvement to her mid- and short-range AA bubbles. Upgrade to Hull (C) for faster rudder shift and further enhancements to her AA suite. Research of Hull (C) unlocks progression to Montana.
Gun Fire Control System: Upgrade to Mk9 mod. 2 for an extra 10% range on the main battery.
Propulsion: The propulsion upgrade bumps Iowa's speed from 28.8 knots to her historical maximum of 33 knots.
Investing experience into Hull (B) is a top priority; it brings additional hit points and a large bump to
Iowa
's anti-aircraft capabilities. The Propulsion module upgrade should come next, followed by Hull (C), with the Fire Control System upgrade saved for last.
Optimal Configuration
Upgrades
The recommended upgrades for Iowa are as follows:
Commander Skills
  Recommended Commander Skills  
Cost
(points)

Attack

Defense



1

★★

★

★

 

★

 



2

★★

★

★★★

 

 

 



3

★★★

 

 

 

★

★★★



4

 

★★★

 

 

★

 

Key: ★★★ - Extremely Useful      ★★ - Frequently Useful      ★ - Occasionally Useful     No stars - Not Useful
Consumables
Iowa equips the following consumables:
Camouflage
Type 1, 2, or 5 camouflage can be equipped for credits; Types 2 or 5 are recommended at a minimum to reduce the accuracy of incoming shells.
Players who wish to spend doubloons can equip Iowa with Type 19 camouflage that lowers her detection radius, reduces the accuracy of incoming shells, reduces her repair costs, and increases the amount of experience she earns.
Signals
Iowa's signal loadout should focus on two objectives: maximizing her experience earnings and maximizing her survivability. Equal Speed Charlie London (

), Hydra (

), and Red Dragon (

) will help with the former, while India Delta (

), India Yankee (

), and Juliet Yankee Bissotwo (

) will help with the latter. Sierra Mike (

) is worthy of consideration for captains who enjoy flexing Iowa's speed, while November Foxtrot (

) and November Echo Setteseven (

) will help reduce her consumable cooldowns and further enhance her AA suite.
Recommended Signal Flags
Combat

★★

★

 

 

 

★

★★

★★

★★★

★★

★★★

★

 

 

Economic

 

★★★

★★★

★★

★

Special

 

 

★★

★

★★

 

 

 

Key: ★★★ - Extremely Useful       ★★ - Frequently Useful       ★ - Occasionally Useful      No stars - Not Useful
Gallery
References