Jurien de la Gravière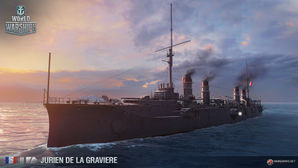 Tech Tree Position
165 mm/45 Mle 1893 on a shielded mount
8 х 1 

pcs.
Rate of Fire
6.67 

shots/min.
Reload Time
9 

sec.
Rotation Speed
10 

deg./sec.
180 Degree Turn Time
18 

sec.
Firing Range
9.33 

km.
Maximum Dispersion
97 

m.
HE Shell
165 mm HE OEA Mle 1893 
Maximum HE Shell Damage
2,200 
Chance of Fire on Target Caused by HE Shell
7 

%
Initial HE Shell Velocity
770 

m./s.
HE Shell Weight
45 

kg.
AP Shell
165 mm AP OPf Mle 1896 
Maximum AP Shell Damage
3,100 
Initial AP Shell Velocity
770 

m./s.
AP Shell Weight
54.2 

kg.
8 mm Hotchkiss Mle 1914 on a single mount
6 х 1 

pcs.
. . . Average Damage per Second
7.8 
. . . Firing Range
0.99 

km.
Maximum Speed
23 

knot
Turning Circle Radius
510 

m.
Rudder Shift Time
8.1 

sec.
Surface Detectability Range
8.73 

km.
Air Detectability Range
4.34 

km.
Battle Levels
Jurien de la Gravière — French Tier II cruiser.
Jurien de la Gravière was the last protected cruiser built for the French Navy. The ship's silhouette and architecture were typical of French warships at the turn of the 19th century. Powerful 165mm guns distinguished Jurien de la Gravière from the majority of foreign counterparts.
Modules
Compatible Upgrades
Player Opinion
Performance
Large guns and heavy armor put the Jurien de la Gravière at the top of her tier in terms of sheer force... at least on paper. Unfortunately, actually playing her a frustrating experience due to her slow speed and slow reload, the latter made worse by her abysmal accuracy.
Placed alongside her peers at Tier II, Jurien is fairly mediocre. She has average speed, rudder shift time, detectability, and health pool. The big differentiation between Jurien and all the other Tier II cruisers in the game is the size of her guns. Jurien wins that category hands down, mounting 165mm rifles mounted in a mixed configuration (some along the centerline, some not). As a result, her shells pack some of the biggest punch captains will find in low tier cruisers; unfortunately, her overall damage output is hampered by long reload times and so-so accuracy.
Jurien
is at least better than
Bougainville
, but she's not really a stand-out at Tier II; that honor is reserved for Tier III's
Friant
.
Pros:
Citadel top and sides are heavily armored and below the waterline.
Large-caliber guns for its tier.
Generous health pool.
Cons:
Low rate of fire.
Horrible accuracy; shells frequently over- or under-shoot.
Infuriatingly slow at only 23 knots.
Despite their impressive calibre, her guns have inferior performance than the smaller guns of Chikuma.
Research
Main battery range is the greatest weakness of
Jurien de la Graviere
, so players will likely want to research the Fire Control Systems module first, saving the hull module for last (on their way to
Friant
).
Optimal Configuration
Upgrades
Like Bougainville, Jurien has only one upgrade slot. Captains should equip Magazine Modification 1
or Main Armaments Modification 1

for the limited time they'll play the ship.
Commander Skills
Last Stand is critical as all French cruisers are prone to steering damage.
  Recommended Commander Skills  
Cost
(points)

Attack

Defense



1

 

 

 

 

 

★★



2

★★

 

 

 

 

 



3

★★

 

★★

 

 

 



4

★★

★★

 

 

★★

 

Key: ★★★ - Extremely Useful      ★★ - Frequently Useful      ★ - Occasionally Useful     No stars - Not Useful
Consumables
Jurien de la Gravière equips Damage Control Party 

.
Signals
Note: Use of the Juliet Charlie signal makes detonation impossible.
Gallery
References
See here for links to Update notes.

Available for testing by supertesters in the game starting from Update 0.6.3.
Introduced in Update 0.6.4.
Update 0.6.12:

Detectability when firing main guns in smoke changed to 4.17 km.
Draft increased to 6.4 m to better match the historical prototype.

Update 0.6.13:

Fire extinguishing time now 30 s instead of 60 s.

Update 0.11.8:

Fixed a bug that caused the alternative color scheme to not display for the ship's standard camouflages.