Kaiser
Revision as of 16:32, 28 September 2019

Massive AA Fire

Latest revision as of 21:09, 5 October 2019

Commander Skills 2, add consumables camo and signals copied from Orion

 
Line 38:
Line 38:
 
|CommanderSkills=
 
|CommanderSkills=
 
 
?
{{Commander Skills
+
{{Commander Skills
?
| Priority Target = 2
+
?
| Preventative Maintenance = 1
+
| = 2
?
| Expert Loader = 1
+
| = 1
?
| Aircraft Servicing Expert =
+
| = 1
?
| Direction Center for Catapult Aircraft =
+
| =
?
| Dogfighting Expert =
+
| Direction Center for
?
| Incoming Fire Alert = 1
+
| =
?
| Evasive Maneuver =
+
| Incoming Fire Alert
 
+
| =
 
 
?
| High Alert = 1
+
| = 1
?
| Jack of All Trades = 2
+
| Jack of All Trades
?
| Expert Marksman = 3
+
| Expert Marksman
?
| Torpedo Acceleration =
+
| Torpedo Acceleration
?
| Smoke Screen Expert =
+
| Smoke Screen Expert
?
| Expert Rear Gunner =
+
| =
?
| Adrenaline Rush = 1
+
| Adrenaline Rush
?
| Last Stand =
+
| Last Stand
 
 
?
| Survivability Expert =
+
| = Basics of Survivability
?
| Basics of Survivability = 2
+
=
?
| Torpedo Armament Expertise =
+
| Torpedo Armament Expertise
?
| Emergency Takeoff =
+
| =
?
| Basic Firing Training = 2
+
| Basic Firing Training
?
| Superintendent = 3
+
| = 3
?
| Demolition Expert = 1
+
| = 1
?
| Vigilance = 2
+
| = 2
 
 
?
| Manual Fire Control for Secondary Armament = 1
+
| Manual Fire Control for Secondary Armament
?
| Fire Prevention = 1
+
| = 1
?
| Inertia Fuse for HE Shells =
+
| Inertia Fuse for HE Shells
?
| Air Supremacy =
+
| =
?
| Advanced Firing Training = 3
+
| Advanced Firing Training
?
| Massive AA Fire =
+
| Massive AA Fire
?
| Radio Position Finding = 1
+
| Radio Position Finding
?
| Concealment Expert = 2
+
| = 2
 
}}
 
}}
 
+
 
+
 
+
 
+
 
+
 
+
 
+
 
+
 
+
 
+
 
+
 
+
 
+
 
+
 
+
 
+
 
+
 
+
 
+
 
+
 
+
 
+
 
+
 
+
 
+
 
+
 
+
 
+
 
+
 
+
 
+
 
+
 
+
 
+
 
+
 
+
 
+
 
+
 
+
 
+
 
+
 
+
 
+
 
+
 
+
 
 
 
|Gallery=<!-- write below list of files with description (if necessary) separated with | --><gallery>
 
|Gallery=<!-- write below list of files with description (if necessary) separated with | --><gallery>
Latest revision as of 21:09, 5 October 2019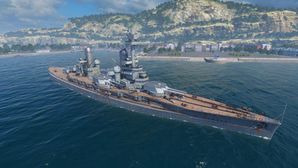 Tech Tree Position
305 mm L/50 Drh LC/1909
5 х 2 

pcs.
Rate of Fire
2.31 

shots/min.
Reload Time
26 

sec.
Rotation Speed
3 

deg./sec.
180 Degree Turn Time
60 

sec.
Firing Range
14.54 

km.
Maximum Dispersion
205 

m.
HE Shell
305 mm Spr.Gr. L/3.8 Bdz. 
Maximum HE Shell Damage
3,400 
Chance of Fire on Target Caused by HE Shell
22 

%
Initial HE Shell Velocity
850 

m./s.
HE Shell Weight
406 

kg.
AP Shell
305 mm P.Spr.Gr. L/3.4 
Maximum AP Shell Damage
8,300 
Initial AP Shell Velocity
855 

m./s.
AP Shell Weight
405 

kg.
150 mm L/45 MPL C/06
14 х 1 

pcs.
Firing Range
4.5 

km.
Rate of Fire
7 

shots/min.
Reload Time
8.57 

sec.
HE Shell
150 mm HE K Gr 18 
Maximum HE Shell Damage
1,800 
Initial HE Shell Velocity
835 

m./s.
Chance of Fire on Target Caused by HE Shel
10 

%
88 mm L/76 Dop. L. C/32
2 х 2 

pcs.
Firing Range
4.5 

km.
Rate of Fire
15 

shots/min.
Reload Time
4 

sec.
HE Shell
88 mm Spr.Gr. 
Maximum HE Shell Damage
1,000 
Initial HE Shell Velocity
950 

m./s.
Chance of Fire on Target Caused by HE Shel
4 

%
37 mm Flakzwilling 30
3 х 2 

pcs.
. . . Average Damage per Second
7.8 
. . . Firing Range
3.51 

km.
88 mm L/76 Dop. L. C/32
2 х 2 

pcs.
. . . Average Damage per Second
16.2 
. . . Firing Range
3.99 

km.
Maximum Speed
22.31 

knot
Turning Circle Radius
600 

m.
Rudder Shift Time
18.3 

sec.
Surface Detectability Range
14.22 

km.
Air Detectability Range
8.4 

km.
Battle Levels
Kaiser — German Tier IV battleship.
In terms of armor thickness the ship was superior to all battleships of her time. Driven by turbine propulsion, this battleship had a decent speed for her type. The main battery's armor-piercing capabilities were highly competitive with the artillery of super dreadnoughts from that era.


Modules
Compatible Upgrades
Player Opinion
Performance
The biggest problems with the Kaiser dictate how it should be played. Yes, the Kaiser has fairly rapid firing guns as battleships goes, a powerful secondary armament, a tight turning circle, and good armor. Despite these attributes though, she's not particularly effective as a brawling battleship as she suffers from inaccurate guns, very slow turret traverse and slow rudder shift time. It's better to use her as a mid-range (8-10km) fighter supported by cruisers and other battleships, which would give one sufficient range to avoid torpedoes launched by cruisers, but also be close enough to make up for the inaccuracy of her guns.
Torpedoes and aircraft are going to be a problem in this ship, as are changing targets. The small turning circle of the Kaiser can be useful in making sharp course changes, say if a player needs to quickly get out of an area, but her slow turret traverse means it is an utter pain to try to aim your guns while performing sharp turns. This isn't helped by the slow rudder shift time. Situational awareness of possible destroyer locations and approaching aircraft is critical in this warship as failing to do so otherwise will get a player killed.
Pros:
Tough armor: Kaiser's thick armor belt with a sloping "turtleback" deck behind it makes her difficult to citadel
Fast loading guns: your main battery is second only to Ishizuchi in Battleship reload speed at this tier.
Decent AA suite: her AA will be a stern warning for any torpedo bombers who take her lightly
Powerful secondary armament: Destroyers that linger around her will be lucky to leave unscathed
Very maneuverable: her small turning circle makes those ever dangerous torpedoes somewhat easier to evade
Staggered Gun layout allows the Kaiser to fire all ten guns on broadside
Cons:
The en-echelon" layout can only be fully utilised in a very limited firing angle
Poor torpedo protection: any torpedo hit she takes will be painfully felt despite having torpedo bulges
Terrible dispersion: she will miss a lot of her shells at farther ranges
Her maneuverability is hampered by her slow rudder shift time
Slow turret rotation
Research
Kaiser's B hull upgrade should be your first priority in research. The B hull provides a welcome increase to your health pool as well as reducing your rudders shift time, making her more responsive to your rudder input and more maneuverable. Another benefit is the large improvement to your AA batteries, making her at least able of shooting down some attacking planes. The Fire Control System upgrade should follow. Finally, you can research the Propulsion upgrade for a marginal improvement to your speed.
Optimal Configuration
Upgrades
As a Tier IV ship, Kaiser has access to Slots 1 and 2 for upgrades.
Commander Skills
Recommended Commander Skills
Cost
(points)

Endurance

Attack

Support

Versatility



1

★★

★

★

Χ

Χ

Χ

★

Χ



2

★

★★

★★★

Χ

Χ

Χ

★

 



3

★★

 

Χ

Χ

★★

★★★

★

★★



4

★

★

 

Χ

★★★

 

★

★★

Key: ★★★ - Extremely Useful      ★★ - Frequently Useful      ★ - Occasionally Useful     No stars - Meh     

Χ

- Not recommended
Consumables
Kaiser can equip the following consumables:
Premium versions of both consumables are recommended in order to maximize her survivability and keep her in combat as long as possible.
Camouflage
Type 1, 2, or 5 camouflage can be equipped for credits; Types 2 or 5 are recommended at a minimum to reduce the accuracy of incoming shells.
Signals
Orion can mount up to eight signal flags simultaneously. Captains looking to improve the ship's survivability should mount India Delta (

) and India Yankee (

). November Foxtrot (

) can also improve survivability by reducing the cool down timers on the repair party and damage control party consumables. Sierra Mike (

) is also recommended to increase the ship's top speed. Lastly, economic and special flags can be mounted to increase the credit and experience gain per battle.
Recommended Signal Flags
Combat

★

★

 

 

 

 

★★

★★★

★★★

★

★★

 

Economic

★

 

★★

★

 

Special

★

★★

★★

 

★

 

 

 

Key: ★★★ - Extremely Useful       ★★ - Frequently Useful       ★ - Occasionally Useful      No stars - Not Useful
Gallery