King George V
Revision as of 23:44, 5 October 2019

Commander Skills 2

Revision as of 07:09, 10 January 2020
Line 221:
Line 221:
 
* The armor value for the weather deck was 32 mm historically, but was reduced in-game to 25 mm for balance reasons.
 
* The armor value for the weather deck was 32 mm historically, but was reduced in-game to 25 mm for balance reasons.
 
* British armor thicknesses are actually 0.98 times their nominal thickness, due to using 40 lb/sq ft as the approximate weight of steel (actual weight is 40.8 lb/sq ft). Consequently, the nominal 15 inch (381mm) belt is in reality 14.7 inch (374 mm) thick.
 
* British armor thicknesses are actually 0.98 times their nominal thickness, due to using 40 lb/sq ft as the approximate weight of steel (actual weight is 40.8 lb/sq ft). Consequently, the nominal 15 inch (381mm) belt is in reality 14.7 inch (374 mm) thick.
 
+
 
 
 
|HistoricalGallery=<!-- write below list of files with description (if necessary) separated with | --><gallery>
 
|HistoricalGallery=<!-- write below list of files with description (if necessary) separated with | --><gallery>
Revision as of 07:09, 10 January 2020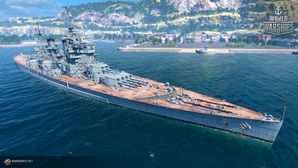 Tech Tree Position
356 mm/45 Mk VII Quad
2 х 4 / 1 х 2 

pcs.
Rate of Fire
2.4 

shots/min.
Reload Time
25 

sec.
Rotation Speed
4 

deg./sec.
180 Degree Turn Time
45 

sec.
Firing Range
16.5 

km.
Maximum Dispersion
241 

m.
HE Shell
356 mm HE Mk VIb 
Maximum HE Shell Damage
6,100 
Chance of Fire on Target Caused by HE Shell
41 

%
Initial HE Shell Velocity
757 

m./s.
HE Shell Weight
721 

kg.
AP Shell
356 mm AP Mk VIIb 
Maximum AP Shell Damage
10,500 
Initial AP Shell Velocity
757 

m./s.
AP Shell Weight
721 

kg.
134 mm/50 QF Mk I
8 х 2 

pcs.
Firing Range
5 

km.
Rate of Fire
9 

shots/min.
Reload Time
6.67 

sec.
HE Shell
134 mm HE Mk IC 
Maximum HE Shell Damage
1,900 
Initial HE Shell Velocity
792 

m./s.
Chance of Fire on Target Caused by HE Shel
8 

%
40 mm/39 QF Mark VII
3 х 4 

pcs.
. . . Average Damage per Second
38.7 
. . . Firing Range
2.49 

km.
40 mm/39 QF Mark VIII
5 х 8 

pcs.
. . . Average Damage per Second
99 
. . . Firing Range
2.49 

km.
20 mm Oerlikon Mk IV
18 х 1 

pcs.
. . . Average Damage per Second
64.8 
. . . Firing Range
2.01 

km.
134 mm/50 QF Mk I
8 х 2 

pcs.
. . . Average Damage per Second
64.8 
. . . Firing Range
4.5 

km.
Maximum Speed
26.6 

knot
Turning Circle Radius
790 

m.
Rudder Shift Time
21 

sec.
Surface Detectability Range
14.58 

km.
Air Detectability Range
10.01 

km.
Battle Levels
King George V — British Tier VII battleship.
The lead ship of a series of next-generation battleships for the Royal Navy. She was superior to her predecessors in terms of armor protection and AA capabilities. This battleship was equipped with aircraft-handling gear. Due to international armament restrictions, the ship's main guns had a relatively small caliber of 356 mm.


Modules
Compatible Upgrades
 Slot 1 
 Slot 2 
 Slot 3 
 Slot 4 
Player Opinion
Performance
The British battleship line takes a curious turn with Tier VII's King George V. As the first class of Royal Navy battlewagons laid down following the London Naval Treaty of 1936, they are an interesting mix of heavy armor, off-caliber main battery guns, solid anti-aircraft defenses, and average speed.
Battleship veterans will immediately take notice of King George V's 356mm guns. This is an odd caliber for Tier VII — where most other battleship lines have moved on to 381mm guns or larger — and will invariably lead many opponents to underestimate her. This is a grave mistake. While the penetration values on her armor-piercing rounds is sub-par at long range, once ranges drop to 12 or 13 km, King George V's shells will penetrate the casemate armor of opposing battleships with no issues. She plays similarly to German Tier VII premium Scharnhorst in this regard. Her AP rounds have no issues citadeling enemy cruisers, and her high explosive shells and their 41% fire chance will irritate enemy battleships who believe that angling their armor towards King George V will protect them from incoming damage.
Another similarity that King George V shares with Scharnhorst is a heavy belt armor scheme that is very difficult to penetrate when angled. Like American fast battleships, however, the waterline citadel can be hit quite consistently if she is showing full broadside. She is fairly resilient to incoming fire in most one-on-one situations, but will struggle when focused by several enemies. King George V must pick her battles carefully, using her stealth and speed to sneak away on occasion to regenerate health via her Repair Party (

) consumable.
King George V's anti-aircraft suite sets the tone for what players will find as they progress up the rest of the line: a weak long-range AA bubble but a punishing mid-range one. The Royal Navy's affection for the 40mm "pom pom" — and, later, the 40mm Bofors — means that incoming dive bombers can expect to take punishing losses to push home a strike, while enemy torpedo bombers are likely to suffer fewer losses. With a top speed of 28 knots, she is fast enough to keep up with friendly cruisers, but unable to outrun them (or the likes of Gneisenau or Scharnhorst).
As long as
King George V
is not put into positions where she can be focused down by multiple enemies, she is an outstanding ship with a lot of durability, good handling, and solid main battery performance. Driving her straight into a pile of enemy ships relying on her thick belt armor to save her, however, will result in a quick trip back to port.
Pros:
Fastest main battery reload time of non-premium Tier VII battleships (Scharnhorst's 283mm guns reload faster).
Solid anti-aircraft suite, roughly equivalent to American counterpart Colorado.
Armor layout will bounce a lot of shells when well-angled, with the thick belt armor shattering most AP shells at moderate range and angling
High-explosive shells have a ridiculous fire chance and can be used to troll enemy battleships who angle themselves well.
Best-in-tier detection range for a battleship.
Enhanced repair party with shorter cool down and 75% healing of normal penetration damage.
Cons:
The roughly waterline citadel is vulnerable when broadside, similar to American fast battleships; due to rear gun traverse limits, it's also somewhat difficult to angle properly.
Armor-piercing shells lose much of their penetration power at long range; they are really only usable at medium range or less when fired at enemy battleships.
25mm hull plating is susceptible to overmatch by guns with caliber larger than 356mm.
Shortest main battery range of all Tier VII battleships.
Like French battleships, the quadruple-barrel turrets mean she is susceptible to having large parts of her firepower knocked out when her turrets are disabled or destroyed.
Like German battleships, her dispersion is worst in class, often struggling to get more than 2-3 hits in a volley despite ten rifles.
Research
Given her need to be able to control engagements — and attempt to disengage, if required — the improved Propulsion module is a good place to invest early experience gains. Take Hull (B) next for the additional hit points, then grab the range boost from the Fire Control System upgrade last.
Optimal Configuration
Upgrades
The recommended upgrades for King George V are as follows:
Another option in Upgrade Slot 4 is Steering Gears Modification 2 (
), for players who prefer increased rudder shift speed over maximizing King George V's survivability.
Commander Skills
Key skills for King George V commanders are ones that keep her on the board and in the game, namely High Alert and Basics of Survivability. At Level 4, it's a toss-up between Advanced Firing Training and Fire Prevention (depending on which threat captains wish to guard against more). Also recommended are: Adrenaline Rush at Level 2, Priority Target at Level 1, and Concealment Expert at Level 4. Level 1's Expert Loader is actually a good place to invest a point given how frequently King George V captains will find themselves wanting to change ammunition types.
Recommended Commander Skills
Cost
(points)

Endurance

Attack

Support

Versatility



1

★★★

★★

★★

Χ

★

Χ

 

Χ



2

★★★

 

★★

Χ

Χ

Χ

★★★

 



3

★★★

 

Χ

Χ

★★

★★★

 

★★



4

 

★★

 

Χ

★★★

 

 

★★★

Key: ★★★ - Extremely Useful      ★★ - Frequently Useful      ★ - Occasionally Useful     No stars - Meh     

Χ

- Not recommended
Consumables
King George V can equip the following consumables:
Investing credits or doubloons in Damage Control Party II (

) and Repair Party II (

) is recommended in order to maximize King George V's survivability. Given her short main battery range, captains are encouraged to plug Spotting Aircraft II (

) into Slot 3.
Camouflage
Type 1, 2, or 5 camouflage can be equipped for credits; Types 2 or 5 are recommended at a minimum to reduce the accuracy of incoming shells.
Players who wish to spend doubloons can equip King George V with Type 17 camouflage that lowers her detection radius, reduces the accuracy of incoming shells, reduces her repair costs, and increases the amount of experience she earns.
Signals
Signal flags that maximize King George V's survivability are recommended, namely India Delta (

), Juliet Whiskey Unaone (

), and India Yankee (

). November Echo Setteseven (

) will provide additional protection against enemy aircraft, while Equal Speed Charlie London (

) will help unlock module upgrades faster.
Recommended Signal Flags
Combat

★★

★

 

 

 

★

 

★★

★★★

★★★

★★★

★

 

 

Economic

 

 

★★

★

 

Special

 

★★

★★

 

★★

 

 

 

Key: ★★★ - Extremely Useful       ★★ - Frequently Useful       ★ - Occasionally Useful      No stars - Not Useful
Gallery