Kongo
Revision as of 21:16, 7 August 2017

Protected "

Ship:Kongo

" ([Move=Allow only administrators] (indefinite))

Revision as of 14:58, 7 September 2017

historical inaccuracies

Line 180:
Line 180:
 
==== Miscellaneous ====
 
==== Miscellaneous ====
 
The ship modeled in the game is actually based off ''Hiei'', the second ship of the ''Kongō'' class with a history that differed significantly from the her other three sisters. Unlike her other sisters, she did not undergo the first modernization that strengthened their armor and underwater protection, and was disarmed in 1930 to comply with the terms of the First London Naval Treaty. When Japan withdrew from the terms of the Second London Naval Treaty, along with the second modernizations of her sisters, ''Hiei'' underwent extensive modernizations to bring her up to their specifications. Fitted onto her was a pagoda style mast that differed from the other ''Kongō'' sisters, serving as the prototype of the superstructure that was later fitted onto the ''[[Yamato]]'' class. This is the superstructure that is featured by the in-game model.
 
The ship modeled in the game is actually based off ''Hiei'', the second ship of the ''Kongō'' class with a history that differed significantly from the her other three sisters. Unlike her other sisters, she did not undergo the first modernization that strengthened their armor and underwater protection, and was disarmed in 1930 to comply with the terms of the First London Naval Treaty. When Japan withdrew from the terms of the Second London Naval Treaty, along with the second modernizations of her sisters, ''Hiei'' underwent extensive modernizations to bring her up to their specifications. Fitted onto her was a pagoda style mast that differed from the other ''Kongō'' sisters, serving as the prototype of the superstructure that was later fitted onto the ''[[Yamato]]'' class. This is the superstructure that is featured by the in-game model.
 
+
 
+
 
+
 
+
 
+
 
+
 
 
 
|HistoricalGallery=<!-- write below list of files without tags. description (if necessary) for each should be separated with | -->
 
|HistoricalGallery=<!-- write below list of files without tags. description (if necessary) for each should be separated with | -->
Revision as of 14:58, 7 September 2017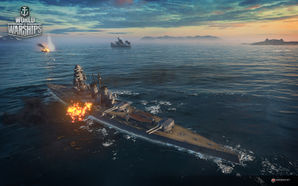 Tech Tree Position
356 mm/45 41st Year Type
4 х 2 

pcs.
Rate of Fire
1.94 

shots/min.
Reload Time
31 

sec.
Rotation Speed
3 

deg./sec.
180 Degree Turn Time
60 

sec.
Firing Range
19.27 

km.
Maximum Dispersion
236 

m.
HE Shell
356 mm HE Type0 
Maximum HE Shell Damage
5,700 
Chance of Fire on Target Caused by HE Shell
25 

%
Initial HE Shell Velocity
805 

m./s.
HE Shell Weight
625 

kg.
AP Shell
356 mm AP Type5 
Maximum AP Shell Damage
10,000 
Initial AP Shell Velocity
790 

m./s.
AP Shell Weight
635.5 

kg.
152 mm/50 41st Year Type
14 х 1 

pcs.
Firing Range
4 

km.
Rate of Fire
6 

shots/min.
Reload Time
10 

sec.
HE Shell
152 mm HE Type4 
Maximum HE Shell Damage
2,500 
Initial HE Shell Velocity
825 

m./s.
Chance of Fire on Target Caused by HE Shel
9 

%
127 mm/40 Type89 A1
4 х 2 

pcs.
Firing Range
4 

km.
Rate of Fire
12 

shots/min.
Reload Time
5 

sec.
HE Shell
127 mm HE Type0 
Maximum HE Shell Damage
2,100 
Initial HE Shell Velocity
725 

m./s.
Chance of Fire on Target Caused by HE Shel
8 

%
13 mm/76 Type93 Twin
12 х 2 

pcs.
. . . Average Damage per Second
24 
. . . Firing Range
1.2 

km.
127 mm/40 Type89 A1
4 х 2 

pcs.
. . . Average Damage per Second
40.4 
. . . Firing Range
5.01 

km.
Maximum Speed
24.9 

knot
Turning Circle Radius
770 

m.
Rudder Shift Time
17.2 

sec.
Surface Detectability Range
16.2 

km.
Air Detectability Range
9.36 

km.
Battle Levels
Kongō — Japanese Tier V battleship.
When she was commissioned, Kongo was the most advanced battlecruiser in the world. She was the first among battlecruisers and battleships to be equipped with 356 mm main battery guns. Unlike previous Japanese dreadnoughts, Kongo received a thinner armor belt while her deck armor and torpedo protection were reinforced.
Modules
Compatible Upgrades
Player Opinion
Performance
Kongo
is considered to be one of the most enjoyable battleships in the game, especially towards the lower tiers.
Kongo
has by far the highest top speed of the battleships of Tier V, a strong, solid main armament of eight 14-inch guns in four twin turrets, far greater range than her contemporaries, good secondaries, and the most health of her tier. However, she's not the strongest in all suites - she's got the worst armor of her tier, with only 203mm of belt armour compared to
New York
's,
Texas
' and
König
's 356mm belt armor, and she has the least guns of her tier. These shortcomings, however, don't stop
Kongo
from being one of the most competitive battleships in the game tier-for-tier.
Kongo
must always be careful with how she positions herself; showing too much broadside to an enemy battleship can be a fatal mistake.
Kongo
excels at both ranged combat and can use her maneuverability to outdo enemy battleships at closer ranges.
Kongo
is the second of three battlecruisers/fast battleships in the Japanese battleship line, coming after
Myogi
and eventually leading to
Amagi
at Tier VIII.
Pros:
Great gun range: Reaching out to 21+ kilometers, she has the second highest range in the mid tiers after Fuso.
Impressive speed: Kongo can reach 30 knots, allowing her to keep up with cruisers and relocate if needed.
Decent agility: She is surprisingly maneuverable and can cover her turning circle quite quickly.
Good gun characteristics: her guns are accurate, powerful, and have decent penetration.
Feels like a modern battleship in a world of outdated WWI era ships.
Cons:
Low AA suite potency: Her AA suite will not do much against higher tier aircraft.
High detection range: She is easily seen at 16km, but not much of a problem, as she can fire out to 21 km.
Battlecruiser armor: Her weak armor is easily penetrated by battleship shells, though it can be partially overcome with angling.
Sluggish rudder shift time: It takes a long time for her to start turning compared to USN Battleships.
Being a mid-tier battleship, her dispersion is still somewhat high at longer range. This can be mitigated my installing Aiming System Modification 1.
Research
Kongo is — effectively — a battlecruiser and needs to be able to dictate the terms of the engagement as she does not have a lot of armor. Upgrading her Propulsion module is first priority. After this, pick up Hull (B) for the upgraded main battery shells and a little bit faster turret traverse. The Fire Control System module upgrade can be saved for last.
Optimal Configuration
Upgrades
As a battleship at Tier V with only the first three upgrade slots, the following upgrades are recommended on Kongo:
Commander Skills
Recommended Commander Skills
Cost
(points)

Endurance

Attack

Support

Versatility



1

★

★★

 

 

 

 

★

 



2

★★

★★

★★★

 

 

 

★

 



3

★★

 

 

 

★★

★★★

 

★★



4

★

★★★

★

 

★★

 

★

 

Key: ★★★ - Extremely Useful       ★★ - Frequently Useful       ★ - Occasionally Useful      No stars - Not Useful
Consumables
Players can equip the following consumables on Kongo:
Premium Damage Control Party II and Repair Party II are recommended to maximize survivability.
Camouflage
Type 1, 2, or 5 camouflage can be equipped for credits; Types 2 or 5 are recommended at a minimum to reduce the accuracy of incoming shells.
Signals
As with all battleships, Kongo comes with 8 signal flag slots. The three most important flags are India Delta, Juliet Yankee Bissotwo and India Yankee; all of which will improve your survivability. Captains wishing to improve the performance of their secondary battery should consider the addition of Mike Yankee Soxisix.
Recommended Signal Flags
Combat

★★

★★

 

 

 

★

★

★★

★★★

★★★

★★★

 

Economic

★

 

★★

★★

★

Special

 

 

★★

 

 

 

 

 

Key: ★★★ - Extremely Useful       ★★ - Frequently Useful       ★ - Occasionally Useful      No stars - Not Useful
Gallery