Kongo
Revision as of 16:32, 27 November 2016

A bit of an updating. This page has had some inaccuracies since a few patches ago. Also fixed one bit of incorrect grammar.

Revision as of 21:23, 29 November 2016
Line 3:
Line 3:
 
 
 
|Anno=<!-- you can write below short description for the ship. it will replace default once. -->
 
|Anno=<!-- you can write below short description for the ship. it will replace default once. -->
 
+
 
 
 
|Performance=<!-- write text about performance in battles below -->
 
|Performance=<!-- write text about performance in battles below -->
Line 31:
Line 32:
 
Her captain, if carried over from previous ships, should already have either Basics of Survivability or Basic Firing Training, Expert Marksman, and either Vigilance, High Alert, or Superintendent. For her fourth skill, Advanced fire control, which extends the range of her AA and secondary batteries should be selected. If keeping her or outfitting her almost identical Arpeggio of Blue Steel counterparts, you can ignore Advanced Fire Control, and select among the lower skills, or alternatively select Manual Control for AA Armaments (which requires manual targeting to activate, or your long ranged AA guns won't even fire), which can be combined with the Basic Fire Control Skill and the AA Guns Modification 2 Equipment upgrade to give her fearsome AA capabilities that can shred aircraft squadrons at her tier and lower from long range. If you have the time to grind her or are bringing a captain from higher up the line, getting Concealment Expert reduces her detection range to 13.5 km (14 km for her ARP counterpart), and can make her quite flexible at fighting at medium ranges.
 
Her captain, if carried over from previous ships, should already have either Basics of Survivability or Basic Firing Training, Expert Marksman, and either Vigilance, High Alert, or Superintendent. For her fourth skill, Advanced fire control, which extends the range of her AA and secondary batteries should be selected. If keeping her or outfitting her almost identical Arpeggio of Blue Steel counterparts, you can ignore Advanced Fire Control, and select among the lower skills, or alternatively select Manual Control for AA Armaments (which requires manual targeting to activate, or your long ranged AA guns won't even fire), which can be combined with the Basic Fire Control Skill and the AA Guns Modification 2 Equipment upgrade to give her fearsome AA capabilities that can shred aircraft squadrons at her tier and lower from long range. If you have the time to grind her or are bringing a captain from higher up the line, getting Concealment Expert reduces her detection range to 13.5 km (14 km for her ARP counterpart), and can make her quite flexible at fighting at medium ranges.
 
 
?
|Gallery=<!-- write below list of files without tags. description (if necessary) for each should be separated with template {{!}} --><gallery>
+
|Gallery=<!-- write below list of files without tags. description (if necessary) for each should be separated with --><gallery>
 
Kongo shot (1).jpg
 
Kongo shot (1).jpg
 
Kongo shot (2).jpg
 
Kongo shot (2).jpg
Line 47:
Line 48:
 
The Kongō-class battleships were the most active capital ships of the Japanese Navy during World War II, participating in most major engagements of the war.
 
The Kongō-class battleships were the most active capital ships of the Japanese Navy during World War II, participating in most major engagements of the war.
 
 
?
'''Kongō''' (金剛, "indestructible", named for Mount Kongō) was a warship of the Imperial Japanese Navy during World War I and World War II. She was the first battlecruiser of the Kongō class, among the most heavily armed ships in any navy when built. Her designer was the British naval engineer George Thurston, and she was laid down in 1911 at Barrow-in-Furness in Britain by Vickers Shipbuilding Company. Kongō was the last Japanese capital ship constructed outside Japan. She was formally commissioned in 1913, and patrolled off the Chinese coast during World War I.
+
''Kongō'' (金剛, "", named for Mount Kongō) was a warship of the Imperial Japanese Navy during World War I and World War II. She was the first battlecruiser of the Kongōclass, among the most heavily armed ships in any navy when built. Her designer was the British naval engineer George Thurston, and she was laid down in 1911 at Barrow-in-Furness in Britain by Vickers Shipbuilding Company. Kongōwas the last Japanese capital ship constructed outside Japan. She was formally commissioned in 1913, and patrolled off the Chinese coast during World War I.
 
+
 
 
?
Kongō underwent two major reconstructions. Beginning in 1929, the Imperial Japanese Navy rebuilt her as a battleship, strengthening her armor and improving her speed and power capabilities. In 1935, her superstructure was completely rebuilt, her speed was increased, and she was equipped with launch catapults for floatplanes. Now fast enough to accompany Japan's growing carrier fleet, Kongō was reclassified as a fast battleship. During the Second Sino-Japanese War, Kongō operated off the coast of mainland China before being redeployed to the Third Battleship Division in 1941. On the eve of World War II, she sailed as part of the Southern Force in preparation for the Battle of Singapore.
+
Kongōunderwent two major reconstructions. Beginning in 1929, the Imperial Japanese Navy rebuilt her as a battleship, strengthening her armor and improving her speed and power capabilities. In 1935, her superstructure was completely rebuilt, her speed was increased, and she was equipped with launch catapults for floatplanes. Now fast enough to accompany Japan's growing carrier fleet, Kongōwas reclassified as a fast battleship. During the Second Sino-Japanese War, Kongōoperated off the coast of mainland China before being redeployed to the Third Battleship Division in 1941. , she sailed as part of the Southern Force in preparation for the Battle of Singapore.
 
+
 
 
?
The Kongō fought in a large number of major naval actions of the Pacific War during World War II. She covered the Japanese Army's amphibious landings in British Malaya (part of present-day Malaysia) and the Dutch East Indies (now Indonesia) in 1942, before engaging American forces at the Battle of Midway and during the Guadalcanal Campaign. Throughout 1943, Kongō primarily remained at Truk Lagoon in the Caroline Islands, Kure Naval Base (near Hiroshima), Sasebo Naval Base (near Nagasaki), and Lingga Roads, and deployed several times in response to American aircraft carrier air raids on Japanese island bases scattered across the Pacific. The Kongō participated in the Battle of the Philippine Sea and the Battle of Leyte Gulf in 1944 (October 22–23), engaging and sinking American vessels in the latter. The Kongō was torpedoed and sunk by the submarine USS Sealion while transiting the Formosa Strait on 21 November 1944. She was the only Japanese battleship sunk by submarine in the Second World War, and the last battleship sunk by submarine in history.
+
Kongōfought in a large number of major naval actions of the Pacific War during World War II. She covered the Japanese Army's amphibious landings in British Malaya (part of present-day Malaysia) and the Dutch East Indies (now Indonesia) in 1942, before engaging American forces at the Battle of Midway and during the Guadalcanal Campaign. Throughout 1943, Kongōprimarily remained at Truk Lagoon in the Caroline Islands, Kure Naval Base (near Hiroshima), Sasebo Naval Base (near Nagasaki), and Lingga Roads, and deployed several times in response to American aircraft carrier air raids on Japanese island bases scattered across the Pacific. The Kongō participated in the Battle of the Philippine Sea and the Battle of Leyte Gulf in 1944 (October 22–23), engaging and sinking American vessels in the latter. Kongōwas torpedoed and sunk by the submarine USS Sealionwhile transiting the Formosa Strait on 21 November 1944. She was the only Japanese battleship sunk by submarine in the Second World War, and the last battleship sunk by submarine in history.
 
 
 
==== Miscellaneous ====
 
==== Miscellaneous ====
Line 59:
Line 62:
 
|HistoricalGallery=<!-- write below list of files without tags. description (if necessary) for each should be separated with template {{!}} -->
 
|HistoricalGallery=<!-- write below list of files without tags. description (if necessary) for each should be separated with template {{!}} -->
 
<gallery>
 
<gallery>
?
Haruna at Yokosuka 1916.jpg|Haruna at Yokosuka, 11 September 1916
+
Haruna at Yokosuka 1916.jpg|Harunaat Yokosuka, 11 September 1916
?
Установка ордий главного калибра.jpg|A 14-inch gun being installed aboard Haruna, October 1914
+
Установка ордий главного калибра.jpg|A 14-inch gun being installed aboard Haruna, October 1914
?
Kongo after reconstruction.jpg|Kongō following her first reconstruction
+
Kongo after reconstruction.jpg|Kongōfollowing her first reconstruction
?
Japanese training ship Hiei.jpg|Hiei in 1933, as a training ship
+
Japanese training ship Hiei.jpg|Hieiin 1933, as a training ship
?
Киришима.jpeg|Kirishima off Amoy, China, in 1938
+
Киришима.jpeg|Kirishimaoff Amoy, China, in 1938
?
Haruna 1934.jpg|Haruna in 1934, following her second reconstruction
+
Haruna 1934.jpg|Harunain 1934, following her second reconstruction
?
Japanese battleships Yamashiro, Fuso and Haruna.jpg|Yamashiro, Fusō and the fast battleship Haruna in the late 1930s
+
Japanese battleships Yamashiro, Fuso and Haruna.jpg|Yamashiro, and the fast battleship Harunain the late 1930s
?
Hiei1942.png|A diagram of Hiei as she appeared in 1942, showing her superstructure which differs significantly from her sisters.
+
Hiei1942.png|A diagram of Hieias she appeared in 1942, showing her superstructure which differs significantly from her sisters.
?
Kongo1944.png|A diagram of Kongo as she appeared in 1944, showing her late-war enhanced AA protection and reduced casemate guns.
+
Kongo1944.png|A diagram of Kongoas she appeared in 1944, showing her late-war enhanced AA protection and reduced casemate guns.
 
 
 
</gallery>
 
</gallery>
Revision as of 21:23, 29 November 2016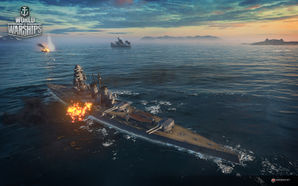 Tech Tree Position
356 mm/45 41st Year Type
4 х 2 

pcs.
Rate of Fire
1.94 

shots/min.
Reload Time
31 

sec.
Rotation Speed
3 

deg./sec.
180 Degree Turn Time
60 

sec.
Firing Range
19.27 

km.
Maximum Dispersion
236 

m.
HE Shell
356 mm HE Type0 
Maximum HE Shell Damage
5,700 
Chance of Fire on Target Caused by HE Shell
25 

%
Initial HE Shell Velocity
805 

m./s.
HE Shell Weight
625 

kg.
AP Shell
356 mm AP Type5 
Maximum AP Shell Damage
10,000 
Initial AP Shell Velocity
790 

m./s.
AP Shell Weight
635.5 

kg.
152 mm/50 41st Year Type
14 х 1 

pcs.
Firing Range
4 

km.
Rate of Fire
6 

shots/min.
Reload Time
10 

sec.
HE Shell
152 mm HE Type4 
Maximum HE Shell Damage
2,500 
Initial HE Shell Velocity
825 

m./s.
Chance of Fire on Target Caused by HE Shel
9 

%
127 mm/40 Type89 A1
4 х 2 

pcs.
Firing Range
4 

km.
Rate of Fire
12 

shots/min.
Reload Time
5 

sec.
HE Shell
127 mm HE Type0 
Maximum HE Shell Damage
2,100 
Initial HE Shell Velocity
725 

m./s.
Chance of Fire on Target Caused by HE Shel
8 

%
13 mm/76 Type93 Twin
12 х 2 

pcs.
. . . Average Damage per Second
24 
. . . Firing Range
1.2 

km.
127 mm/40 Type89 A1
4 х 2 

pcs.
. . . Average Damage per Second
40.4 
. . . Firing Range
5.01 

km.
Maximum Speed
24.9 

knot
Turning Circle Radius
770 

m.
Rudder Shift Time
17.2 

sec.
Surface Detectability Range
16.2 

km.
Air Detectability Range
9.36 

km.
Battle Levels
Kongō — Japanese Tier V battleship.
When she was commissioned, Kongo was the most advanced battlecruiser in the world. She was the first among battlecruisers and battleships to be equipped with 356 mm main battery guns. Unlike previous Japanese dreadnoughts, Kongo received a thinner armor belt while her deck armor and torpedo protection were reinforced.
Modules
Compatible Upgrades
Player Opinion
Performance
Kongo is one of the more fun battleships to play with, particularly when in her own tier. At her tier and anything within her matchmaking table she outranges because of her maxed out range of 21.2 km and with a scout plane active, the Kongo can have a range comparable to a Yamato that did not launch its spotting plane with a total of 25.44 km. She's also the second battlecruiser in the Japanese battleship line with Amagi being the last of it because after being in the tier III Kawachi, Kongo makes you adapt to a newer style as she does not fully have the armor to get in all out salvofests with dreadnoughts such as her US and German Tier 5 counterpart New York and König, which has better armor but lower speed before going back to dreadnoughts again when you reach Fuso. As a battlecruiser, you pay for that maneuverability with lighter armor protection. Presenting your broadside to any battleship opponent, even tier 3's, is very dangerous and will quickly get you sunk. Kongo can also see up to Tier 7 battleship opponents that are unlikely to bounce a shot at even extreme angles and fire enough of them to sink her in one salvo. At her tier however, she takes her pride as the fastest battleship along with her decent maneuverability which can ease the burden of performing evasive maneuvers against salvos or torpedoes.
With the removal of the Kongo A hull, she is a painless grind and has fairly strong AA even when stock.
Pros:
Great gun range: Reaching out to 21+ kilometers, she has the second highest range in the mid tiers after Fuso
Impressive speed: Kongo can reach 30 knots, allowing her to keep up with cruisers and relocate if needed
Decent agility: She is surprisingly maneuverable and can cover her turning circle quite quickly
Good gun characteristics: her guns are accurate, powerful, and have decent penetration
Feels like a modern battleship in a world of outdated WW1 era ships
Cons:
Low AA suite potency: Her AA suite will not do much against higher tier aircraft
High detection range: She is easily seen at 16km
Battlecruiser armor: Her weak armor is easily penetrated by battleship shells, though it can be partially overcome with angling.
Sluggish rudder shift time: It takes a long time for her to start turning compared to USN Battleships
Being a mid tier battleship, her dispersion is still quite high at longer range
There is little point of using spotting plane when having the longest based firing range of her tier
Research
As Kongo is a Battlecruiser and needs to be able to dictate the terms of the engagement as she does not have a lot of armor, upgraded propulsion is the way to go. After this, you should get the B(formerly C) hull not for AA, but for her upgraded shells(like the Germans get with each hull upgrade as well) and a little bit faster turret traverse, and then the range upgrade. Without a C hull anymore, Kongo is a rather short grind these days. As with the propulsion upgrade, the range upgrade helps dictate the terms of the engagement, something that is quite important on a thinly armored Battlecruiser. Getting the range upgrade increases your maximum dispersion, but only by 17 meters which for a battleship is unnoticeable.
For her Equipment, as usual the Main Armaments Modification 1, improving the resilience of her main batteries, and the Damage Control Systems Modification 1, giving a minor improvement to her fire resistance and torpedo protection, should be fitted. At Tier 5, Kongo can mount Slot 2 equipment, of which the Aiming Systems Modification 1 is generally the best choice, improving her accuracy at the long ranges she can fire at.
Her captain, if carried over from previous ships, should already have either Basics of Survivability or Basic Firing Training, Expert Marksman, and either Vigilance, High Alert, or Superintendent. For her fourth skill, Advanced fire control, which extends the range of her AA and secondary batteries should be selected. If keeping her or outfitting her almost identical Arpeggio of Blue Steel counterparts, you can ignore Advanced Fire Control, and select among the lower skills, or alternatively select Manual Control for AA Armaments (which requires manual targeting to activate, or your long ranged AA guns won't even fire), which can be combined with the Basic Fire Control Skill and the AA Guns Modification 2 Equipment upgrade to give her fearsome AA capabilities that can shred aircraft squadrons at her tier and lower from long range. If you have the time to grind her or are bringing a captain from higher up the line, getting Concealment Expert reduces her detection range to 13.5 km (14 km for her ARP counterpart), and can make her quite flexible at fighting at medium ranges.
Gallery